From humble beginnings, Lizotte has carved out NHL identity
The road to netting a regular spot with the Los Angeles Kings was hardly an easy one for the undrafted forward from a town of less than 5,000 people.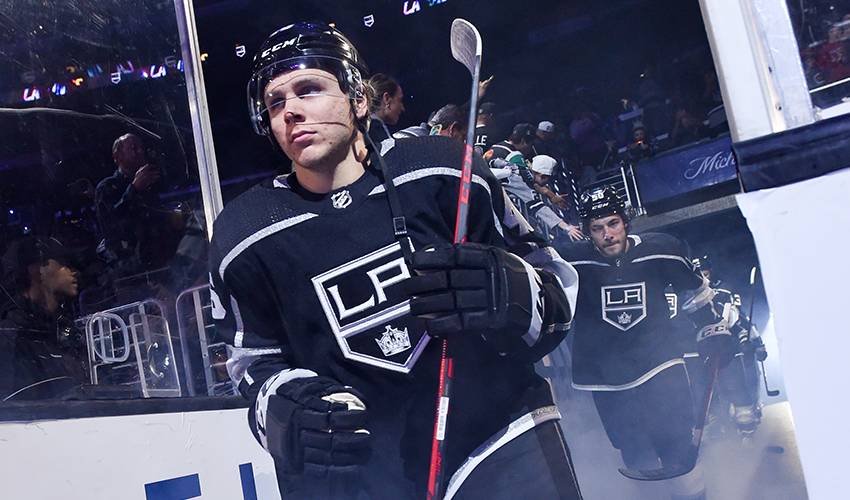 Feature photo: Getty Images
---
It's the year Blake Lizotte had been hoping for.
The road to netting an NHL roster spot was hardly an easy one for the undrafted forward from Lindstrom, the Minnesota city known as 'America's Little Sweden' with a population just under 5,000.
As an 18-year-old, Lizotte played two seasons for the Fargo Force of the United States Hockey League followed by two campaigns with St. Cloud State where he won consecutive National Collegiate Hockey Conference regular-season championships with the team.
Just over three years ago, he signed as a free agent with the Los Angeles Kings on April 2, 2019 and extended that contract by two years on March 21, 2022.
He made the Kings roster after training camp in 2019 and earned his first NHL point, an assist, against Calgary on October 8 of that year. He recorded his first NHL goal and had his first two-point game a month and a day later against the Montreal Canadiens.
"I think the one mindset I have kept since day one of journey has been to never let anyone outwork you," recalled Lizotte. "I came from humble beginnings and had a difficult path to the NHL. I truly believe I wouldn't be here today if I didn't have that mindset."
Where he is today is playing a key role for a team that is back in the playoff picture after missing the cut the past three seasons.
Lizotte has tallied a slew of career-best numbers this season including 10 goals, 24 points and a plus-15 rating while taking 91 shots with a 51.57% face-off win percentage.
But for the 24-year-old, it's far more than what he accomplished on the stat sheet.
Instead, it's what he was able to find that makes this season particularly noteworthy.
"This year has been special for a lot of reasons. As far as myself individually, I really feel like I found my identity as a player in this league this year."
Lizotte's contributions have played an integral role in Los Angeles' strong regular season play.
Now, he's getting his first shot at winning hockey's ultimate team prize.
"Making the playoffs is a special thing as far as the team goes. Suiting up in pursuit of every hockey player's dream, to win a Stanley cup. That's what it's all about."
The happy times don't end there.
On April 25, Lizotte was selected as the Kings' nominee for the Bill Masterton Memorial Trophy.
The Masterton is awarded annually to the NHL player who best exemplifies the qualities of perseverance, sportsmanship and dedication to ice hockey. Each of the league's 32 teams has one honoree recognized by their local media, with the top three vote-getters designated as finalists for the award, to be presented in June, between Games 3 and 4 of the Stanley Cup Final.
"When I first saw the list, it was an incredibly humbling experience," said Lizotte. "Seeing my name there along with some amazing players and people is a huge honour. To be nominated for an award such as this is really special to me because it goes beyond the ice and the stat sheet."
Lizotte, who lost his father when he was 14, often recalls some of the advice his dad passed along to him.
One particular piece of advice Mike Lizotte shared with his son is particularly meaningful for the centreman these days.
"His big thing was, 'You can only control what you can control, and that's the work ethic and energy that you can bring every day.' For me, that's understanding you can't control the scoreboard, scoring goals, getting an assist – what you can control is how hard you work."
There's no doubt Lizotte has mastered that approach.
It's the main reason why he's never felt more comfortable about what he brings to the rink for each practice and game alike on each shift he takes.
"Finding that role and trying to perfect how I play that role has truly given me confidence as a player."