With a strong start in new city, Wedgewood is embracing old friendships
Landing in the "Lone Star State" has rekindled some old friendships for netminder Scott Wedgewood.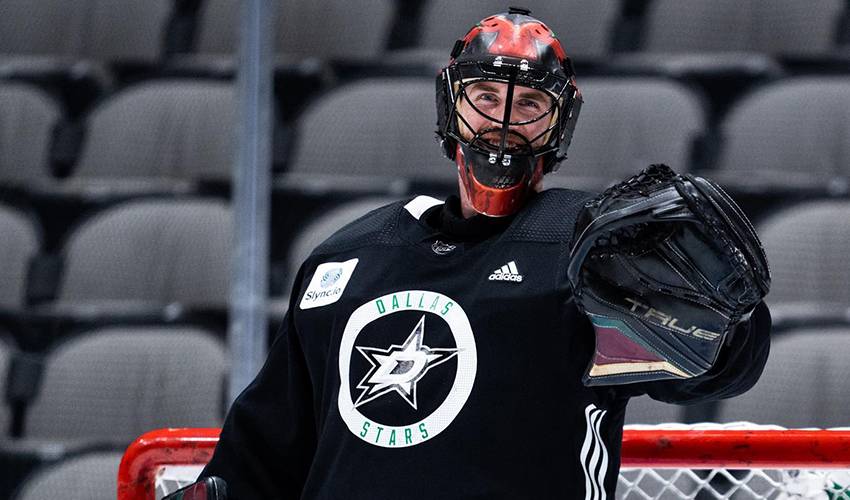 Feature photo: @DallasStars
---
Team Wedgewood is fitting in nicely in the "Lone Star State".
They are one member short of a starting lineup, but Dallas Stars goaltender Scott Wedgewood, his wife Brittany and their two Bernedoodles – Captain and Bucky – are feeling right at home.
It's been less than a month since Scott was traded to the Stars by the Arizona Coyotes, a move that meant an adjustment period for everyone involved.
So far, so good.
"My oldest dog [Captain] has been to a few apartments in his early days, but the youngest [Bucky] hasn't been in as many," offered Scott. "We had a house in Michigan, and we were renting in Arizona, so the people in the hallways and the doors opening had him a little confused. He was like, 'What's going on? Do I need to bark at that or not?' They're settled in now. We're renting a place in Dallas. My wife made the 15-hour drive from Arizona to here. We got stuck in Seattle after a game there and got delayed and didn't get home until midnight. So, it's been a busy start to things."
On the ice, the 29-year-old backstopper made a great first impression in his first game with his new team.
Wedgewood turned aside 44 shots and saved all three of Carolina's shootout attempts in a 4-3 win. It was the most saves in franchise history for a goalie playing his first game with the team, eclipsing the record of 43 set almost 38 years ago by Jon Casey with the Minnesota North Stars.
''He stole that game for us tonight, there's no question,'' praised Dallas head coach Rick Bowness.
Familiarity with some of his new teammates, including former Ontario Hockey League teammate Tyler Seguin, gave the 6-foot-2, 205-pounder a confidence boost ahead of his arrival.
"As soon as I got traded, I went over the roster on the plane. I looked over it and obviously knew that Tyler was there, [Marian] Studenic got picked up from New Jersey, and he and I were close when we were there. [Joel] Hanley, too, and [Luke] Glendening and I have trained together in the summer for three-plus years now. They all reached out and so did Jamie Benn and Joe Pavelski did too, reaching out to say hello. It's been really welcoming."
Drafted 84th overall by New Jersey in 2010, Scott also has ties to Jeff Reese, the Stars goaltending coach and a past NHL netminder.
Prior to his own big-league career, Scott paid tribute to Reese through a piece of artwork.
"I knew Jeff a little bit. In 2012, he was part of Philly and would come down to the East Coast Hockey League. In the bubble, when I was with Tampa, I had a number of conversations with him then and over the years. My dad told me my first goalie mask – I was playing with the Toronto Young Nats – was a replica paint job of his mask when he was playing for the Maple Leafs. It was a two-toned split maple leaf, and I did a red and white for the Young Nats. So, I guess it all comes full circle. I showed Jeff a picture of the helmet and he thought that was pretty cool."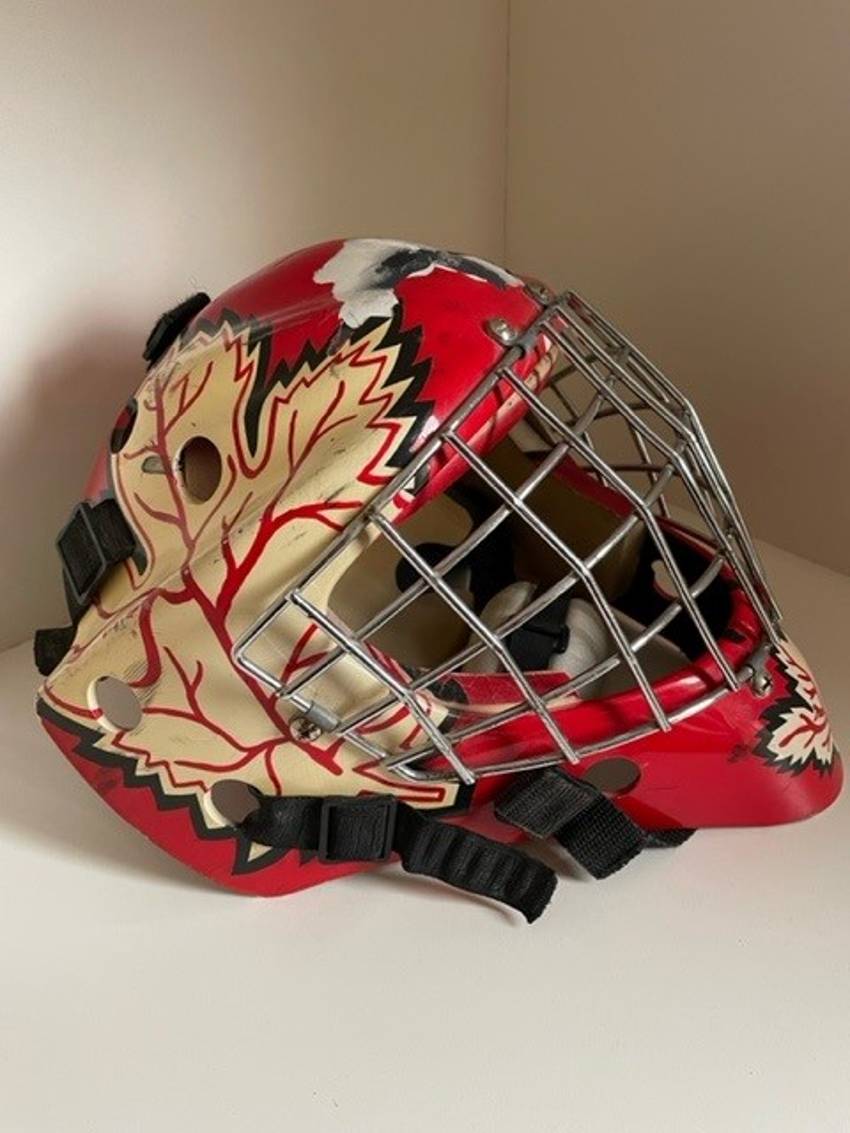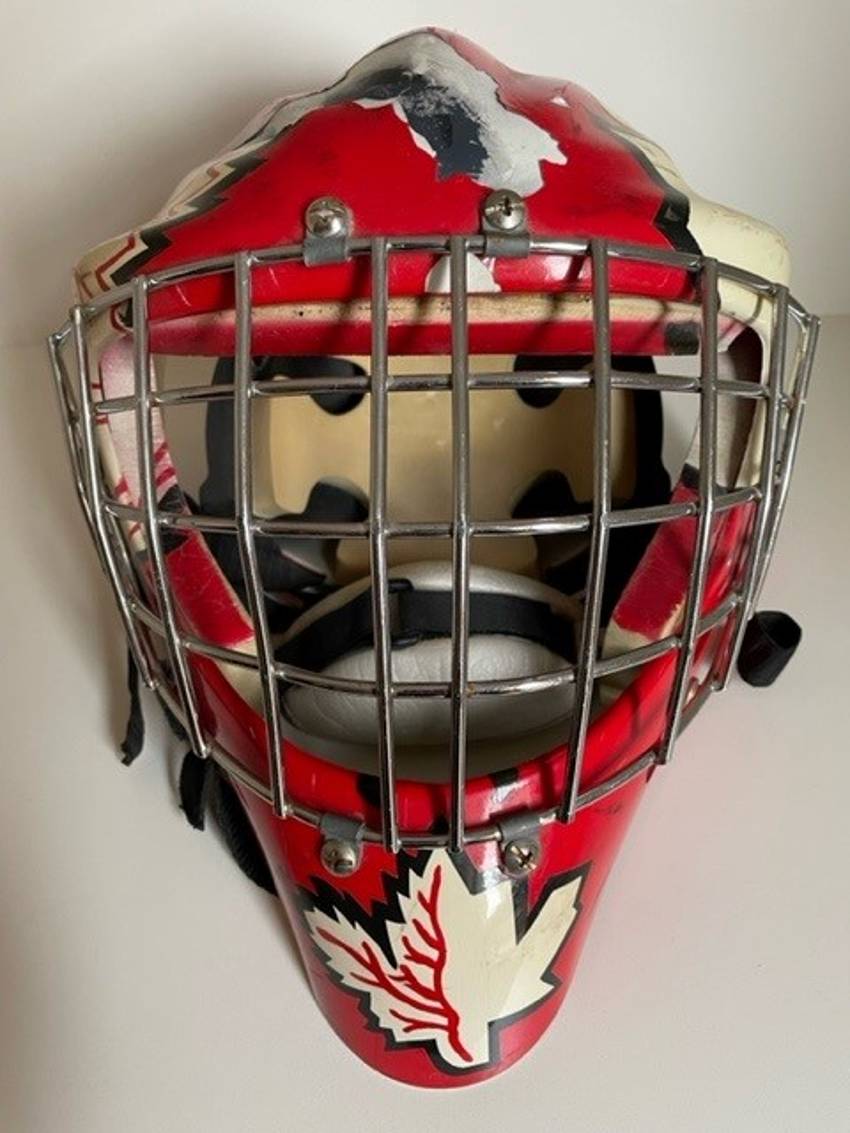 It's one of many reasons why the transition to a new team has been nearly seamless for the native of Brampton, Ontario.
He also has rave reviews for Stars supporters.
"It's been good, very easy to fit in. The fans have been awesome through social media and the media room, before and after games, and there are 25-30 covering the team. I'm very extroverted and it's been fun to talk to a lot of different people."
When he isn't engaging in those conversations, Scott is talking the talk through his dog training, something he continues to dedicate part of his off time to.
Should that make him the envy of Cesar Milan, aka, The Dog Whisperer?
"Not even close. That guy is amazing. I used to watch his show all the time, to pick up some tips and techniques. We're done with two for now, but she'd have 50 if she could. I went on YouTube and watched some videos on how to train the dogs, and we went about it together, and the dogs picked it up really quickly. It's been so great."
The canine siblings, named after Marvel characters Captain America and Bucky Barnes, have managed to get along famously so far and have a bit of a following over on Instagram.
Scott, a first-time dog owner, loves having the pair around.
"They are from the same breeder, just outside of Chicago. They're half-brothers – same dad, different mom. One is sable and white, the other is black and white. They're great. They play all day. The older one is more chill and laid back, and the younger one still has that puppy energy. It's fun to have them around. I never had any animals growing up. It was myself and my two brothers in Triple-A sports. My mom did some day care back in the day, so there were a lot of kids around. Somehow, she found a way to keep the house spotless. But, with everyone being so busy, there just wasn't time that you need to dedicate to a pet."
With several dog owners on the team, play dates are almost a certainty at some point this year.
The offer has already been extended to Seguin and his three pups.
"I talked to him about it and we'll get over there. Luke [Glendening] has dogs – there are quite a few guys on the team that do. I also have to get over and meet Joel Hanley's kid. It's been really nice coming to Dallas. There have been some old friendships that have been rekindled here."
Calling a new hockey city home also means the opportunity for the Wedgewoods to explore new places.
Scott has already started doing his homework.
"I just got the Arizona map in my head and now I have to create another one for Dallas. I think I'm going to know the U.S. without help from Google any time soon. It's a cool city."
And a perfect fit for Team Wedgewood.