Paige and Nic Dowd bring the joy of the game to families affected by sensory sensitivities
Launched in 2018, Dowd's Crowd provides children with sensory needs the opportunity to attend Washington Capitals games.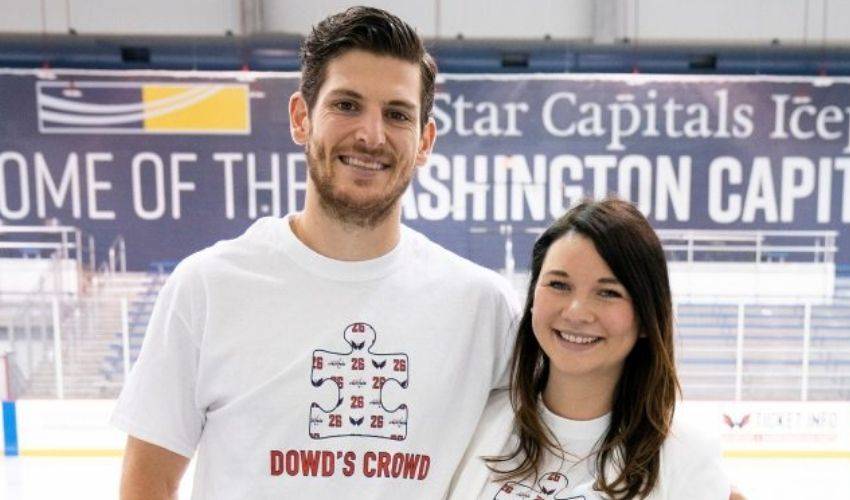 Feature photo: MSE Foundation
---
Nic and Paige Dowd's team effort is continuing to make a big difference in the hockey community.
Their idea evolved into an initiative that launched in 2018 and would eventually become known as Dowd's Crowd – the perfect way for the couple to utilize their strengths to help others.
With Nic's platform as a forward for the Washington Capitals and Paige's education in speech pathology, Dowd's Crowd was created to provide children with sensory needs with the opportunity to attend Washington Capitals games in an accommodating environment.
"We started this because I have a background with autism," Paige said of the program that sees fans receive tickets and a Dowd's Crowd branded sensory kit, which includes noise-cancelling headphones, sunglasses, a foam puck and a conversation card. "We first talked about the idea when Nic was playing in Vancouver. When we came to the Capitals, they told us that they would help anyone looking to start up a charity and that they would support it. I approached them with the idea of the sensory kits. The main goal was to make attending a hockey game accessible for all fans and the families that want to go. A lot of families miss out on things like this, and we wanted to do our part to change that."
Since Dowd's Crowd was established, Nic and Paige have dedicated countless hours into increasing the scope and impact of their initiative so that more fans and families can enjoy a comfortable, accessible experience watching a hockey game.
A recent New Year's fundraiser featured several items up for auction, including a 2021-22 team-signed home jersey, a 2021-22 Capitals team-signed third jersey, a stick used and signed by Nic and signed photographs of Capitals players. A virtual meet and greet with the Dowds and two lower bowl tickets to a future Capitals game was also auctioned off.
The fundraiser brought in more than $8,500.
"In today's world, inclusivity is very important and that's what we want to do through this," said Nic, who now has played in over 350 NHL games in his career. "Having the ability to bring families and kids who have autism to a game is an opportunity they deserve to have. Paige, who is making the sensory kits through her own company called The Assist, which she created with Kodette, the wife of Jason LaBarbera [former NHL goaltender and current Calgary Flames goalie coach], understood the importance of providing these families and kids with the chance to see a game live. One of the big obstacles was that coming to the game, whether it was by train or otherwise, could be overwhelming for the kid who has sensory-related needs."
It is why those with sensory sensitivities are not the only ones the Dowds are focused on through their charitable arm.
"The ability to come to a game might also affect their siblings who aren't in that position," offered Nic. "Providing the sensory kits can make a huge difference in that comfort level for every member of each family. Those families, many of whom had never been to a hockey game before, give us great feedback, that they never thought they'd be able to experience something like that. We want to provide the chance to come to the game for kids with sensory needs, but also for their siblings and parents."
That sentiment is echoed by Paige, who studied speech language pathology at St. Cloud State University in Minnesota, taking on the role of president of the National Student Speech Language and Hearing Association.
"A lot of families who come to the games haven't been to a game before," she said. "We just want to make sure that the entire family feels welcome and enjoy something they might not have been able to in the past. The fact they do it through us, maybe they feel more comfortable about coming again. That's certainly want we want to see happen."
Families often share their personal stories with the couple.
At the end of the night, smiles for both the Dowds, and those they meet, are a familiar sight.
"The feedback from the families alone is enough to continue to this charity for as long as we can," said Nic. "When we see the kids and the families enjoying themselves, that means the world to us."
As does the widespread support they receive for Dowd's Crowd, including from Nic's teammates.
"Before COVID, when we would do meet and greets with the families after the game, the guys would stop and say hello to the families," said Paige. "We do auctions around the holidays, and guys are always happy to sign things and help us raise money."
"The guys have been great, which is no surprise," said Nic. "Garnet Hathaway has done a Zoom call with some of the kids. It's always special when you ask your teammates to step up and help, and they always do. They always want to help make a difference."
Just as the Dowds do throughout the NHL season and the entire year.
Reminders of the positive impact they are having on families in the D.C. area and beyond are a regular occurrence.
"When we started, we weren't sure where it was going to go," offered Nic. "Each year, we talk about doing more things, potentially adding a sensory room in the arena, reaching more families – we really want to help as many people as possible. Just leaving the rink, I get a lot of people coming up and saying some nice things about what we were doing. I was on the road, and I had a guy, whose son has autism, come up to me and share that he was proud of what we are doing. Things like that, it just motivates you even more."
And the Dowds continue to show how motivated they are to help.
Having the chance to work together on Dowd's Crowd has been a welcome opportunity for Nic and Paige.
"It's great that we have been able to combine both our passions," said Paige. "For Nic to get to know what I do, to support me in that way, it's been really great to have that.
Nic has also been happy to learn more from Paige's expertise.
"Watching Paige step into it and see it grow to what it is today, this was her brainchild. It is nice to do something together, to combine things we both love, and to be part of something we feel is very important."