More than 500 games into his NHL career, Sam Reinhart is just getting started
On pace to put up some personal best numbers, Sam Reinhart has settled into life in South Florida, both on and off the ice.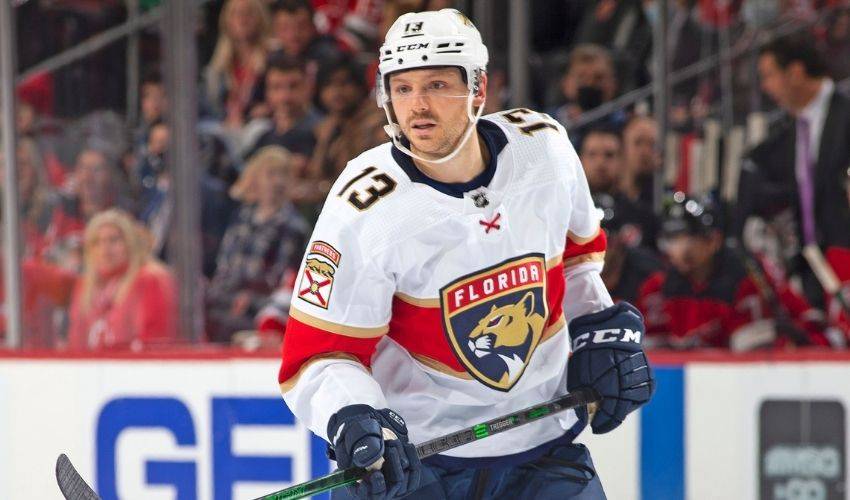 Feature photo: Getty Images
---
Sam Reinhart approached his 500th NHL game exactly like he did the 499 previous to it.
Among the many ways to describe the Florida Panthers forward, driven might be the most accurate.
Only a few games removed from reaching the 500-game mark, Reinhart's focus is, just like it's always been, on the next puck drop.
Reinhart, now in his seventh NHL season, is grateful for attaining the personal milestone, but pushing himself to be the best player he can be continues to be his primary goal.
"A lot of work put in, a lot of hours to get to that point, and a lot of luck, good fortune and opportunity over the years to make it this far," the 26-year-old centre told NHLPA.com. "It feels like it's gone by pretty fast. It's funny. You don't really think back on much until you hit a milestone like that. It kind of feels like a blur at the start, but at the same time, it feels like so long ago. Early in so many careers, it's a fine line of playing in some games and sticking around on a consistent basis. I think that's where the luck and opportunity I alluded to comes into play. There's a lot that's out of your control. I was fortunate enough early on to get some opportunities, but with that being said, there's still a lot of work that comes into play to put yourself in those positions."
Teammates, including Florida defenceman Brandon Montour, laud Reinhart for what he brings to both the ice and the locker room.
"Sam is one of the harder working players I have played with and a very positive player," praised Montour, who was also teammates with Reinhart in Buffalo. "He wants everyone to be the best they can be. He's very easy-going and if anyone on our team needed anything, he's very approachable."
Reinhart is primed to have his best NHL offensive season to date, closing in on his fifth straight 20-goal campaign, after also recently hitting the 50-point mark for the fifth time in his NHL career.
He isn't one to credit himself for the Panthers' success this season – currently sitting in first place in the Atlantic Division and third in the overall league standings – his first with the club after coming via trade from Buffalo during the offseason.
"There has been so much change on the roster in the last year and a half. Being in Buffalo, I didn't see much of that change last year. I knew the success they had. Through training camp, it was just great to see the level of competitiveness all throughout the lineup. It's been a blast fitting into that."
And Reinhart has had no problems fitting in.
It's something Montour has seen up-close in both practice and in games.
"You can stick him with any linemates, and he can generate great plays on the defensive end and offensive end. He makes plays with whoever's out there."
Compatibility, for Reinhart, isn't only limited to his hockey life.
On Valentine's Day, the second overall pick in the 2014 NHL Draft got down on one knee and proposed to his girlfriend, Jessica.
"When I start looking back, it's kind of funny how things have changed over the years. Now, I'm recently engaged and living in Florida. It's going great. We were able to get down to the [Florida] Keys over the Christmas break and have a nice time there, something special for us. I'm on a good team surrounded by some really good players and staff, so I can't really complain about anything."
But he can, and will, keep pushing himself to reach the top of his game.
With 500 games now in the rearview mirror, Reinhart is looking forward, not back, when it comes to his NHL life.
"I'm still pretty young and I feel like I have a lot more in me to go. I've been pretty healthy, knock on wood, in my career. That goes back to some of the work to be able to put yourself in good spots and in good condition to be able to keep playing through that. Hopefully, I can keep that going."