Jack Campbell sees first NHL All-Star nod as a team effort
The Toronto Maple Leafs goaltender is headed into his first NHL All-Star appearance with personal best numbers.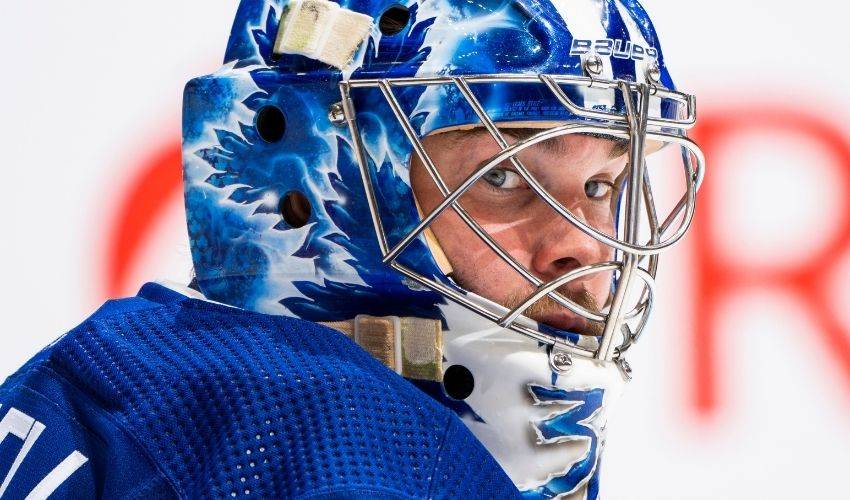 Feature photo: Getty Images
---
Mama and Buds aren't the only ones in the Campbell household with cat-like reflexes.
While Toronto Maple Leafs netminder Jack Campbell will be busy taking on some of the best hockey players on the planet at the NHL All-Star Game in Las Vegas this weekend, the goaltender's feline duo will be well taken care of during his absence.
"They're awesome," said Campbell, boasting about his two cats. "It's always nice to just chill out with them and relax."
The 30-year-old, who is in the midst of his best NHL season to date, is hoping to make the most of his first appearance at the event that annually attracts top-shelf talent from across the league.
"I'm really excited to be part of it all. It should be an amazing experience and it's something that I will remember for a long, long time."
A return to Las Vegas will bring back some fond memories, including his first NHL victory against the Golden Knights, a milestone accomplished nearly four years ago when Campbell was a member of the Los Angeles Kings.
The 6-foot-3 Michigan native also recently notched a 4-3 Maple Leafs shootout win on January 11, a victory that came two days after Campbell celebrated his birthday.
"We had a team day where we went to the [Las Vegas] Raiders football game where we all hung out together. It was a blast. That stadium is really cool and it was a big game. It was the Raiders and the Chargers, and whoever won got into the playoffs."
The only thing missing was no birthday message for Campbell on the big screen.
And he was fine that.
"That's not really my style," he said with a laugh.
Campbell prefers a more laid-back approach away from the rink whenever possible, and that includes a lot relaxing in front of the television.

A pair of popular series are must-see for Campbell.
"My girlfriend and I just finished the first seven episodes of 'Ozark' that came out for Season 4. That was pretty good. 'Yellowstone' is my favourite show, so I've been enjoying that, too."
Campbell, who is no slouch in the kitchen, is also dedicating some time to heightening his culinary skills.
His signature dish comes in the form of Chilean sea bass.
"Oh, man. That's my special treat. I only cook that one a couple times a year. But with cooking, it's something that keeps me busy throughout the year. It gets your mind off hockey. I think that's important. It's something I enjoy doing and I try to get better at it each time I'm doing it."
And yes, Campbell does have a sweet tooth.
His sugar treat of choice?
"I enjoy sour candy, so sometimes I indulge in that, but I do try and stay away from it as much as I can."
Campbell's off-ice game plan, food and otherwise, has played a huge part in his on-ice success in recent years.

Selected 11th overall by the Dallas Stars in the 2010 NHL Entry Draft, his road to becoming an NHL All-Star didn't come without its share of trials and tribulations.
Campbell spent five campaigns in the Stars' organization, appearing in one NHL game, before he was dealt to the Los Angeles Kings on June 25, 2016.
The majority of Campbell's next two seasons were played with the Ontario Reign of the American Hockey League, while he notched his first NHL win by making 41 saves in a 4-1 victory against the Golden Knights on February 27, 2018 – his first NHL start in four-plus years.
After recording a 2.85 goals-against average in 20 games with the Kings in 2019-20, Campbell was dealt to Toronto on February 5, 2020.
Campbell's time in Toronto has been accompanied by great on-ice success. In 2020-21, Campbell went 17-3-2 accompanied with a .921 save percentage.
Handed the starting reins in 2021-22, Campbell has already set personal-best numbers in several categories, going 21-6-0 with four shutouts through his first 32 games.
As for his All-Star status, he isn't viewing his success as an individual honour.
Instead, Campbell, who will be part of the Atlantic Division All-Star team, captained by teammate Auston Matthews, sees it as a team effort.

"The boys have been playing so well and playing so hard in front of me. It really is a credit to how well we are playing as a group. It's an honour to get selected and I'll do my best to make them proud."
Campbell is indeed living the good life, inside and outside of the arena.
"You're only at the rink a few hours a day, so that should be fun. What you do away from it is the biggest thing and I'm blessed to have a great girlfriend and my family is amazing. Being from Port Huron [Michigan], they can come across the border and see me play. Port Huron has given me a lot of support and I've always appreciated that. Everyone is always so nice to me when I come back. I really consider myself very lucky."
And with that, Campbell was off to enjoy a little cat time before leaving for Las Vegas.
"It's fun just relaxing with them and kicking back for a while."