Flyers Nate Thompson gives Philly firefighters the red carpet treatment
Commenting on Nate Thompson's Instagram post paid off big for these Flyers fans.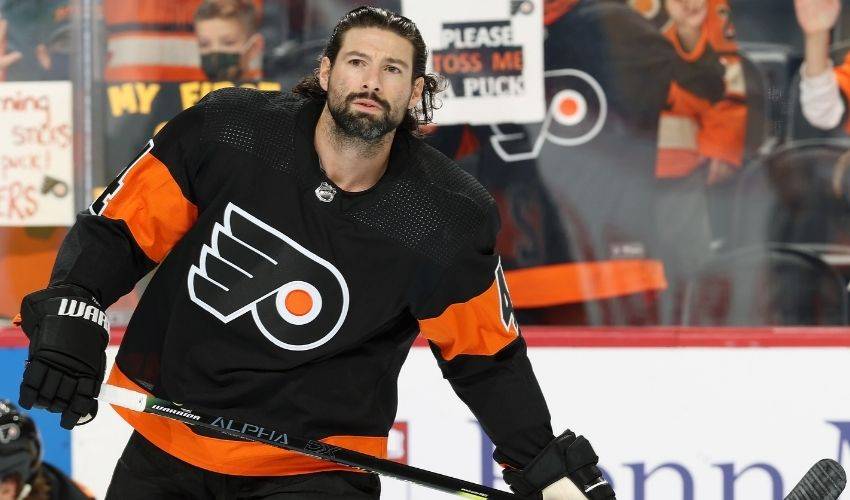 .Feature photo: Getty Images
---
Nate Thompson had the ultimate response for a pair of firefighters who happen to be diehard Philadelphia Flyers fans.
When Paul Parzanese, who works with the Winslow Township Fire Department in New Jersey, saw a recent Instagram post by 15-year NHL veteran Thompson, it prompted him to ask a simple question, a rhetorical one, in the comment section.
"I was on Instagram and just scrolling through. I was with my buddy and fellow firefighter Bill [Off] and I told him I was going to comment on one of Nate's pictures. I was going to write, 'How much fun would it be to hang out with these guys? It would be a blast.' In the photo, Nate and a couple of the other guys were at a Philadelphia Eagles game. Well, Nate commented back and said, 'Hey, how would you guys like to come to a game? DM me and we'll make it happen.'"
And that's exactly what Thompson did.
"I don't think fans realize that sometimes we do read the comments," the 37-year-old Flyers forward told NHLPA.com. "I just thought it would be a cool idea to offer them some tickets. Being able to do that for those guys is awesome. I've been around the game a long time now. It's pretty cool what we get to do and to be able to give back to the people is what it's all about."
On November 10, Parzanese and Off took in the Flyers game against the visiting Toronto Maple Leafs from a unique vantage point.
"It was awesome," said Parzanese. "It was a shutout (the Maple Leafs won 3-0), but what can you do? It happens. We got there really early because we didn't want to get stuck in traffic. We're only about 25 minutes away from Philly, so it doesn't take long it all. We just didn't want to get stuck on the bridge or the expressway. We bought some shirts and other stuff. We went to our box seats and were just hanging out. We had some food and a couple beers and watched the game."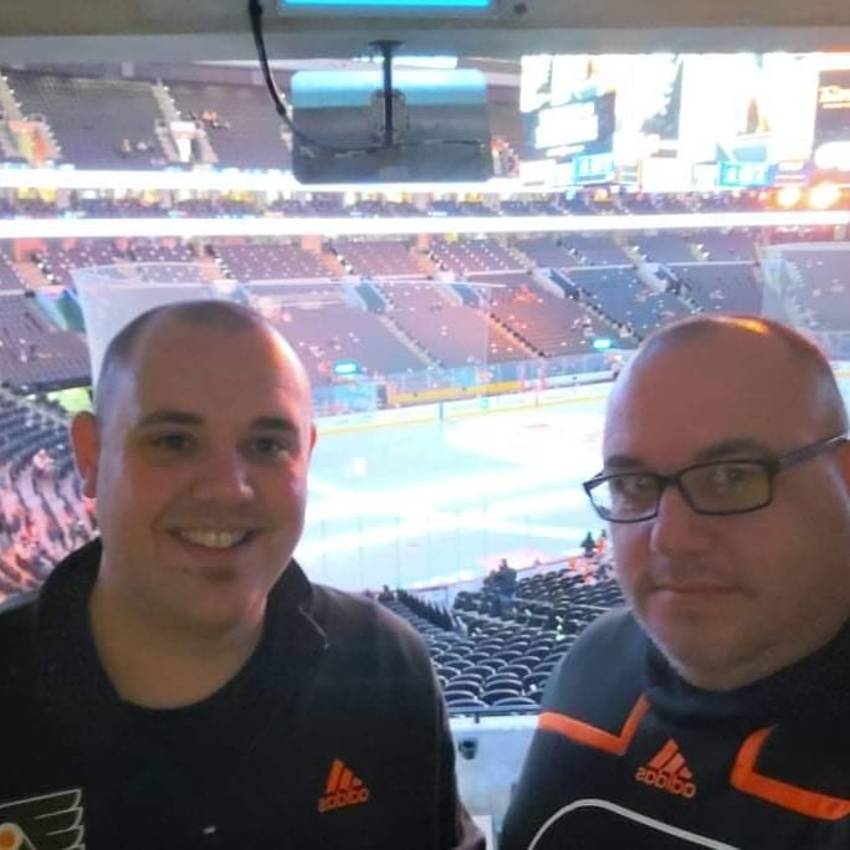 The longtime friends are still wrapping their heads around the experience.
They're also still talking about it. Often.
"I work overnights, so I went to sleep and I didn't know that Nate had responded," said Off. "When I wake up, I look at my phone and Paul had texted saying that he wanted us to go to the game. We just had a great time. It's just so cool that this actually happened. The whole experience, you won't ever forget it."
"There are so many comments on his page that you don't ever expect to get a response, let alone that type of response," said Parzanese. "I wrote exactly what I was thinking, that it would be really cool to hang out with those guys. Who wouldn't want to do that? Hockey players are the best. We both love hockey, so it was crazy how it all happened. It is so awesome."
Other than Philadelphia losing the game, the only other disappointing part of the night was not getting to meet the player behind the kind act.
"With COVID, we weren't able to do a meet and greet," said Parzanese. "That was too bad because we really would have liked to have said thanks to him in person.
They found another way to express their gratitude.
"We hooked him up with one of our department hoodies, a firefighter's shield that we have on our helmets – it has a 25 on it – a challenge coin with our department name on it and the 25," noted Parzanese. "We also gave him a couple of patches that we wear on our uniforms. We dropped it off at the Flyers' practice facility in Voorhees (New Jersey). I wish we could have given that to him in person, but I hope he likes it."
Thompson most certainly does.
He's looking forward to fashioning his hoodie.
"That was really cool of them to that," said the veteran of 822 NHL games. "I'm definitely going to rock that for sure."
Parzanese and Off have long appreciated Thompson's on-ice style, a player who brings energy to his team through hard-nosed, physical play, and someone who is quick to step for his teammates at any given moment.
"He's so hard-working," said Parzanese. "Seeing him on the ice, every shift, you just see that he gives 110 per cent. He was non-stop. You can tell he is a great leader out there, leading by example, big hits, getting into the dirty areas – he's just amazing. It's so great to have him in Philadelphia."
Just the type, noted Parzanese, who has a firefighter-type mentality.
"I was going to say that. When it comes down to business, it's business, just like it is at the firehouse. I know those players are like us in the locker room. We all razz one another and that's what it's all about. It's a brotherhood. That's what it's like in hockey and with firefighters. The guys in that room, they are your brothers. That's all that matters. You will fight for them, and you will always be by their side."
Off echoes those same thoughts.
"You have to work as hard as you can, know what you're doing, and be there for your crew. It's the same thing with Nate. He keeps things light before the game, but when the game starts, he's all business."
He sees Thompson as the ideal athlete to wear a Philadelphia uniform.
"He gets on the ice, he digs hard, and he gives everything he has each shift," said Orr. "He's flying around out there all the time. I think Flyers and Philly sports fans appreciate that playing style, someone who just gives 100 per cent the entire time he's out there."
Both firefighters knew that well before their night at Wells Fargo Center.
"We'll go watch them practice at Voorhees sometimes," said Off. "Even at the firehouse, we have a big 55-inch big screen TV, just so we can watch the Flyers play. You always know when Nate is on the ice. We love watching him play. But to see him live, and to realize we were there because of his kind gesture, it's really special."
It is for Thompson too.
"With the job they do, it's obviously a lot more important than what we do. These fans in Philly are the best and they have big expectations for the team. I just thought it was a nice way, a small way, to show some appreciation for them for what they do every day."