Juuse Saros on a summer of firsts and Pekka Rinne's impact
In the middle of a busy offseason, Juuse Saros takes time to reflect on playing with Pekka Rinne and discuss the upcoming NHL season.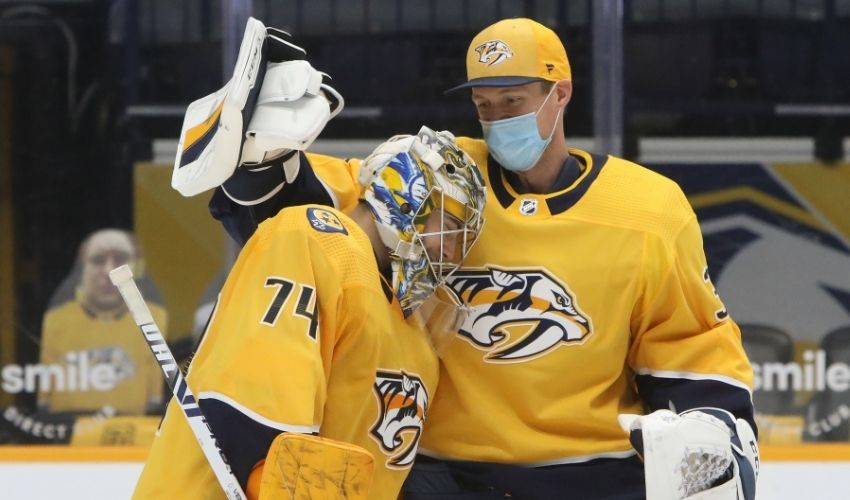 Feature Photo: Getty Images
---
There's no hiding it – Juuse Saros knows full well his next NHL campaign will look and feel different.
In the few months before the puck drops on the 2021-22 season, Saros is in the midst of moving to Helsinki, Finland, trying to make the most of a short summer – and he also hasn't figured out what he's making for dinner tonight.
Yes, the Nashville Predators goaltender has a lot on his plate these days.
But even during a hectic offseason, Saros has given plenty of thought to what life, both on and off the ice, will be like without his friend and countryman Pekka Rinne in the fold. Rinne, who played his entire 13-season NHL career in Nashville, announced his retirement earlier this month.
"It's strange that he's not a teammate anymore," started Saros, who has spoken to Rinne regularly since the news came out. "It's something you have to get used to."
The 2017-18 Vezina Trophy winner crafted a record of 369-213-75 over 683 games played after being the 258th pick overall in the 2004 NHL Draft. The native of Kempele, Finland, also finished his career with the most games played, wins and shutouts (60) by a Finnish goalie in NHL history and holds the Predators' record for almost every major goaltending category in franchise history.
For Saros, it's not the lofty numbers and accolades that first come to mind when he speaks of Rinne. Instead, it's all about the man behind the mask.
"You learn so much just by hanging out with him," said Saros of the 2020-21 King Clancy Memorial Trophy winner. "He's a great person, someone who cares about his teammates and wants to see the team succeed. He's very unselfish. For me, I've been able to see first-hand how he treats everybody and how he takes care of himself. He wants to be there for his teammates. The more you are around him, the more you are just able to watch and learn so much. Over the years, I've had a lot of questions and he's always been there to help me with everything. I've been very lucky and grateful to have him help me."
If Saros is feeling any pressure of being the number one netminder in Nashville, he certainly doesn't show it. In fact, the soft-spoken Saros is embracing the challenge, ready to build on a sensational 2020-21 season that saw him win 21 of 36 outings while posting an NHL career-best 2.28 goals-against average and notching three shutouts.
"It's been a good summer over here in Finland," said Saros. "But it really does go fast. It's nice to catch up with friends and family again, to spend some time with them again. I golf, but just a little bit, so I've played a few rounds. My golf game, it isn't good. It's more just to see my friends.
"I think the biggest thing, mentally, is to just get your mind to relax, so that you can be ready to go when the season starts up again. You want to be sharp, mentally and physically, before everything winds up again."
Saros has also been sharpening his skills in padel.
A mix between tennis and squash, padel is typically played in doubles on an enclosed court surrounded by walls of glass and metallic mash. The court is one-third the size of a tennis court. The ball can bounce off any wall but can only hit the turf once before being returned. Points can be scored when the ball bounces twice in the competitors' field of play.
"It's a big sport in Europe," started Saros. "It's a lot of fun and a lot of people enjoy playing it here. I just started playing last summer and I'm getting better at it. But I still have a lot to learn."
In between regular conversations with Rinne and fellow Finnish teammate Eeli Tolvanen, and all of his summer pursuits, Saros will soon be on the move when he and his girlfriend, along with their Siberian husky, take up residence in their new home in Helsinki – about an hour north of where they currently live in Hämeenlinna.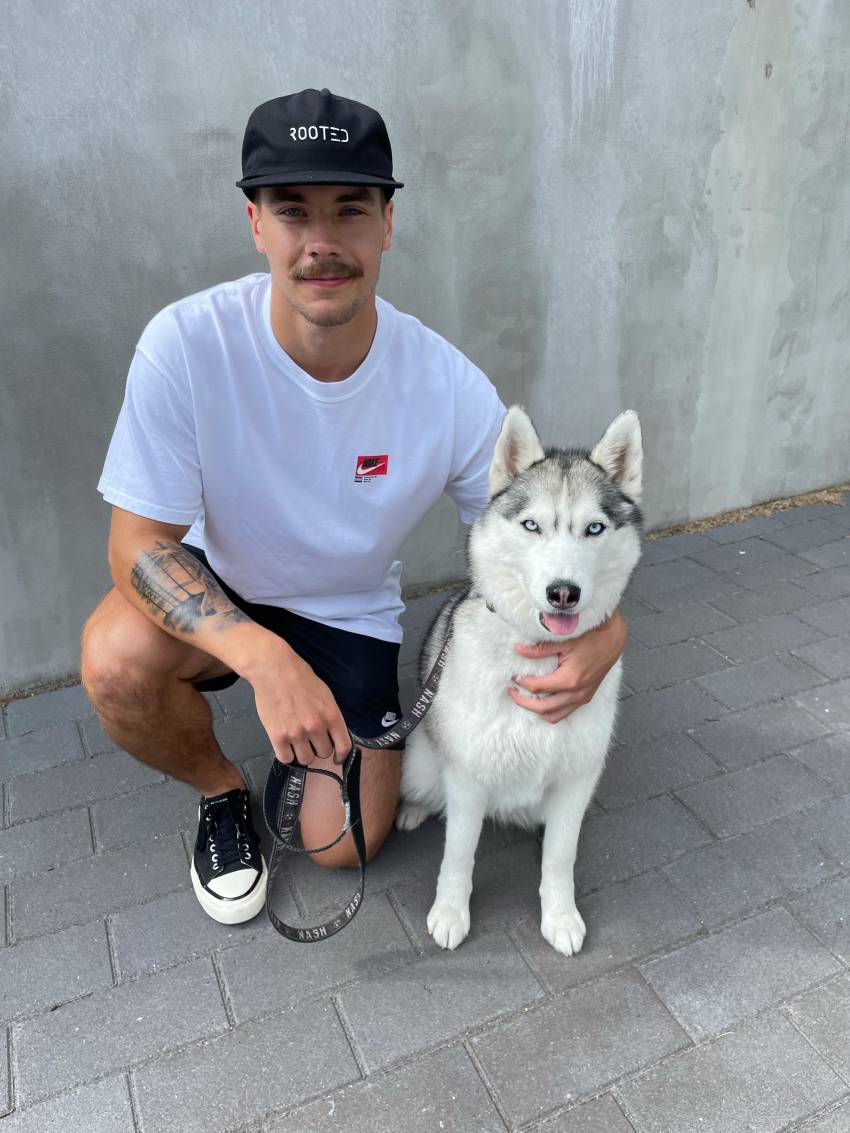 Image courtesy of Juuse Saros
"Helsinki is a very familiar city for us. We are all excited. It's fun for us to have the dog in our life too. I've always wanted a dog since I was a little kid and she is my first one. I got a big tattoo of her done a little while ago, so that tells you how important she is to us. Her name is Kesä, which is Finnish for summer. We spend a lot of time together with her, so that's been nice for us."
Moving into a new place isn't the only change Saros will have to get used to in the next little while. While he won't have Rinne to talk shop and spend time with outside of the arena in Nashville, Saros will be armed with no shortage of sound advice and lessons learned from the Finnish hockey legend. He's grateful for what it's meant to his career and beyond.
"Whether it's as a goalie or as a person, Pekka is one of the best."