Secret project turned hardcover, Foligno family inspires through Janelle's new book
When Nick Foligno recently passed by his daughter Milana's room, he noticed she was reading the book his wife Janelle wrote about the family's journey with their young daughter.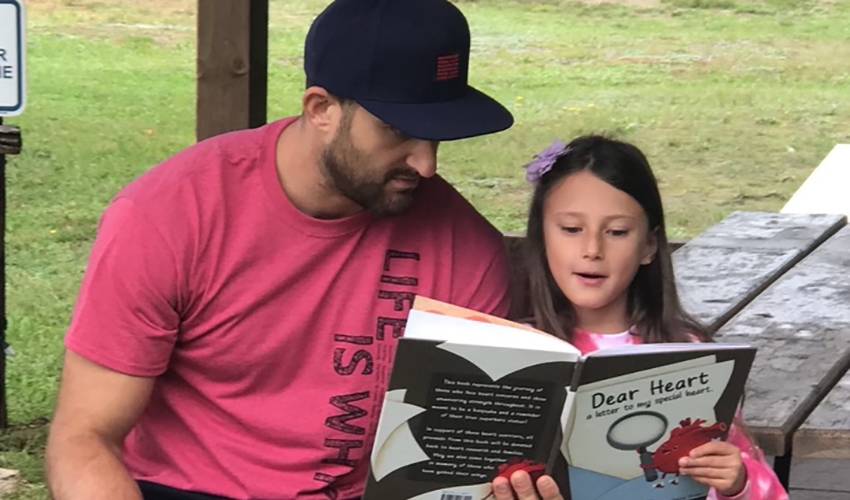 Feature photo courtesy of Nick Foligno
---
Although the book was written about her, Milana Foligno wanted to pen special words of her own.
When Nick Foligno recently passed by his daughter's room, he noticed she was reading "Dear Heart: A letter to my special heart," the book his wife, Janelle, wrote about the family's journey with seven-year-old Milana, who has undergone two open heart surgees, the first when she was only three-weeks-old.
"I walked by her room the day we launched the book, and she said, 'Dad! Get out, get out.' She was working on something she didn't want me to see. She came downstairs with a little gift and a note for Janelle.
"Milana wrote, 'Dear Mom, I gave you this for the book and you. You make me feel good inside. I love you.' To know this resonates with her and she understands the significance and the importance of it – that just really makes you happy as a parent. It's the type of feeling we want people to get out of this book."
That's not the only rave review of the book, illustrated by Jenny Danko, whose proceeds will benefit several heart-related organizations.
The Folignos have received plenty of praise – and orders – from family, friends, and teammates.
They've also had messages and orders from people they've never met, families that have gone through something similar.
It's admittedly still difficult for Janelle to fathom that what started out as a poem as a way of dealing with Milana's congenital heart issues would eventually become "Dear Heart: A letter to my special heart."
"From start to finish, it's been an amazing process," said Janelle. "We started off really fast and then we were slowed down when we started work on our foundation [The Heart's Playbook]. We've had the book in our hands for a little while now, so the anticipation kept building for when we could finally release. So, I think it made us more and more excited with each passing day. When the day finally came when we could launch it, we were really excited. It still kind of hit us with surprise when the orders started rolling in. It felt a little surreal."
Initially the Folignos planned to print just one book which would be gifted to Milana, who needed another surgery (this one for valve replacement) two years ago.
But the more the couple discussed the book, the more they began to talk about expanding their audience.
They're glad they did.
"The way it all started was I just wanted Milana to have something, so she could be proud of her heart condition and not view it in a negative way," recalled Janelle. "I wanted her to read some empowering words. I wasn't able to find what I wanted when I was doing my searches at the beginning. That's how it came to be that I wrote my own words. I thought that as long as she had the book, it's all that really mattered.
"But it turned into something where we were able to distribute the book to others. It's been amazing, the support I've received, including from complete strangers. People have emailed from all over, including a woman in Australia, and said they are so happy that they can give this to their child or someone going through a similar experience. It's a lot more than I anticipated, but it makes it exciting about the funds we can raise for heart-related organizations."
Throughout the book process, Nick, a veteran of 908 regular season NHL games, was reminded of the words he and Janelle often use when speaking of Milana's experiences.
"When Janelle was writing it, we realized that we've come across so many people we've met that have told us a story of their child or a loved one that was born with a congenital heart issue," said the Columbus Blue Jackets captain. "This book goes to out to all of those people and we're part of that community. We want to make sure we support that community the best we can.
"We also want to shine the light on this for people who might not know about this health issue. I think the book is a great way to inspire anyone. I'm just so proud of Janelle. Our motto has always been 'to turn a bad into a good.' We're hoping to do that."
Milana has yet to put the book down.
She's read it on more than a few occasions to her younger brothers, Hudson and Landon.
"When we first got our copies, I gave her one," said Janelle. "I hadn't really kept her in the loop that I was doing this. This surprised her and you can see how good it made her feel. To see her so happy with it… that meant the world to me. It's also started conversations in our house. Her brothers might not fully understand what she's experienced, so she started explaining to them what she's gone through and showing them her scars. Just to see her talk about it in a positive light, those are just beautiful conversations."
The Folignos hope it sparks the same for others.
"Whether it's our daughter or someone else reading it, we want them to feel empowered and realize they're not alone. With this book, I think we helped Milana realize she's not alone. We want people to know they're not alone either."
One hundred percent of the proceeds from the book will be donated back to heart health research, congenital heart defect awareness as well as hospital Heart Centres and families, on behalf of The Heart's Playbook Foundation.
The book can be purchased for $25 at heartsplaybook.com.