Killorn, McDonagh join growing list of 'Jambassadors'; raise over $100K
What makes the off-ice efforts of Alex Killorn, Ryan McDonagh and Kevin Shattenirk so special?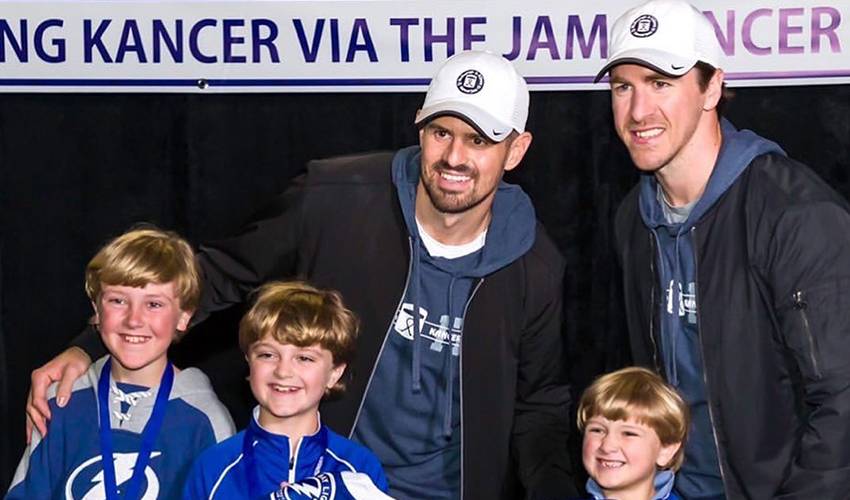 What makes the off-ice efforts of Alex Killorn, Ryan McDonagh and Kevin Shattenirk so special?
Jamey Crimmins knows.
It was during the lead-up to the 2014 New York City Marathon when Crimmins came up with the idea for what would become known as Jam Kancer In The Kan, a unique fundraising platform aimed at supporting families affected by cancer.
The organization's primary goal, 'to inspire others to stage Kancer Jams,' inspires fundraising events that feature KanJam, a game where teams throw a frisbee into a can about 50 feet away.
Since the inaugural Jam Kancer In The Kan held by Crimmins and his three friends nearly six years ago in Scotch Plains, New Jersey, the event has continued to grow in scope and popularity in their own community and well beyond.
It's also attracted the support of some familiar names in the hockey world.
New York Islanders captain Anders Lee, moved by a video of 15-year-old cancer patient Fenov Pierre-Louis's speech at the Third Annual Scotch Plains Kancer Jam in 2016, has hosted multiple Kancer Jams.
The first annual Anders Lee Kancer Jam, held on March 18, 2017, featured Pierre-Louis (who would pass away just over a year later) as the guest speaker. Attended by all of Lee's Islanders teammates, the event raised over $103,000.
I can't put this into anything, let alone a tweet, about the impact you've had on me Fenov. You came into my life, so many peoples lives, you changed them, you changed me. What was contagious wasn't your disease, it was your smile. Rest In Peace Brother. This fight isn't over. pic.twitter.com/x7wXatLkFl

—

Anders Lee (@leeberr09) July 19, 2018
It also motivated fellow NHLPA members, including Shattenkirk, to stage their own events.
During his time with the New York Rangers, the veteran defenceman, now patrolling the Tampa Bay Lightning blue line, hosted a pair of Kancer Jams in the Empire State.
After reaching out to Lee to get his thoughts on the charity initiative, Shattenkirk was quickly sold on the idea of joining the Kick Kancer In The Kan team.
"When I signed in New York, I knew I wanted to do something, to find a way to give back where I grew up, to help those in need," said Shattenkirk. "I had seen a little snippet of Anders' event from the year before, so I got in touch with him and picked his brain about it. He introduced me to Jamey, and it went from there. It was very manageable, where it was something you could do in the middle of the season, and something that everyone can come to and enjoy. For me, what was most important is that it's accessible to everyone."
It also led to a former Rangers teammate and current Tampa Bay teammate to co-host a Kancer Jam event this February.
Ryan McDonagh and J.T. Miller played at Shattenkirk's first tournament before they were dealt to the Lightning. The duo began to plan an event in Tampa, but Miller was traded to Vancouver this past June.
Alex Killorn quickly stepped up and joined the cause.
McDonagh and Killorn recently hosted their event at Sparkman Wharf in downtown Tampa, an evening that benefitted the Adolescent & Young Adult (AYA) Program at Moffitt Cancer Center. Thirty-two teams competed with the Tampa Bay Lightning players, helping to raise over $102,000.

"The event was so meaningful because it was raising money for a great cause," Killorn told NHLPA.com. "Ryan and I both had peers that had been affected by cancer. Typically, it's a segment that is not given as much attention as some other age groups with cancer because it is not as common. Adolescents and young adults have a tough time with life itself, and cancer just makes it that much more difficult."
One moment, in particular, stood out for Killorn.
"For me, that would be the cancer survivors who actually won the tournament. They represented everything we were putting this event on for."
Shattenkirk was happy to help out his teammates.
He gave them top marks for their efforts.
"They did a tremendous job," praised Shattenkirk. "The best trick up their sleeve was that they had Tampa weather so we got to do it outside. The help from the organization was huge – that goes a long way. As far as kicking it off in a new city, it was a big success. It was nice to be on the outside, just offering a helping hand."
Crimmins is grateful for the efforts of the players.
"Having players like Ryan McDonagh, Alex Killorn and Kevin Shattenkirk, and Anders Lee and Zach Bogosian before them host Kancer Jam events has elevated our Jam Kancer In The Kan Foundation Fund from a local community organization to one that is internationally known," said Crimmins. "Not only has their involvement gotten their respective fan bases involved in raising money and awareness, but they each have inspired fans and fellow players from other NHL teams to inquire about hosting their own Kancer Jam events.
"While we handle all management aspects of staging the events from beginning to end for our 'Jambassadors,' the primary reason they are successful is due to the support they receive from their teammates. Every player on the roster will turn out to support these guys, and that is unheard of in other sports. It's fair to say that hockey players are the best, and that is 100 per cent true. We think that guys like Ryan, Alex and Kevin are the "best of the best," for making the effort to bringing their Kancer Jam events to their communities."
Shattenkirk, a veteran of nearly 700 NHL games, has plans to do another event at some point.
He knows just what to expect in the days and weeks after a Kancer Jam tournament.
"You really start to connect with people and realize how many people have been affected by cancer. That's where it really hits home, when those stories are shared. After two years, we almost had a little community, a little network that we created. People that support the foundation came down to Tampa all the way from New York to support Alex and Ryan because they love the event so much.
"It's just amazing. Kids you meet through hospitals, families you meet from sitting down with, to hear their struggles and what they are dealing with… those are bonds you will have for life. People still stay in touch with the foundation, which says a lot about its ability to connect people."
Crimmins has seen, first-hand, the difference players have made in the lives of many.
He has high praise for the level of commitment and genuine interest the players show for Jam Kancer In The Kan.
"I think the most impressive thing about their commitment to our cause is that they each have gone out of their way and invested a great deal of time to identify a specific area where they've chosen to donate the funds we've raised.
"Kevin Shattenkirk chose to support an underfunded hospital close to his hometown, and after learning that the Playroom in the Pediatric cancer ward was open limited hours due to lack of funding, his donation was made to hire staff so that the room was open from early morning until late at night. Ryan and Alex took the time to make multiple trips to Tampa's Moffitt Cancer Center, to learn where their funding could make the most impact. They chose to support the Adolescent & Young Adult Program, which serves patients in the 15-39 age group, the age group of they and many of their fellow NHL players. Their donation is going to ensure that patients in this age range age now has the option to preserve their fertility before beginning their treatments."
For Shattenkirk, hosting and being part of a Kancer Jam is much more than just raising money for worthy causes.
It was something he recalled when at his Tampa teammates' recent event.
"What I often think about is the uniqueness of it. You're standing next to your favourite NHL players, you're playing frisbee, and just having a regular conversation. Nothing forced, everyone is having a good time. The game itself relaxes everyone a little bit. Some people can throw a frisbee and some can't. You end up having a good laugh about that. All the fans get to talk to one another and share their stories with one another. That's where the bond begins."
But not where it ends.