From full-contact mini-sticks to full-fledged NHL players
It's a safe bet the upcoming installment of Tanev vs. Tanev won't be anything like the times they faced-off against one another as kids.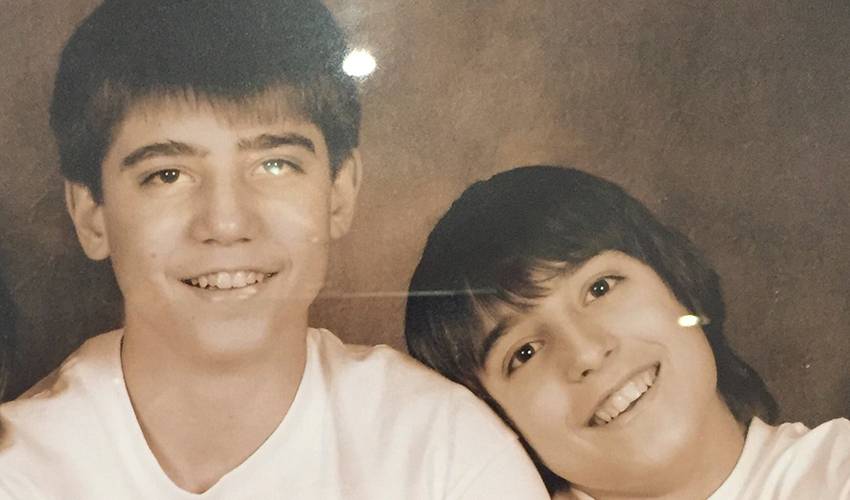 Feature photo: Twitter/@sportsnetmurph
---
It's a safe bet the upcoming installment of Tanev vs. Tanev won't be anything like the times they faced-off against one another as kids.
Dents in the wall. Questionable hits. Game misconduct-worthy infractions.
Indoor mini-stick hockey games featuring the Tanev sibling trio of Chris (the oldest), Brandon (middle) and Kyle (the youngest) were, at times, rough-and-tumble affairs.
Hockey Night In East York (Ontario) was never boring.
"It was definitely not all peace and love," said Brandon, who signed a six-year unrestricted free agent contract with Pittsburgh this summer after 195 career games with Winnipeg. "Our basement in our house when we were growing up probably had 300 holes in the wall. We used to go pretty hard in mini-sticks, soccer or football – whatever we played. I think our parents just let us do whatever we wanted in the basement and when it got to a certain time, when we were a little older, they would fix it up."
Chris, in his 10th NHL year, all with Vancouver, would usually be at a disadvantage when the puck dropped on the indoor hockey games.
As the eldest, the defenceman comprised a one-man team, while Brandon and Kyle made up the other squad.
"Him being the older brother, most of the time it was 2-on-1 with Kyle and I going up against him. We used to get into it pretty good. We would play full contact mini-sticks. We'd have buddies over, too. It was always fun to head downstairs and let off a little steam."
Who was the agitator amongst the group?
"I'd probably say I was the instigator," said Brandon. "The peacemaker was all of us when we heard our father's footsteps coming down the stairs."
All of it, bumps and bruises included, brings back fond memories for the Tanevs.
"It was just a lot of fun, even when things got a little rough," recalled Chris. "Any hurt feelings didn't last long at all. You realize now how great it was to spend that time with one another."
Part of that rivalry will be renewed on December 21 when the Penguins visit the Canucks at Rogers Arena and the two square off on NHL ice for the 10th time.
It all started in 2016 with Brandon, then a member of the Winnipeg Jets, visiting Vancouver on a road trip that Decemeber.
A month ago, Pittsburgh bested the Canucks by a score of 8-6 on November 27, with both Chris and Brandon recording an assist.
Brandon Tanev on facing off against his brother, Chris: "It's fun. You go into the corner and battle against your brother. You don't want to hit him too hard, but you do want to hit him at the same time. You don't want to give your mom a heart attack in the stands." pic.twitter.com/JmG3MZXIKX

—

Pittsburgh Penguins (@penguins) November 26, 2019
"When we play against one another, it's usually, 'Hey, what's going on? How's everything?'" started Brandon. "Usually, it's a quick chat in warm-ups, and if you're lucky enough to have a face-off where you're lined up against one another, you chat for a quick second, but the game goes by so quickly, you can't really have a conversation."
"That's what it is," said Chris. "Just something very quick. You are so dialed-in on the game and that's your main focus. But it's something we both really appreciate, the chance to play against one another. We always dreamed about playing in the NHL, so for both of us to have that happen is something really special."
It's not only special for the NHL brothers, but also for their family.
"With our father, mother, younger brother and other relatives, whenever they are able to come out and watch us play against each other, it's a special moment for all of us," said Brandon. "The bigger picture, having everyone at the rink at the same time, being there together, it's that more memorable when everyone can watch us play against one another – it's just like the days when we were younger."
"It's so really hard to explain," said the pair's father, Mike. "As a father, you're so proud of the moment that they're in the NHL, but you're watching them against each other, and it's just one of those things where it's surreal.
"My kids were actually left at the bottom of the barrel because they were small. And all of a sudden, they grew and thankfully, they were able to get scholarships to play college hockey. After that, that took over."
Chris and Brandon are also grateful for the support of their younger brother.
The 25-year-old played hockey with the Aurora Tigers of the OJHL and with the GOJHL's Thorold Blackhawks and Caledonia Corvairs.
"Kyle's been awesome," said Brandon. "He was a good hockey player growing up. We have a group chat between the three of us and we're always talking about things that are going on in life. It's good to always connect with one another on a daily basis, just to chat and have that bond as brothers."
And perhaps on occasion recall those childhood days of mini-stick games when the rules – and walls – were regularly broken.
"It was never peace and love," said Chris. "There was three of us, so it was always rough. Everyone wanted to beat each other no matter who was on who's team. It was usually Brandon and Kyle versus me in whatever we did – they always tried to beat me and I tried to beat them. It was just all of our competitive spirits coming out. But it was great."