Ben Harpur Big Game a big success for Niagara youth
The Ben Harpur Big Game was the ideal way for Harpur to give back to his community.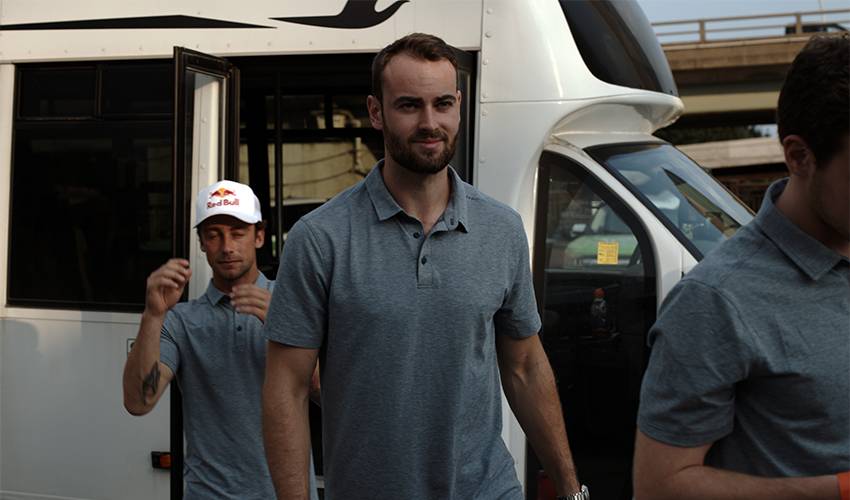 What do you do in the summer to unwind after the tough grind of an NHL season? If you're Ben Harpur, you pick up a stick, have a ball, and support a worthwhile cause.
The Ben Harpur Big Game, a charity ball hockey tournament hosted by the Toronto Maple Leafs defenceman, was admittedly the ideal way for Harpur to give back to the community.

"It brought back a lot of good memories of playing ball hockey with my younger brother, Chris," said Harpur, traded from the Ottawa Senators to the Toronto Maple Leafs this July 1. "He's a year younger than me and he's playing college hockey right now. We'd always play ball hockey when we'd get home from school. We'd strap on the roller blades and go out there. We were lucky enough to live on a quiet little circle and we'd play for hours, basically, until we got called for dinner, and then we'd be right back out there until it was dark."
Recently, the six-foot-six, 222-pounder had the welcome chance to relive those childhood days growing up on the border of Niagara-on-the-Lake and Niagara Falls.
Harpur arrived at Gale Centre Arena early in the morning and didn't head home until the tournament, in support of Canadian Tire's Jumpstart program, ended in the evening.
He signed autographs and had his picture taken with fans on a day that saw 250 kids come out to play ball hockey.
The event also included an all-star game that featured Harpur, Ottawa Senators forward Brady Tkachuk, NHL prospects and other local players facing off against kids who had raised the most in pledges.
The goal was to raise $25,000 for Jumpstart, a national charity dedicated to helping kids overcome financial and accessibility barriers to sport and recreation, while providing inclusive play for kids of all abilities.
Mission accomplished.
"If I can use my platform to raise money for Jumpstart – I think it's a great charity, they do amazing work, and the money is staying in Niagara region – I'm happy to do it. If I can help some of those kids create the memories and the friendships I was able to make, that would be pretty rewarding. It went really well, we got some great feedback, and it seemed all the kids had a lot of fun."
The event was also a reminder of the sacrifices Harpur's parents made for their sport-loving children.
"As I grow older, I can really start to appreciate the sacrifices that my family made," said Harpur, who was born in Hamilton, but moved with his family to Niagara Falls a year later after his father accepted a job as a surgeon at Greater Niagara General Hospital. "I realize that my siblings and I – my older sister, Katie, played basketball at Brock University at a high level and played every sport that she could play – were really fortunate to have had that support. My brother and I were the same way… we played soccer, basketball and obviously, hockey.
"The time and the money that goes into all of that, and the friendships and memories I've made along the way – the sad reality is that a lot of kids don't have access to that. That's why I believe in what Jumpstart is doing."
While Harpur picked up some new fans along the way, he's the one grateful for the widespread support he received.
"It's pretty awesome to see how happy the kids are," said the blueliner who suited up with Guelph and Barrie of the Ontario Hockey League prior to making his NHL debut with Ottawa in 2015-16. "It was nice to see everyone having a good time. That's exactly what we were hoping for."
Thank YOU @bharpur95! What an amazing day for everyone involved. On behalf of the Jumpstart kids in your hometown community of Niagara, we are so lucky to have your support in helping us break down barriers to sport and play. We can't wait for next year!🏒 https://t.co/9XVJ97HVik

—

Jumpstart (@CTJumpstart) July 23, 2019