Mental health, art intersect for long-time friends Lehner and Gunnarsson
David Gunnarsson knew the mask he was painting for his friend Robin Lehner was deeply meaningful for the goaltender – but the artist never expected it would have the same effect on him.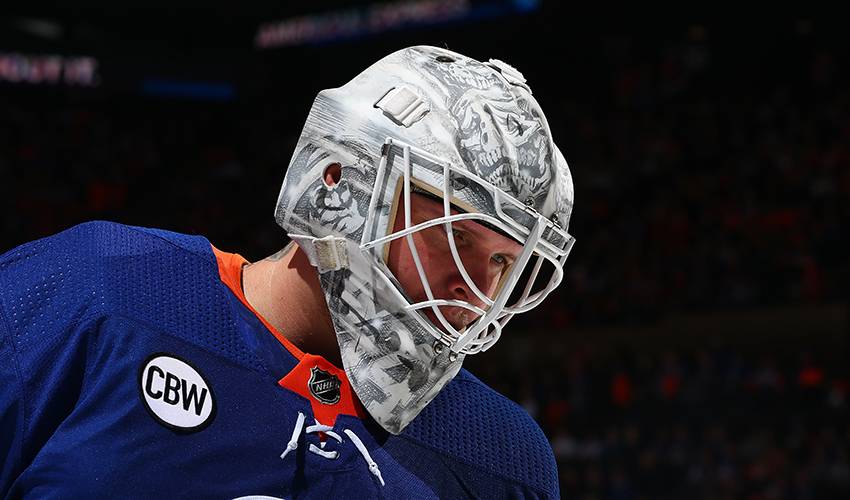 David Gunnarsson knew the mask he was painting for his friend Robin Lehner was deeply meaningful for the goaltender – but the artist never expected it would have the same effect on him.
He is hockey's masked marvel, the man with a magic touch whose artistic creations are on display throughout the hockey world.
Working from his studio in a small town in Sweden, Gunnarsson, through his DaveArt company (founded when he was 16), produces some of the most colourful and compelling goalie masks in the NHL.
It was prior to the start of the 2018-19 NHL season when Lehner, who hails from Gothenburg, Sweden, approached Gunnarsson with a request for a new mask.
While each creation has a unique story behind it, this one was different from any the artist had ever worked on.

At the start of 2018-19 training camp, Lehner, who had signed a free agent deal with the New York Islanders, wrote a piece for The Athletic that detailed his battles with alcohol dependency, depression, and the diagnosis of bipolar 1 with manic phases after he entered the NHL/NHLPA Substance Abuse and Behavioral Health Program (SABH).
"I have been working with Robin since he was a young boy in Sweden," started Gunnarsson. "He was around 14 or 15 and I remember him starting from those days. I have been working with Robin on so many masks over the years."
As the two longtime friends spoke about Lehner's struggles, and his wanting a goalie mask to represent the challenges he was facing, the goaltender's words affected Gunnarsson in a way he hadn't anticipated.
"This mask one is by far the most important one I have painted for him," offered Gunnarsson. "It's also very personal for me. When he told me his story, I hadn't known he was feeling so bad. I was so happy for him that he had found help and reached out for it. We talked a lot last summer about how we would create his story on the mask. We came up with the idea to create demons on the top of the mask – the demons that were after him for so many years – and then on the side of the mask, I painted a sunrise, the sun coming up over the horizon, which helps describe his new life."
For Lehner, who had his best year between the pipes in 2018-19, earning finalist status for both the Vezina Trophy (awarded to the goalie adjudged to be best at his position) and Bill Masterton Memorial Trophy (awarded to the player who best exemplifies perseverance, sportsmanship and dedication to the game), having Gunnarsson open up about his own struggles has been humbling.
"It's always special to work with him," the 27-year-old told NHLPA.com. "When I came out and described some of my issues, he opened up and shared some of his. He understood what I was going through on some levels. We were both on the same page when we were talking about it."
Those chats helped open a new chapter in Gunnarsson's life.
"It was emotional for me. I have also suffered from mental health issues… anxiety, panic attacks and OCD. I have talked about it a lot because it helps me. When Robin told his story, on a much bigger scale, it made me more brave. So, I talk about my story even more now. Robin has truly helped me."
Gunnarsson is reminded of that bond every time he sees Lehner wear the mask they designed, the one that is still garnering plenty of attention.
Two of the artist's masterpieces, including Lehner's, are finalists in the "Best Mask" category for this year's NHL Fan Choice Awards.
Expanding from 10 categories to 20 in 2019, the awards offer fans the chance to engage with and vote on the best photos, videos and GIFs shared by teams and players during the 2018-19 NHL season on social media. Fans can vote until June 15 with the winners announced on June 20.
Gunnarsson is also represented by NHLPA member Antti Raanta, who along with Anton Khudobin, Ryan Miller and Lehner, comprise the four finalists vying for top mask honours.
"Last summer, Antti told me he wanted to do a tribute mask for Shane Doan. I quite often do tribute masks for idols or players that goalies like. I learned so many good things about Shane Doan through my research. I came up with the idea how to create the look by incorporating the old Coyotes logos. I made a mask for Antti a few years ago that paid tribute to different players on the New York Rangers. It's a bit inspired by that look when it comes to the design."
Having transformed the barn that his grandfather built in the 1930's into an art studio, Gunnarsson has found peace and tranquility there, a space that enables him to create his unique masterpieces.
"The inspiration has come to me like water is running in from the ocean," he said. "It comes like a flood to me. I get inspiration from music, movies and other things. I also think that my own problems with mental health issues when I grew up with OCD… I painted so much when I was a kid and it never gave me any anxiety. When I painted, I was free. My weakness with my OCD, I have managed to turn it into my strength. I'm so grateful and humble to have this life. When I was a kid, my dream was to paint every day and that is what I'm doing now. For me, it feels like Christmas every day."