Nelson showcases knack for creating offence in Isles series sweep
He was once a tall, lanky kid looking to add some size and skill to his game. Mission accomplished for Brock Nelson.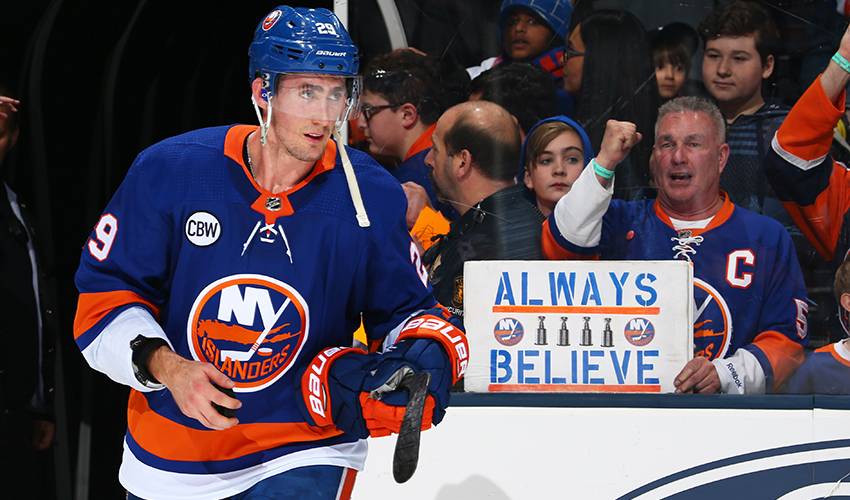 He was once a tall, lanky kid looking to add some size and skill to his game. Mission accomplished for Brock Nelson.
For two seasons at the University of North Dakota, men's hockey associate head coach Dane Jackson watched the kid from Warroad, Minnesota work tirelessly to develop his on-ice abilities.
These days, Jackson is seeing how all that hard work has paid off.
"It's fun to watch him and see him playing so well," said Jackson of the New York Islanders centre, who along with his team is enjoying a stellar start to the 2018-19 Stanley Cup Playoffs.
"He's always had a great stick and he's a smart player. He's always been the guy who has had an offensive knack, that's for sure. We only had him for two years and we were hoping we'd have him for one more, but for him, it was just a matter of getting bigger and stronger. He was really dedicated to doing everything he could to make himself a better player. He's done that."
In those two seasons at North Dakota, Nelson, a finalist for the Minnesota Mr. Hockey Award, given to the top Minnesota high school hockey player, jumped from 21 points in 42 games in his first year to 47 points (28 goals) in 2011-12, his final collegiate campaign.
Drafted 30th overall by the Islanders in 2010, Nelson, after making his NHL debut in the 2012-13 postseason, appeared in 72 games with New York the following year, when he scored 14 goals and recorded 26 points.
This season, the 27-year-old reached the 20-goal plateau for the fourth time in the past five seasons. His 53 points was a career-best mark.
"He's strong on both sides of the puck," said Jackson. "He has great offensive instincts and has the ability to find offensive pockets in the zone and to find space. He can make plays, too. He's not just a guy who can score goals. He's got great spatial awareness, in knowing what's going on around him. Brock is just one of those guys that knows how to create offence."
Just like he has in the 2019 Stanley Cup Playoffs.
Nelson scored the eventual game-winner in the Islanders' 4-1 win in Game 3 of its Eastern Conference quarterfinal series against Pittsburgh. In Game 4, he once again scored the winner, to help give New York a sweep of the Penguins. In four games, he's produced three goals on 12 shots.
Averaging 18:45 of ice time in the post-season, the 6-foot-3, 212-pounder has been a factor at both ends of the rink.
Jackson is impressed, but hardly surprised with Nelson's performance.
"Not at all, actually," offered Jackson. "He is one of those players that can do so much anywhere on the ice. And he's so genuine and down-to-earth. You wouldn't know he's an NHL star. He's got such a laid-back demeanor. He'd be one of the first guys to talk to your kids at the rink."
It turns out hockey isn't Nelson's only strong suit.
"We'll definitely book a time," said Jackson of their annual golf outing. "The last few years we've met in Minneapolis and played. He's a good player, a very solid golfer. He's got that great hand-eye coordination. But we'd be happy to wait for him, though. We missed (T.J.) Oshie (also a North Dakota alum) at our golf reunion last year when the Capitals won the Cup, so hopefully 'Nels' will be playing just as long too."