Craftmanship a therapeutic hobby, potential second career for Smith
What began as a childhood bonding experience with his father has built into something truly special for Ottawa Senators forward Zack Smith.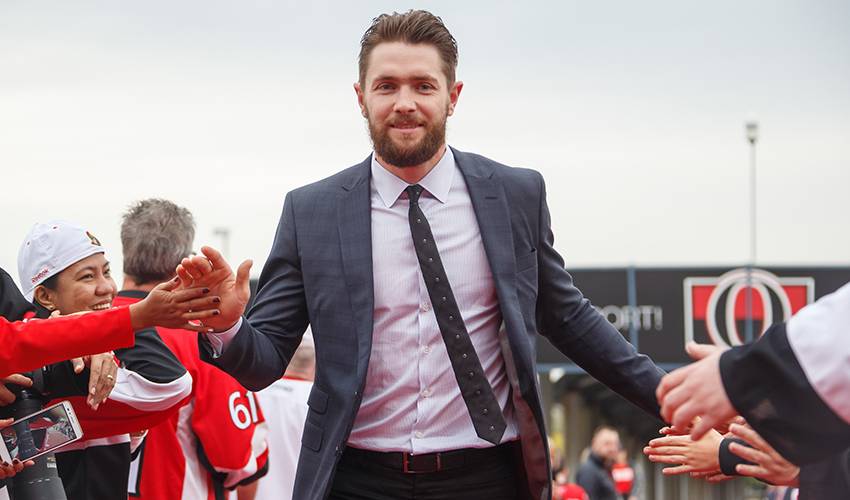 What began as a childhood bonding experience with his father has built into something truly special for Ottawa Senators forward Zack Smith.
He can still easily recall his younger days in Maple Lake, Saskatchewan, a town in the province's southwest that's home to just over 2,000 people, when he would watch his father, Dean, a carpenter, create one-of-a-kind pieces out of a pile of wood.
"I grew up kind of helping him with different stuff," said the 29-year-old Smith. "I enjoyed doing that kind of thing – working with tools and wood – from an early age. I learned the basics from my dad. I guess over the last three or four years, I've gotten more into it once I got my own place and a little space for a shop. It's my newer hobby."
His former hobby, one that elicits a self-deprecating laugh from Smith, has been put on the shelf, so to speak, to make room for his woodworking projects.
"I think my first few years in the minors I spent a lot of time playing video games and I wanted to find a different way to make use of my free time," offered the 79th overall selection of the Senators in 2008. "I enjoy getting away from the game and taking my mind off hockey for a while."
The hobby has also prompted thoughts of a possible post-hockey career.
"You don't always think about what you're going to do when you finish playing, but that could be one avenue I could take," he said of his woodworking. "Where I'd want to go in woodworking or carpentry, I'm not quite sure yet, but it's definitely something I'd consider once I'm done playing."
For now, Smith has plenty on his workbench to keep him busy during off days on the NHL calendar.
The most notable project is one he's working on with a familiar face.
"One of the coolest experiences I've had is building a cabin back home with my dad," said Smith. "To build something with my dad, to bond through that, has been really awesome. We'll always have that, to say that we built something together. He doesn't golf any more, I don't golf that much, so this has been our time together. It's been a fun experience.
"The plan is to keep the cabin in the family," he continued. "It's in Beaver Flat (a resort village about a two-hour drive northeast of Maple Creek). We've had a place there for years. My wife's parents have a place there – along with her grandma and aunt. It's definitely a fun place to spend time with family and friends in the summer."
The cabin isn't the only work Smith wants to see stay in the family.
There are plenty of pieces in his shop – some in their early stages, others farther along – which he intends to create and pass along for others to enjoy.
"Learning the construction side of things through the cabin has been great," said Smith. "Furniture making is something I'm really getting into and power carving, too. Refinishing and repurposing a piano into a bar was my last project. I also mad a few tables and benches, too. It's just working on different skills and learning as I go along. I watch videos online that help you learn new things as well.
"I have a lot of respect for things that are well built and that last," he continued. "One thing I always wanted to do was build something that would last. I'll never be an architect or design a building, a castle or a mansion – but I want to build something well, do it with pride and have it last a long time. I have a lot of respect for that. Heirloom furniture that you can build and pass it down to others, something that has a story to it – I enjoy that part of it."
Beyond the patience, precision and pride in craftsmanship that goes into his creations, Smith views his woodworking as somewhat therapeutic, a chance to take his thoughts away from the game, even if it's only for a few hours.