Skrastins Ready to Lead Latvia
Iron-man defenceman is eager to suit up for him homeland in Vancouver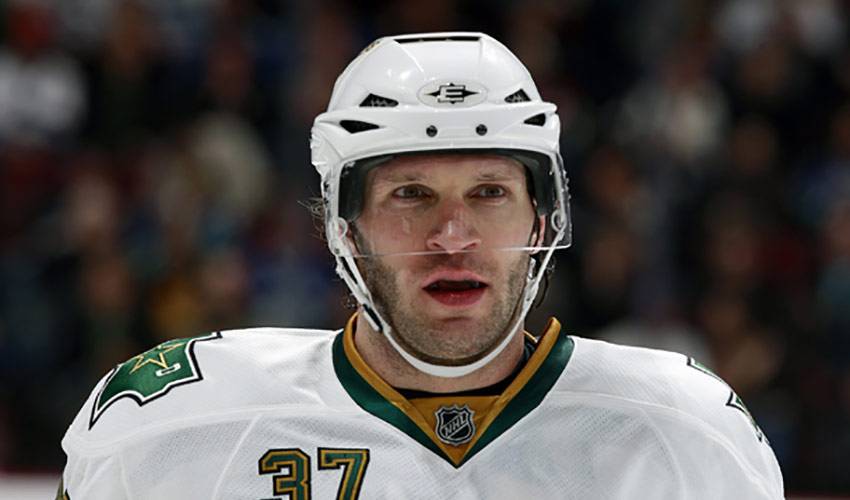 Their roster doesn't possess nearly the same firepower as a vast majority of their Olympic rivals, but the Latvian squad that will take to the ice won't be short on work ethic.
The upcoming Winter Games in Vancouver represents Latvia's fourth Olympic appearance. To reach the field of 12, Latvia had to win a qualification tournament last February held in Riga. They beat Hungary, Ukraine and Italy to make it to the 2010 Games.
Latvia, who made it to the quarter-finals of the 2009 World Championships, is 10th in the International Ice Hockey Federation's world rankings.
Yet even with the odds clearly stacked against them in their pursuit of an Olympic medal, Latvia isn't about to concede defeat. It's clearly not their style to give up.
Just ask NHLPA member Karlis Skrastins.
"I know for Latvia, the national team means a lot," said the defenceman, who signed with the Dallas Stars in July of 2009. "Hockey, it's the No. 1 sport in Latvia. We don't have a lot of NHL hockey players who can help our team."
But they can always rely on Skrastins.
Selected by the Nashville Predators with their 230th pick in the 9th round of 1998 NHL Entry Draft, Skrastins played for Nashville for the next five seasons until he was traded to Colorado in 2003.
On February 8, 2007, he played in his 487th consecutive game to pass legendary Tim Horton for the longest playing streak in NHL history by a defenceman. Skrastins' streak ended at 495 games, when he missed a February 25, 2007 game against the Anaheim Ducks with a knee injury.
He had previously missed only one other game due to injury in his career, that coming against St. Louis on February 18, 2000, due to a minor shoulder injury.
A remarkable feat in itself, but even more so considering Skrastins' penchant for putting his body in front of shots.
"It's not like I'm going to try to block every shot," said Skrastins, who played in his 600th NHL game on October 16, 2008. "But if I can see I can help the goalie and I can stop the puck, I will block the shot. I have a lot of protection. I have a lot of good gear on my body. So it's not like every shot is getting through and I feel pain. It's my part, my style of the game and I'm used to it already. After the games, I have a lot of ice packs on my body, but it's what I do."
Just don't look for Skrastins to make a big deal of his record.
"Maybe I don't feel the pain like other people," he offered. "I don't know, it's how I'm saying, it's my job and it's what I like to do. If I can keep going, I just want to, because everything I've got, it's hard work and it's a lot of effort."
That unselfishness can be found up and down Latvia's men's hockey Olympic roster, a group that relies on chemistry rather than flash. Fifteen of their players are from Dynamo Riga, the only Latvian-based club in the Russian Kontinental Hockey League.
"I think that the work ethic, it comes more from my parents, from my dad and from my mom," said Skrastins. "And of course, maybe it comes from those times when, you know, if you wanted to get something from life you had to work hard. Like my mom, she was working in two jobs."
Whether Latvia can better their previous top Olympic moments, a 4-2 victory against Austria and a 9-2 win against Ukraine in 2002, along with a 3-3 tie against the United States in 2006, is a question mark.
But it won't deter Skrastins, who has built up a huge international resume playing for Latvia, from putting it all on the line come February.
"It's what I learn from my dad and from my mom just to be a hard worker," said Skrastins. "It's how I got my goals and how I got my dreams, if I want to, you know, to get something, you have to work really hard. It's what I tried to do."
And if Skrastins does need a little incentive heading into the Olympics, listening to the words of fellow Latvian Arturs Irbe, a former NHLPA member who currently handles goaltending duties for the Washington Capitals, might provide even more inspiration.
"The glass should always be seen as half full," Irbe recently told NHLPA.com. "Life is wonderful."