The Great Slovakian Hope
Captain Zdeno Chara stands tall for his team against international powerhouses in Vancouver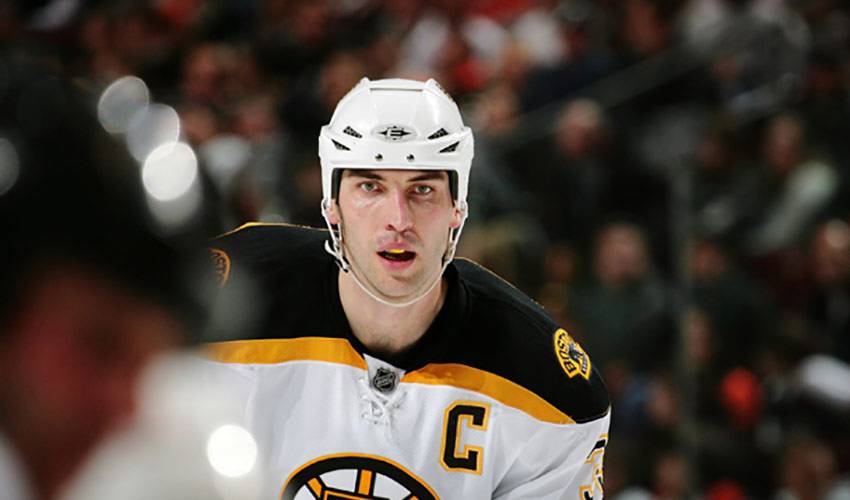 His sheer size – all 6'9" and 255 pounds of him – is something people can't help but notice when they meet Zdeno Chara. But the captain of Team Slovakia's Olympic squad isn't just about making good first impressions.
It was nearly 15 years ago when Rick Brodsky, owner and president of the Prince George Cougars of the Western Hockey League met Chara face-to-face, so to speak.
The towering blueliner, who had already been selected 56th overall by the New York Islanders in 2006, was about to enter his first campaign (1996-97) outside of European hockey circles in a league known for its speed and physical play.
"Well, I suppose a lot of things stood out when I met 'Z' for the first time," said Brodsky, who has over 30 years of experience in the hockey community, nearly 14 of those as owner and president of the Prince George Cougars Hockey Club. "We were definitely pleased with what we saw on the ice and in the person, too. We did have to help his billets out, though. He ate a lot of food, but at his size, that wasn't a big surprise. Everyone took to him right away. He was such a great kid."
A kid who would have no choice but to learn to adjust to a tough-as-nails brand of hockey and several opponents eager to drop the gloves with the towering European.
It wasn't necessarily a wise decision, as Brodsky recalls.
"I found it very interesting to see just how tough he was," recalled the man who was responsible for relocating the former Victoria Cougars to Prince George after purchasing the franchise in 1994. "It was amazing to watch. These tough guys would come after him and he'd beat the crap out of them. And the most amusing thing about it all was that he would feel bad about it afterwards."
The aftermath of a Chara fight sometimes meant a trip to the medical room for the opposition.
"The room was in close proximity to our dressing room in Prince George," said Brodsky, who spent 10 years serving as Chairman of the Board for the Western Hockey League. "There was a couple of times when we'd go by and 'Z' would see the staff sewing up guys and he would ask me, 'Is he going to be okay?' I told him not to worry and they'd be fine.
"That's just the way he was. He didn't have a mean bone in his body. We've had a lot of tough guys play in the league, guys like Wendel Clark, Joey Kocur and Dave Brown. They were tough and they had a mean streak in them. Zdeno wasn't like that, but because of his size and how he handled things, he was able to create room for himself."
Chara not only endeared himself to his teammates, coaches and the organization, but he also became a genuine fan favourite, too.
He even landed a part-time job at a local car dealership.
"Zdeno would clean the cars," remembered Brodsky. "He was big enough to wash the tops of the SUV's and the big cars. He had that big reach so it was easy for him to do the job."
Though his time in Prince George was brief, 49 games in total, Chara is one of the most beloved players to ever slip on the Cougars' uniform.
After four seasons with the Islanders, Chara was traded to the Ottawa Senators during the 2001 NHL Entry Draft. He was part of a deal with Bill Muckalt and the second overall pick in that year's draft (Jason Spezza) that sent Alexei Yashin to New York.
Chara emerged as an elite defenseman and more than doubled his previous offensive totals in his first season with Ottawa. In his second campaign with the team, 2002–03, he made his first All-Star Game appearance and recorded the second hardest shot behind Al MacInnis in the skills competition.
The next season, in addition to posting 16 goals and 41 points, Chara recorded the league's third highest plus/minus rating, behind Martin St. Louis and Marek Malík, culminating into his first Norris Trophy nomination. Although he lost out to respected veteran Scott Niedermayer for best defenseman honours, he joined Niedermayer on the NHL First All-Star Team.
After the 2004–05 NHL lockout, in which Chara competed in the Swedish Elitserien for Färjestads BK, he matched his previous NHL season's 16-goal total and registered to 43 points, and earned NHL Second All-Star Team honours. At season's end, he became an unrestricted free agent.
On July 1, 2006, Chara signed a five-year, $37.5 million contract with the Boston Bruins and was named captain. He became only the third Slovak-born NHL player to become a team captain, after Peter Š?astný of the Quebec Nordiques and Stan Mikita (co-captain) of the Chicago Blackhawks.
Chara was named to the 2007 All-Star Game, his second appearance, and netted a pair of goals in a 12–9 Eastern Conference loss. He also won the hardest shot segment of the skills competition, clocking a shot at 100.4 mph.
In 2008, Chara was voted in as a starter in the All-Star Game for the first time in his career and repeated as the winner of the hardest shot competition.
After a first-round elimination at the hands of the Montreal Canadiens, Chara underwent a shoulder operation on April 29. At season's end, he received his second nomination for the Norris Trophy after a career-best 17 goals, 34 assists and 51 points, marking the fifth consecutive campaign he had either matched or increased his previous season's points total.
Last season, Chara was named to his fourth All-Star Game. As back-to-back champion of the hardest shot competition, he set a new Skills Competition mark, with a 105.4 mph slapshot. The shot passed Al Iafrate's previous record-making 105.2 mph from just over a decade earlier.
Chara's season ended on a high note when he was awarded the Norris Trophy, beating out Mike Green of the Washington Capitals and Nicklas Lidstrom of the Detroit Red Wings.
"I'm absolutely not surprised that Zdeno has achieved what he has," offered Brodsky. "He always had a great work ethic. He wanted to be an NHL player. What makes it special is that he wasn't overly blessed with talent, but he worked hard to get where he is."
And for that, Brodsky couldn't be happier.
"We are proud of our all our guys, whether or not they make it to the NHL," said Brodsky. "But I would say that 'Z' falls into a special category. He was a great addition to our club and was certainly appreciated by everyone he played with and by everyone in the Prince George community. We all loved him."