Myers Making Huge Strides in Buffalo
Talented rookie d-man helping the Sabres strive for the Northeast title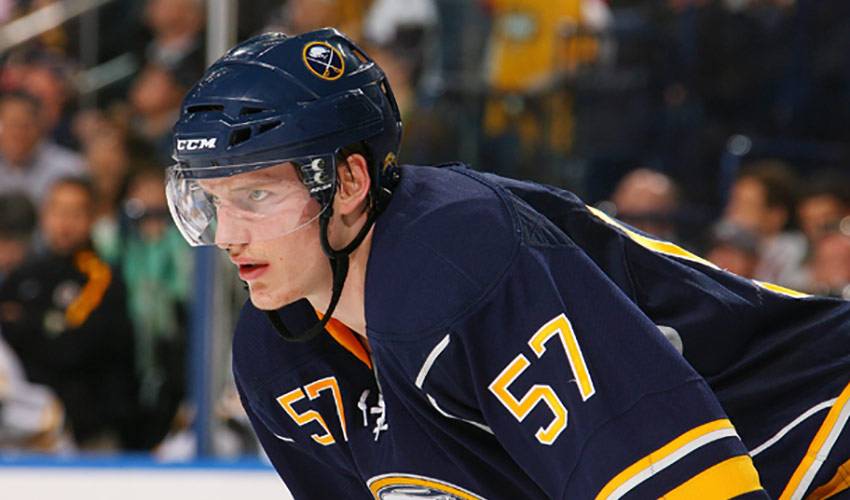 Sheer size isn't the only thing that makes Tyler Myers stand above the competition.
When you stand 6'8" and weigh in at over 220 pounds, people take notice.
But for Myers, currently in his rookie National Hockey League campaign, it's his big-time talent that has turned heads in 2009-10.
Bruce Hamilton, president and general manager of the Western Hockey League's Kelowna Rockets, always knew Myers would make an impression at hockey's highest level, even if it wasn't always smooth skating for the towering defenceman.
"First off, he's the most honest guy going," said Hamilton, of Myers, who played three-plus seasons with the Rockets from 2005-06 to 2008-09. "What you see is what you get. He's a tall, easy-going guy, the type of young man you'd have no problem taking your daughter out on a date."
"As for his game, we always knew he'd come along," continued Hamilton. "We had to give him some time to let him grow into his body and feel comfortable on the ice. There were some stumbles at the beginning, but he just became better and better every year."
While Hamilton and the rest of the Rockets brass were content in being patient with Myers, the blueliner wasn't quite so forgiving of his errors.
"He was very hard on himself and he still is," noted Hamilton, of Myers, who was born in Texas, but moved to Calgary, Alberta with his family when he was 10 years old. "What people might not know about Tyler is that he is an unreal student. His parents' philosophy was that if your marks aren't good enough, you don't play. That's our policy, too. He's an extremely well brought-up young man."
And, as Kelowna and the rest of the WHL found out, Myers is also a highly-skilled player.
Myers began his junior career in 2005–06. Following his NHL draft year in 2007–08, he was ranked fourth among North American draft-eligible skaters by the Central Scouting Services.
Selected 12th overall by Buffalo in the 2008 NHL Entry Draft, after the Sabres traded the Los Angeles Kings a third-round pick to move up from the 13th spot, Myers helped the Rockets to a 2009 Ed Chynoweth Cup championship following a junior career-high 42-point regular season. Scoring 20 points during the Rockets playoff run, Myers was instrumental in the franchise winning their third WHL title and was selected as the WHL Playoff MVP.
"When he came back from winning a gold medal with Team Canada in 2009, he was a different player," recalled Hamilton. "I think (Canadian head coach) Pat Quinn had a lot of influence on him. Tyler was a step ahead of everyone when he got back. I don't think it's a stretch to say he was the most dominant player in the league."
Overall, Tyler is a laid-back player, making calm decisions and viewing the ice very well. That is not to say that he is shy when it comes to showing a physical side to his game.
"It was last year against Vancouver in the playoffs when he hit one of their players with a huge check," recalled Hamilton. "It changed the entire complexion of the series."
Less than 100 games into his NHL career, Myers has shown the same game-changing abilities he did in junior.
He recorded his first NHL point on October 8, 2009, an assist, against the Phoenix Coyotes. On October 16, Myers scored his first NHL goal against the New York Islanders. It was his first multi-point game, when he also had an assist.
On October 24, 2009, Myers was called on in the sixth round of a shootout against the Tampa Bay Lightning and scored the game winner. After an impressive first nine games with the Sabres, the Eastern Conference club decided to keep him in Buffalo rather than return him to the Rockets.
It was anything but a surprise to Hamilton.
"Not in the least," he said. "When he left training camp here in Kelowna, we all knew he wasn't coming back. I'm not sure Buffalo knew what they were getting in Tyler, but they found out pretty quick just how good this kid is."
A kid who hasn't forgotten the team that helped launch his big-league career.
"He's one guy I talk to a lot," noted Hamilton. "We text or talk to each other often. I like to bust him up a lot. He usually calls when he's on the trainer's table or having lunch. I get some good-natured shots in on him. He's a guy everyone likes."
That was evident when Myers came back to Kelowna during the 2010 Winter Olympic break.
"He worked out with the guys on our team and then took them all out to lunch," said Hamilton. "Then he took them out for dinner the next night. He really enjoyed his time here. I think he'll buy a place here someday."
For now, the focus remains on his budding professional career, one that appears to be on the fast track.
"What else can you say other than that he is a special guy," offered Hamilton.
His first NHL campaign suggests Tyler Myers happens to be a special player, too.