Howard finds his Wings
Rookie 'tender is proving that the Wings still have what it takes to contend in '09-'10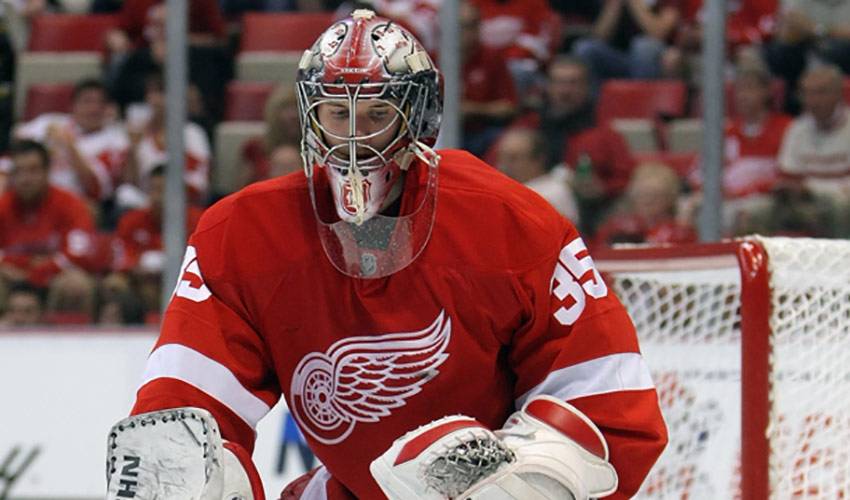 If the Detroit Red Wings are to net a third consecutive trip to the Stanley Cup Finals, one of this season's breakout stars could play a key role.
Coming into the 2009-10 NHL campaign, Jimmy Howard was a relative unknown, a goaltender with one win, a victory that he registered in 2005-06.
But the native of New York is no longer an unfamiliar name, and is a big reason why the Red Wings are still considered by many to be a legitimate threat to once again challenge for the Stanley Cup this year.
"I think the big thing is obviously Howie's done a real good job for us," said Mike Babcock, Detroit's head coach. "Howie is a rookie in the league who at 26 years of age now has found a game, and a steady game each and every night and given us solid goaltending."
It's just what the Wings needed as the Original Six club found themselves in an uncharacteristic position in the latter stages of the regular season, struggling to make the top eight in the Western Conference.
But through the efforts of many, including Howard, Detroit has secured a post-season spot, and in doing so, have earned a label as a team many in the West would love to avoid.
For Howard, it represents his first opportunity to contest the Cup in a starting role. And while he isn't playoff-tested at hockey's top level, Babcock isn't losing sleep over his backstopper's ability to come up big in the big games.
"I think a big part of that is just his preparation will be no different than it's been all year, getting ready," opined Babcock, of Howard, who holds the University of Maine school records for shutouts, goals against average and save percentage (all three marks are for both single season and career) Now, the nerves. People always say there are nerves in playoff games. It's not like a playoff game until it's a playoff game. You never know what's between a guy's ears until he's been through it and survived."
Babock envisions Howard thriving, not merely surviving, when the puck drops on the second season.
"This year with Howard, he's had multiple styles and has done a good job with all of them," praised Babcock. "And I think (teammate and goaltender) Chris Osgood has been a real support for Howie as well. So we think we're coached right up in that situation."
And it's not as though Howard has lacked experience playing in high-intensity games.
Howard played for the United States in the 2002 IIHF World U18 Championships in Slovakia. In six tournament games, he led his team to a gold medal and was later named USA goaltender of the year.
Howard then attended the University of Maine and played for the Black Bears for three seasons. During his collegiate career, he was selected in the second round of the 2003 NHL Entry Draft by the Wings.
In the 2005–06 season, Howard launched his career in the American Hockey League with the Grand Rapids Griffins, occasionally called up to play for Detroit. He set several personal records as well as franchise records, including being the first Griffin named to the AHL's All-Rookie Team and helping establish Grand Rapids' franchise win streak record of 12.
Howard saw action with the Red Wings four times in 2005-06, recording a 1-2-0 record, a goals against average of 2.99 and a save percentage of .904. In 2007-08, during the month of February, he was between the pipes four times with the Wings, called up once more during the 2008–09 season.
Despite not earning a permanent spot on the Red Wings' roster for 2008–09, Howard was handed the role of Osgood's full-time backup. He recorded his first win of the 2009-10 NHL campaign on October 27, against the Vancouver Canucks, making 20 saves. On December 17, 2009, Howard recorded his first career shutout in a 3-0 win over the Tampa Bay Lightning.
Things have only gotten better for Howard.
"When you're starting out, you're hoping to get into the league," offered Babcock. "His first few games weren't very darned good. As anything, I think it's really important, the successes in your life, you enjoy it, but you keep it in perspective.
"What keeps you in this league is a little fear that somebody is going to take your job and keep driving every day and keep trying to get better. Howie seems to let the bad goals roll off his back. He comes to work each and every day. I've been impressed with the kid. Ten years from now we'll evaluate where his career has gone. But in the meantime, he's doing a real good job."
Good enough, his teammates will tell you, to take Detroit back to a very familiar place.