Fathers Know Best
Douglas Murray feels the Sharks fathers road trip helped San Jose turn their season around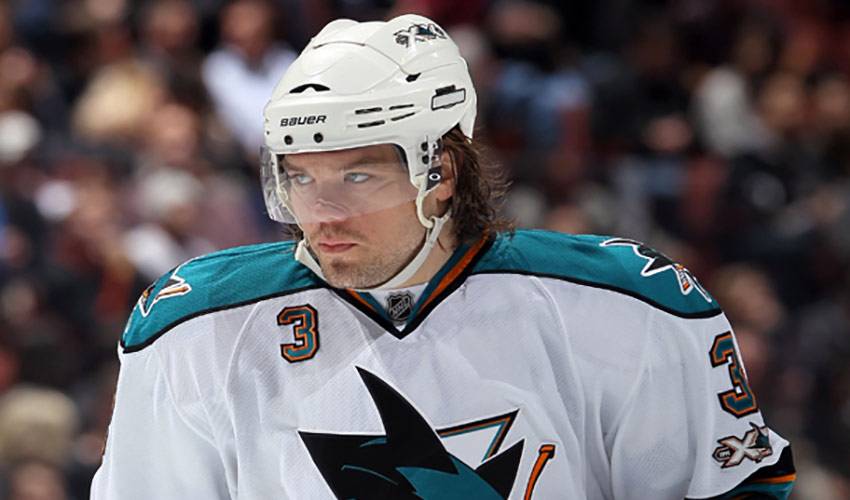 A season that started out in less than stellar fashion has seen the San Jose Sharks surge to another Pacific Division crown. The reason for the turnaround? Defenceman Douglas Murray will tell you it's the fathers who seem to know best.
After stumbling out of the gates in 2010-11, the Sharks, who initially appeared once again quite capable of taking a run at the Stanley Cup before the season began, looked anything but a legitimate contender for the title in early January.
"We weren't playing the way we were capable of," said Murray, who was selected in the eighth round, 241st overall by the Sharks in the 1999 NHL Entry Draft. "We were on a long losing streak. Actually, it's pretty funny how we turned it around. We had our fathers join us on road trip and then we won three games. They're taking credit for it all.
"Maybe it made things lighter," continued Murray. "The fathers came to meetings, went out to dinners with us. It was a good time and a good idea."
Whether or not it was the catalyst to change their fortunes, Murray isn't quite so sure. Most importantly, though, the Sharks did manage to halt their losing ways and went from a playoff question mark to a post-season certainty.
Even in the midst of extended losing streaks, there was little doubt within the dressing room and the front office that San Jose would bounce back by the end of the campaign.
"We had the confidence that we would able to turn things around," recalled Murray, who played for Cornell University, serving as captain his senior year while twice being named a First Team All-American. "We honestly thought it wasn't a lost cause. There are a lot of good teams in this league and every one goes through rough times. You have to believe that you can get things back on track."
It's all in the coaching philosophy, according to Murray.
"Win or lose, it's about how we played and how we are playing," offered the 6'3", 240-pounder, whose first NHL goal was scored in his 115th career game on February 21, 2008, against Martin Biron of the Philadelphia Flyers. "Our coaches always focus on the process. I think that's a very positive way to look at things."
Murray, who netted a hat trick, scoring three even-strength goals against the Anaheim Ducks, leading to a 6-0 shutout victory during the 2009 pre-season, admitted he's not always easy on himself during tough stretches.
"Sometimes, you want to do too much if you are struggling," said Murray, who was awarded the American Hockey League's Cleveland Barons "Player of the Year" (along with fellow NHLPA member Josh Gorges) in 2005. "You don't want to grip that stick too tight, but there are times that you do. It's all those cliches about trying too hard to not do the wrong thing. I've struggled with that. It's not really about work ethic. It's just getting back to doing what you do best.
"You just have to stay within yourself. I'm not going to be a guy that scores 50 points. I'd be doing the team a disservice if I tried to alter my game that way. A lot of our success has come because everyone is contributing in the way they are most effective. When we have all four lines going, we have that success."
Now, Murray has his eyes on hockey's biggest prize. Though the Sharks have been perennial regular season standouts, playoff success has eluded them.
The thought of bringing the city of San Jose their first Stanley Cup is a pleasant one for the 31-year-old Murray.
As for what he has in store for the opposition, making life miserable for the opposition is a top priority.
"I want to do whatever it takes to win," said Murray, whose maternal grandfather is Swedish hockey player and Olympic bronze-medalist Lasse Björn. "I want to be hard to play against and defend well."
Just don't expect any end-to-end rushes from San Jose's sturdy blueliner, who represented Team Sweden in the 2010 Winter Olympics in Vancouver.
"(Fellow defenceman) Dan Boyle can be Bobby Orr," he said, in reference to the Boston Bruins' Hall of Fame great.
Douglas Murray's biggest contribution will simply be just being himself. And that, his teammates will gladly tell you, is a very good thing.