Flying Into Philadelphia
Jakub Voracek is hard at work to be ready to make a difference for the Flyers in 2011-12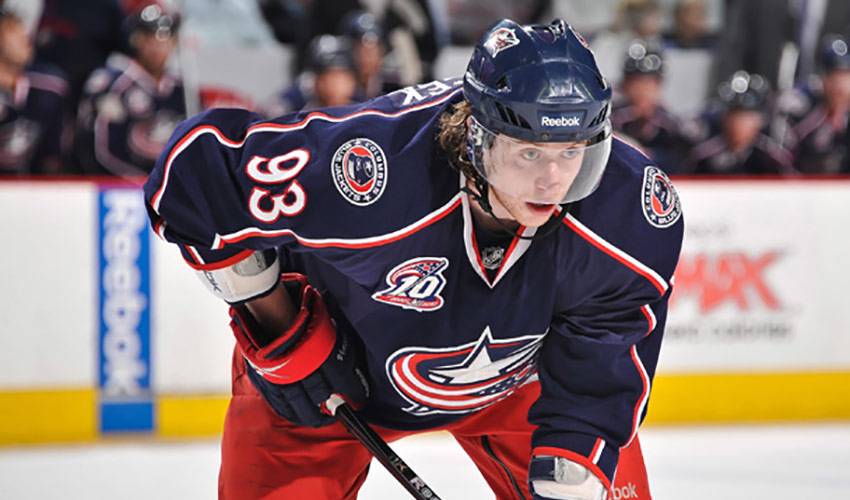 For a soft-spoken man, Jakub Voracek is looking to make some racket before he embarks on his first season as a member of the Philadelphia Flyers.
With the 2010-11 NHL campaign in the books, the Stanley Cup champion decided and the individual trophies handed out, for most it's a time to, at least for a little while, kick back and relax before the new season gets underway.
But for the 21-year-old Voracek, he's already got his game face on.
"I'm in Montreal to work out and to be at my best when we start training camp," said the Czech Republic native, who came to the Flyers along with a first and third-round pick via a trade with the Columbus Blue Jackets, in exchange for Jeff Carter on June 23. "I want to focus on getting better."
Although his workout regimen keeps him busy almost every day, Voracek is also staying in shape by playing tennis with countryman, and fellow NHLPA member, Jiri Hudler.
Voracek is quick to note he won't be hanging up his hockey skates for a life on the professional tennis circuit any time soon.
"That's not going to be an issue at all," said the native of Kladno, a hockey hotbed located 25 kilometres northwest of Prague. "A lot of the Czech players love the game and so do I, but I'm definitely not the best tennis player of the guys who play in the NHL."
So far, it's Hudler, who patrols left wing for the Detroit Red Wings, who has been coming up aces on the court.
"He's gotten the better of me each time, but we haven't been playing for anything yet," joked Voracek, who was selected seventh overall by the Columbus Blue Jackets at the 2007 NHL Entry Draft. "Maybe if we put a dinner on the line I can win."
Voracek's main goal this off-season, though, is ensuring he can serve up his best performance at hockey's highest level when the curtain rises on the 2011-12 campaign.
"I had three great seasons in Columbus and really enjoyed it," said the forward, who was taken first overall in the 2006 Canadian Hockey League (CHL) Import Draft and played two seasons with the Halifax Mooseheads of the Quebec Major Junior Hockey League (QMJHL). "And now I'm very excited to be playing for the Philadelphia Flyers. It's not every day you get the chance to play for an organization like them."
What does Voracek remember most about playing against the Flyers during his Blue Jackets days?
"They're big and strong, very physical and they work hard," said the right winger, who scored his first NHL goal in his first game on October 10, 2008 against the Dallas Stars. "For me, I want to be a big part of the team and help them win a Stanley Cup."
While he's yet to play a game for the Eastern Conference club, Voracek's tone tells you he's serious about what he wants to achieve in the black, white and orange jersey.
"I want to be a player that they can count on every night," offered Voracek, had the lone assist on the first ever playoff goal in Blue Jackets history, scored by R. J. Umberger, on April 16, 2009. "When the game is on the line, if I have the puck on my stick, I want to make something happen. If the game is in overtime, I want to be the type of player that can score the big goal."
Voracek, who played with Philadelphia enforcer Jody Shelley in Columbus, likes what he sees in the Flyers.
"They have so many great players and I'm really excited about playing with them," said the 6'1", 205-pounder. "I'm very happy and I want to work very hard to have my best year yet."
And although he's yet to get the better of his friend on the tennis courts, Voracek's will to win might just translate into a victory before the end of the summer.
"I enjoy tennis and it's a good way to stay in shape," he noted. "I'll do my best to see if I can come out on top."
The Philadelphia Flyers are banking on the very same thing when it comes to the new addition to their lineup.