Groove is in the Start
Stajan knows that he & the Flames need early confidence to have a strong 2011-12 campaign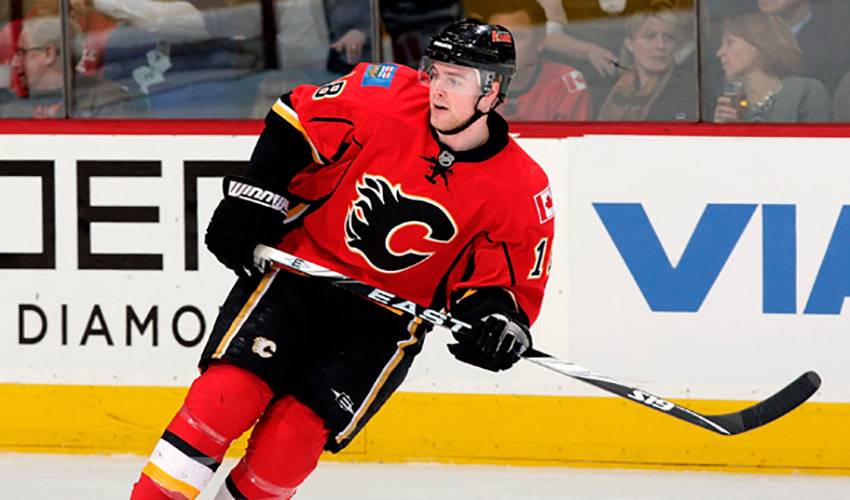 Last season didn't produce the desired results he had hoped for, but Matt Stajan already has his game face for the upcoming 2011-12 NHL campaign.
A slow start was the ultimate undoing of the Calgary Flames last season, as the Northwest Division club missed out on the Western Conference playoff scene for a second straight year.
For Stajan, who was traded from Toronto along with Jamal Mayers, Niklas Hagman and Ian White to the Calgary Flames for Dion Phaneuf, Fredrik Sjöström and Keith Aulie on January 31, 2010, it was frustrating, to say the least.
"It was a tough year, all-round," said the 57th overall selection of the Maple Leafs in the 2002 NHL Entry Draft. "We didn't have a strong start out of the gates and it ended up costing us at the end."
The Flames struggled mightily early on, plummeting to 14th place in the conference at the Christmas break, before making a spirited late bid in an attempt to earn a spot in the top eight.
On a personal level, Stajan, who played three seasons with the Ontario Hockey League's Belleville Bulls, 2010-11 was not a campaign he has fond memories of.
"It was disappointing, for sure," said the Toronto native, who finished with 31 points in 76 games. "Obviously, I wanted to contribute more and help the team make the playoffs, but it didn't work out."
He's determined to bring the same work ethic to the rink in 2011-12, but with a more relaxed mindset.
"After I signed the contract (four years) with Calgary, expectations grow," he offered. "But I think I fell victim to putting too much pressure on myself. That's the last thing you want to do. I've been playing the game for a while and I love the game and I know what I am capable of doing.
"But when things don't go well or you endure a slump, you tend to put too much pressure on yourself. You don't want to leave the rink and bring home anything with you. But in saying that, you know there are things that you can do to improve, to make things work, to make things easier on yourself."
Stajan, who scored his first NHL goal on his first shot, is determined to start 2011-12 on a high note.
"That's what you aim for and that's what you hope for," said the veteran of 547 NHL regular season games. "I think we learned a lot as a team last year, especially about what you need to do to make the playoffs.
One game can make all the difference. You go out there with the intention of winning every game, but the last you thing you want to do at the end of the season is look back and know that you let a game or two slip away.
"In this league, you just can't afford to let that happen," he continued. "The games you play early in the year are just as important as the ones at the end. I like the group we have here and I know everyone wants to get off to a good start and carry that momentum throughout the season."
Stajan, who had 41 points in 55 games with Toronto prior to his trade to Calgary, hopes to do the very same.
"The game is all about confidence, finding that groove and going with it," said the 27-year-old, who had 67 goals combined in his last two seasons with Belleville. "You realize you can learn a lot when things don't go the way you planned. I'm feeling really good and I'm excited about the new campaign."
Stajan certainly has plenty of reason to hope it's a big year for himself and Calgary, eagerly anticipating a chance to add to his three games of big-league playoff experience.
"The tough part is getting there," said Stajan, whose only post-season experience came in 2003-04. "There's not much that separates making the playoffs or missing out. We're determined to make it there and hopefully even grab home ice advantage."
If it sounds like Stajan is a man with a plan, you'd be right.
"We're getting closer to the season and you start to think more and more about what you want to achieve. I really can't wait to get things started."