Between The Bluelines With Tim Brent
The Hurricanes forward chats with NHLPA.com and answers five questions that fans want to know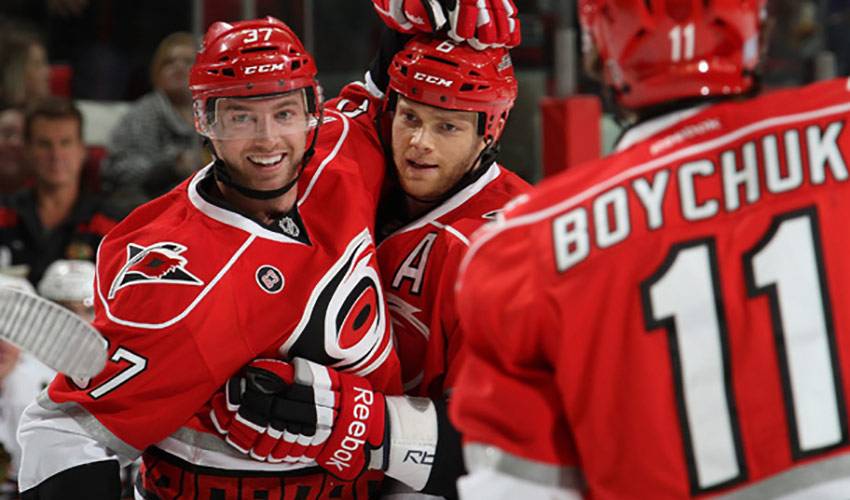 Although much of his life is dominated by indoor activity – hockey rinks, training facilities and hotels – Tim Brent, who was a steady contributor for the Carolina Hurricanes in 2011-12, is very much the great outdoorsman.
The native of Cambridge, Ontario, who has appeared in 177 NHL games, is an avid fisherman, hunter and golfer.
Here are 5 things you need to know about the 28-year-old centreman:
"It was my birthday. I was probably around eight or nine, and my dad took me to Maple Leaf Gardens for my first game. It was a great building and I remember looking around, taking in all the sights and sounds. We ended up sitting beside (the late) Peter Zezel's mother. It was her birthday, too. When she found out it was mine as well, she offered to take me down to the dressing room to meet the players. It didn't pan out, though. It was a school night and we had to leave before that happened."
FIRST NHL GAME HE ATTENDED:
"I'm sure I was like every other guy and was pretty nervous. I was with Anaheim and there was a moment where I looked around the room and there was Teemu Selanne, Scott Niedermayer and Chris Pronger. I remember thinking to myself, 'How did this happen?' How did I get here?' The first few games I played, I don't think I played very well because you're a little awestruck. Eventually, you overcome it and then you feel as though you belong."
FIRST NHL GAME HE PLAYED IN:
"I've always loved fishing. I think I started when I was three. My dad has always loved fishing. As for my great fishing story, maybe it's not so great. My dad and I went to the Queen Charlotte Islands (British Columbia) to do some saltwater salmon fishing. I lasted about four hours that day. I had a little sea sickness and that was the end of that day. I was fine the next few days, though."
TAKING THE BAIT:
"I recently won a charity fishing tournament in Peterborough (Ontario), which was pretty sweet. It was a great time."
A HAPPIER FISHING TALE:
"When it comes to working with SickKids Hospital in Toronto, you do whatever you can to help. It was easier to do more when I was in Toronto, but to be able to come in, have a chance to talk to some really great kids, it's something you're honoured to do. I also do work with the Cambridge Pros Foundation. One of the things we do is lend a helping hand to children who are mentally challenged. We play a charity hockey game and we also bring the kids on the ice and play a game with them, too. Everyone has a great time with it."
HELPING HAND:
overall by Anaheim in 2004, is certainly a lover of the great outdoors.thThere's no doubt Tim Brent, who was drafted 75
On this day, when he spoke with NHLPA.com, he was lamenting the rainy weather that was keeping him from his outdoor activities at his cottage just north of Toronto.
"I don't really like it when you have to stay inside, but I'm lucky to be in a place where there is so much to do outdoors," said Brent. "I love fishing, hunting and being out on the water. But, there are a lot of bears up here in Muskoka, so you have to keep your wits about you.
"Hopefully, we'll have some more chances this summer to get out and do some fishing and enjoy the outdoor life."