Defined by Determination & Dedication
Jeff Halpern found his passion for the game as a young boy in Maryland and followed his dreams to the NHL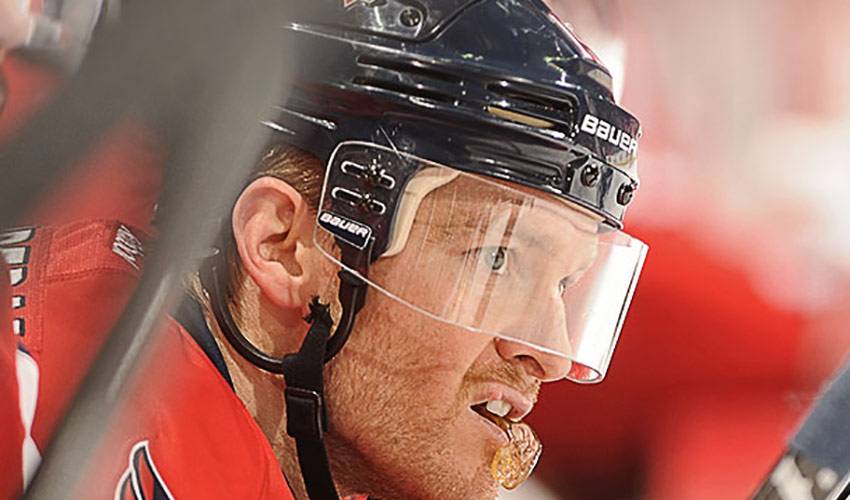 It was over 30 years ago when the kid from Maryland got his first taste of hockey. Where he would wind up, however, is in a place he never really expected.
As a four-year-old, Jeff Halpern, with an assist from his parents, strapped on his skates and hit the ice for a local hockey clinic. One year later, he was playing in the house league ranks. At the age of nine, he was, though smaller and younger, keeping pace with older kids in the D.C. area.
Fast forward to the present and Halpern is still doing the same, more than holding his own against the game's elite, doing it with great zeal for 861 regular season games and 36 more in the playoffs.
While he's undoubtedly done well for himself, the 36-year-old isn't a big fan of speaking about his accomplishments.
Instead, his pride comes from being a team player, someone who contributes to success, but doesn't want individual adulation.
"When you first start out playing the game, there's just no way that you ever imagine yourself playing in the NHL," said Halpern, who played four seasons of U.S. collegiate hockey with Princeton University. "You grow up watching the game, developing more and more of a passion for it along the way. But a lot of things have to fall into place for your dream to become a reality."
Despite averaging over a point per game at Princeton, including a stellar 53-point campaign (in just 36) games in his third season with the Tigers, Halpern, team MVP on three occasions and captain in his final year, went undrafted.
Ironically, it was the Washington Capitals, the team he followed as a kid, who decided to take a chance on Halpern. It was certainly a smart decision.
Halpern scored 18 goals in 79 games with the Caps in 1999-2000, his rookie big-league season. He was named team captain in September of 2005, the 12th player in franchise history to wear the 'C.'
"The one thing you learn early on about hockey players at this level is what camaraderie and support is all about," said the forward, who would play in Washington until 2005-06, before moving on to the Dallas Stars. "You want to work hard to bring something to the team, to do whatever it might be to help the team be a success."
That's been the hallmark of Halpern's NHL career. Regardless of the sweater he's donned, in Washington (twice), Dallas, Tampa, Los Angeles, Montreal and now in New York, where he signed a one-year contract with the Rangers last summer, the centre-man goes about his business quietly, but always effectively.
And that's just the way he likes it.
When Operation Hat Trick (click here for the NHLPA.com story), a recent charity game that raised funds for Hurricane Sandy victims, came to fruition, Halpern was quick to join other NHLPA members to participate.
Days earlier, he joined teammate Brad Richards, who organized a skating clinic for kids on Staten Island.
Yet, in typical fashion, Halpern was quick to speak about everyone else but himself.
"You know, I think what Brad did, stepping up like that, he did a stellar job," praised Halpern. "What he's done in the community since coming to the Rangers, it's unbelievable."
As for what Halpern has achieved and contributed both on and off the ice over the years, a storyline defined by determination and dedication, he'd rather not talk the talk.
That's simply not Jeff Halpern's way.