Josh Harding Launches Harding's Hope
After being diagnosed with MS, Minnesota Wild goaltender, Josh Harding, commits himself to helping fight the disease.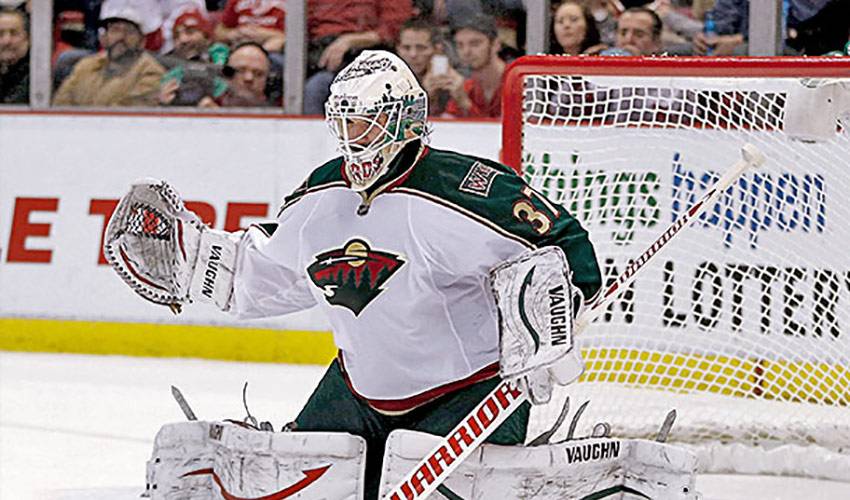 Late last year, Minnesota Wild goaltender, Josh Harding, was not feeling like himself. He was severely fatigued, felt like something might be wrong, but couldn't pin-point what it was.
"It got to the point where I was skating one day and I saw these big black dots and my right leg gave out on me," explains Harding. At that moment, he knew it was time to visit a doctor.
"The rest is history with my diagnosis," says Harding. He was told he had Multiple Sclerosis – a complex inflammatory disease that attacks the central nervous system. There is no cure for MS, but research has come a long way, and there are many treatments available today that can slow the progression of the disease.
When he was diagnosed, the 2012-13 NHL lockout was already underway, and Harding waited a full month to announce the news.
"It was never an option to not return to play. It's been hard, but I would never let it limit me in my career," explains Harding.
And return he did. After two months spent adjusting to medications, Harding returned to the Wild in late April. In his first game back, he stopped all 24 shots he faced in a 1-0 shutout over the Dallas Stars. And in May, during Game One of the Western Conference Quarterfinals, Harding blocked 35 of 37 shots in the team's 2-1 loss to the Chicago Blackhawks.
When he was diagnosed, Harding didn't know much about MS, and neither did his family.
"I wish more people knew what MS was when I was diagnosed," says Harding. In talking with his doctors and learning more about the realities of the disease, he immediately knew that giving back was something he needed to do.
In the U.S. especially, families struggle to cope with MS for a variety of reasons. Because the general population knows very little about the disease, there is a stigma attached to it. The social stress is only compounded by the fact that treatments are very expensive, and most families are forced to choose between medicine and other costs – like rent, or groceries.
"After living with the disease I realized that I'm in a place to give back. I'd be crazy not to. This is so near and dear to my heart and I take great pride in it," says Harding.
This month Harding is launching Harding's Hope, a charity that aims to raise awareness and funds for families coping with MS. His charity will help connect families living with MS to each other for support, will help those families pay for treatments, and help spread information about MS so that more people know about the disease.
Harding's wildly inspirational attitude and determination will definitely be the driving force in his efforts, and will certainly motivate individuals living with MS to pursue their dreams despite their diagnosis.
It's that same attitude that got him nominated for The Bill Masterton Memorial Trophy this year, along with Sidney Crosby (Pittsburgh Penguins) and Adam McQuaid (Boston Bruins). The Masterton Trophy is given to the player who best exemplifies the qualities of perseverance, sportsmanship, and dedication to ice hockey.
"It's an honour to be included in this category. Their stories are so remarkable and I'm really honoured," says Harding.
The recipient of the Masterton Trophy will be announced Friday night.
For more information on Harding's Hope, you can follow the organization on Twitter, Like them on Facebook, and keep tabs on their news and events at HardingsHope.org.