NHLPA Members Take Part In Kraft Hockeyville 2013
Alex Ovechkin and Evander Kane are among the Players that took part in Kraft Hockeyville 2013 in Stirling-Rawdon and Belleville, ON.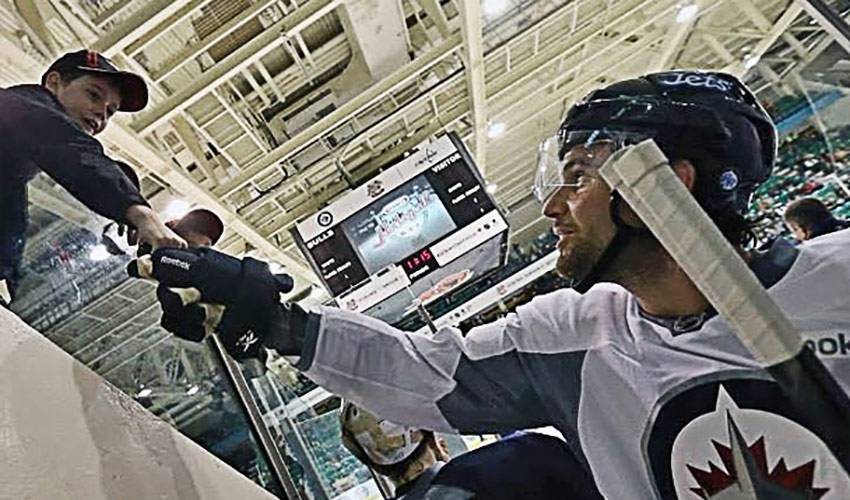 Nearly 300 fans lined up outside the Yardmen Arena in Belleville, Ontario the morning of Saturday, September 14th to kick off Kraft Hockeyville 2013. As team buses pulled up to drop off Washington Capitals and Winnipeg Jets players, they cheered and raised handmade signs and memorabilia for the players to sign. Before heading inside the arena for an open morning practice skate, each player made their way down the line, greeting fans, posing for photos, and signing autographs. Having all-star NHL players in a small town isn't an everyday occurrence, and it was evident the moment was an important one for the community.
The players took part in back-to-back morning practices that drew in hundreds of fans in anticipation of the NHL pre-season game the community would host in the evening as part of being named Kraft Hockeyville. Each team brought their star players, including Alex Ovechkin, Nicklas Backstrom, Mike Green, Evander Kane, Zach Bogosian, and more who each took extra time interacting with fans throughout the day.
Back in Belleville for @hockeyville! Too many great memories in this town. Stirling/Rawdon/Belleville are going to make a great host!

— Eric Tangradi (@ETangradi) September 14, 2013
Following the morning skates, a Q&A session was held in Stirling-Rawdon with Brooks Laich and Mikhail Gabrovski of the Washington Capitals, and Eric Tangradi and Zach Bogosian of the Winnipeg Jets. Fans were able to submit questions to Hockey Night In Canada personality, Elliotte Friedman, who led the discussion in front of a packed crowd at the town's District Recreation Centre.
In the afternoon, the Hockey Hall of Fame delivered the Stanley Cup for fans to visit and pose with – an opportunity that excited local fans. A wedding party even paused their celebrations to pay a visit to Lord Stanley's Cup.
In the evening, a capacity crowd of 3,000 fans arrived at the Yardmen Arena for the Winnipeg Jets to face off against the Washington Capitals to culminate the day.
First game of the @NHL preseason tonight in Belleville for @hockeyville. #thenatural

— Evander Kane (@EKane9JETS) September 14, 2013
Every fan in attendance was hoping for an exciting, high-scoring game and that is exactly what they got. Following a fast-paced but scoreless first period, CBC Hockey Night in Canada's beloved personalities Ron MacLean and Don Cherry took to the ice during the first intermission, which delighted the crowd. And then in the second period, the goals came quickly. The players put on a show and the NHL action was non-stop in an even match that ended in a 3-3 tie that went into overtime and came down to a shootout. With a goal from Mike Green, the Washington Capitals made it a 4-3 SO win over the Winnipeg Jets.
This year's Kraft Hockeyville festivities were successful in bringing together a hockey-loving community to promote the spirit of the game, offer fans a glimpse of what's to come in the upcoming NHL season, and helped the town upgrade the quality of their local arena so young players for years to come have a rink to call home.