Ryan O'Reilly Does It Right
Ryan O'Reilly continues to make his mark as a premiere player in the game today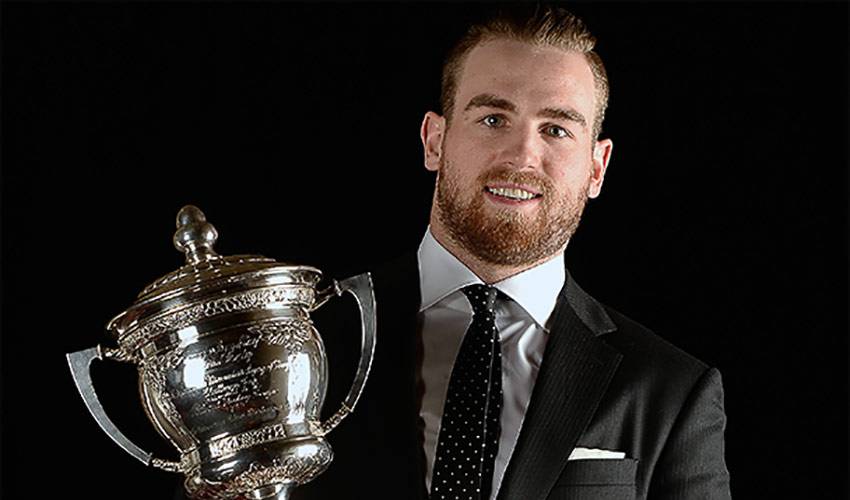 Ryan O'Reilly did plenty of things right in 2013-14. The one thing he did wrong, however, turned out to be a major reason why Colorado's rising star went home a winner at the NHL Awards.
His year was an impressive one on several fronts, including a career-high 64 points. O'Reilly also led the Avalanche in goals (28), power-play markers (nine) and game-winners (six-tied). The 23-year-old was also tops in takeaways (83) for the second time in the past three campaigns.
Perhaps O'Reilly's most impressive stat, though, came in the form of penalty minutes over those 80 games, just two in total, a minor infraction for playing with a broken stick.
At season's end, he was named the recipient of the Lady Byng Trophy, an award given "to the player adjudged to have exhibited the best type of sportsmanship and gentlemanly conduct combined with a high standard of playing ability."
O'Reilly joined Butch Goring (1977-78, Los Angeles) as the only players in NHL history to receive two or fewer penalty minutes in over 80 or more games.
"Well, I didn't keep the stick as a memento," laughed O'Reilly, who recently inked a two-year, $12 million deal with the Avalanche. "It was just one of those things that happened. And it was the right call."
What's particularly remarkable about his penalty minutes, or lack thereof, is the style of game he employs.
"I like to be strong out there, to be very aware defensively, to get the puck away from an opponent," said the native of Clinton, Ontario. "I think like anyone, the goal is to always be better at what you do. And I think being a presence at both ends of the ice is really important."
So, too, is ensuring all goes smoothly when you hear your name called at an awards ceremony.
"I thought there was a chance to win, but you never know, especially when you see your name in the same category as Martin St. Louis and Patrick Marleau," noted O'Reilly. "When they called my name, I was obviously thrilled, and it was nice to share that moment with the people I'm the closest with. I just remember thinking, 'Don't start walking and then trip.' I couldn't let that happen. Thankfully, it didn't."
Coming off a season where both O'Reilly and the Avalanche stamped themselves as ones to watch in 2014-15, the former member of the Erie Otters (Ontario Hockey League) is hoping the upcoming campaign yields a happier ending than the previous one did.
"Whenever you lose in the first round, in a tight series that went to overtime in a Game 7, it stays with you for a while," said O'Reilly, of Colorado's Western Conference quarterfinal loss to Minnesota. "It was tough to take. But, we're focused on learning from it and on being even better this year."
Colorado won't have to wait long to look for redemption. The Avs' first two games of the 2014-15 regular season see them play the Wild on October 9 in Minnesota and then on October 11 in Colorado.