G&D 15: Watson Lake, Yukon
NHLPA members David Booth, B.J. Crombeen and Mike Smith took the Goals & Dreams program to the children of Watson Lake, Yukon in Canada's north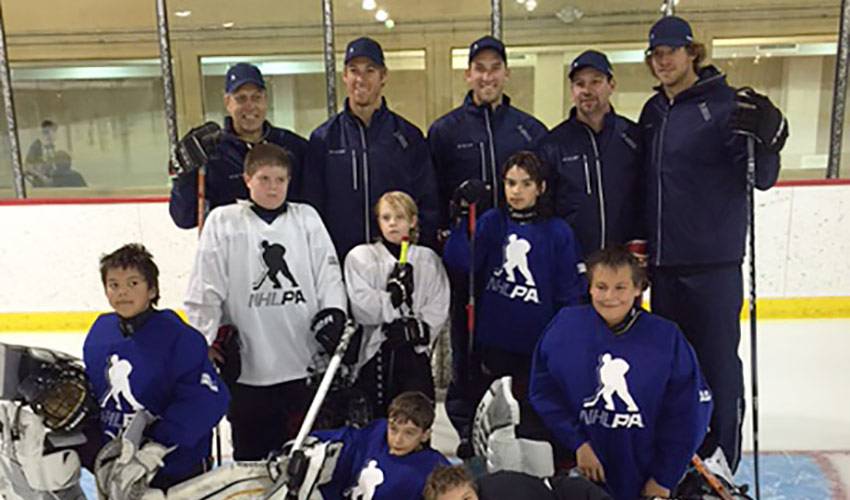 When asked about the impact the NHLPA Goals & Dreams program is having on the community of Watson Lake, Yukon Territories, RCMP Const. Jean-Michel Sauvé came up with a long list of examples. But, there was one moment in particular, he noted, that summed it all up perfectly.
It was the final stop on the multi-city 15th Anniversary Tour of Goals & Dreams Tour. Goals & Dreams is, the largest grassroots hockey assistance program in the world, the one thatand has contributed over $22 million to hockey programs and related causes in 33 countries.
For Sauvé, the celebration, headlined by the presence of current NHL players Mike Smith, B.J. Crombeen and David Booth, will have a lasting effect on those in Watson Lake and well beyond its' borders.
"There are so many things you can speak of when it comes to what this means to this town," he said. "But, I think it was something that happened the first day (August 1) that really put it all in perspective.
"One of the kids, part of a group of 50 skaters that came out to be on the ice with the players, wasn't that thrilled with playing hockey. He didn't like to be on the ice that much, he didn't like putting on his equipment, and he wasn't really enjoying any part of it. But, after spending time with these players, interacting with them, seeing their passion for the game and wanting to make a difference, that all changed. He had a huge smile on his face and you can see how his outlook is now completely different."
Hosted by the WLMHA and Watson Lake RCMP, in partnership with JDS Silver, ATCO Electric Yukon, and Air North, Yukon's Airline, Goals & Dreams visited the town of roughly 1,000 people for two days, August 1-2.
The group of past and present players, including Crombeen's father, Mike, a St. Louis and Hartford alumnus, and Brent Gilchrist, a Stanley Cup champion with Detroit, engaged the Yukon youth in the sport of hockey, encouraging healthy lifestyles through physical activity and teamwork.
"It was a great reminder of what it was like for us when we were growing up, how much happiness hockey gave you," said B.J. Crombeen. "You love seeing those faces, how thrilled they are to be playing the game we all love. And the support of the people in Watson Lake and other communities has been amazing."
The players also took to local waters for a fishing trip with the kids.
"It's a very tight-knit community, just like the one I grew up in," said Smith, a native of Kingston, Ontario. "It's been wonderful to see all the smiles, to have some really great conversations with the kids, and to do things outside of hockey."
"For us, to be able to share our love for our great sport, to relay that message about hard work, being a good teammate, and to have fun, it's something that you feel privileged to be a part of. It also shows the unbelievable job the NHLPA has done to support communities throughout the world."
Participants from throughout the territory were given the opportunity to take part in a hockey camp on both days, free of charge. Goals & Dreams also committed to donate $20,000 worth of youth hockey equipment to the community of Watson Lake.
And, just like Sauvé, Smith saw the impact hockey can have, even on those who have never played the game before.
"There was one kid who had never been on the ice," recalled Smith. "At the start of the hockey camp, he just stuck to the boards. After about an hour, he was taking part in puck drills and you could see how happy he was."
Players and NHLPA staff coached the Sergeant's Cup recreational hockey game, which included members of the RCMP and Watson Lake Silver Tip Oldtimers. The project will also provide professional development opportunities for local hockey coaches.
"What the players and the NHLPA have done is very special," said Sauvé. "Everyone that came here was very dedicated to the Watson Lake community. This is something people will remember for a long, long time."
For more information regarding the Watson Lake stop of the NHLPA Goals & Dreams 15th Anniversary Tour, visit the event Facebook page, or contact the Watson Lake Minor Hockey Association: wlminorhockey@gmail.com.