Moulson Visits Roswell Park
Matt Moulson takes time to bring joy to the staff and patients of the Roswell Park Cancer Institute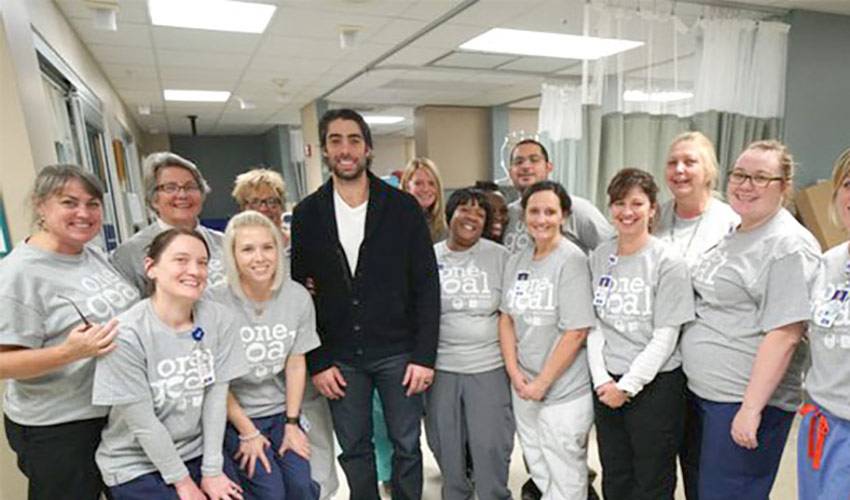 It was a visit and experience that left a lasting impression on the staff and patients of Roswell Park Cancer Institute (@RoswellPark) in Buffalo.
"Every one of us is touched by cancer in some way, and Matt's visit showed that he has a deep understanding of the challenges our patients face," said Candace S. Johnson, PhD, President & CEO and Wallace Family Chair in Translational Research at Roswell Park Cancer Institute. "It was exciting that a professional hockey player, one of our Buffalo Sabres, took the time to visit our staff and patients – to acknowledge our important work and encourage and inspire our patients to stay strong through their treatment journeys."
Matt Moulson knows how to bring a smile to people's faces, even those who are dealing with serious health issues.
The effect he had on those he interacted with during his time at Roswell Park on October 20 certainly didn't go unnoticed.
"He listened to patients' stories about their cancer journeys and about their hockey experiences and enjoyment of the game," said Dr. Johnson. "He signed autographs and posed for lots of pictures, and he gave patients tickets to be the Sabres' guests and enjoy Saturday's game (against New Jersey), a celebration of the NHL's Hockey Fights Cancer campaign, with their families.
"Many of our patients noted how grateful they were to have a night out or to spend time with family outside of the hospital," she continued. "Some of them had never had the opportunity to go to a game before. They were very touched and excited by this act of kindness."
Moulson, like many of his fellow players, continually show their commitment to causes in a variety of ways, including hospital visits throughout the hockey season in their respective NHL cities.
For places like Roswell Park, the players' genuine desire to make a difference is truly inspiring.
"It was clear he understood and truly felt the impact that cancer has on families and was energized and proud to be welcomed as a new member of the Roswell Park family," said Dr. Johnson. "He is eager to do his part off the ice to spread the word about the importance of early detection and being proactive about your health, making sure you're staying current with your recommended cancer screenings."
It's a familiar scene for Dr. Johnson and those at Roswell.
"Matt and many other Buffalo Sabres have demonstrated time and time again that our patients and families are not alone," she said. "They're part of the support network that bridges our families through the tough times, and I can't tell you what a difference that can make."
Whether it's on the ice – he scored the shootout winner against Toronto on October 21 – or off it, Moulson is making an impact.
"Matt's compassion, his willingness to really focus on the patients and listen to their stories and his easy laugh," noted Dr. Johnson, of what she took away from Moulson's visit. "He made such a genuine connection with everyone he visited with, and he left everyone smiling."