Bellemare Does What It Takes
Pierre-Edouard Bellemare and the Flyers battled hard to get to the Stanley Cup Playoffs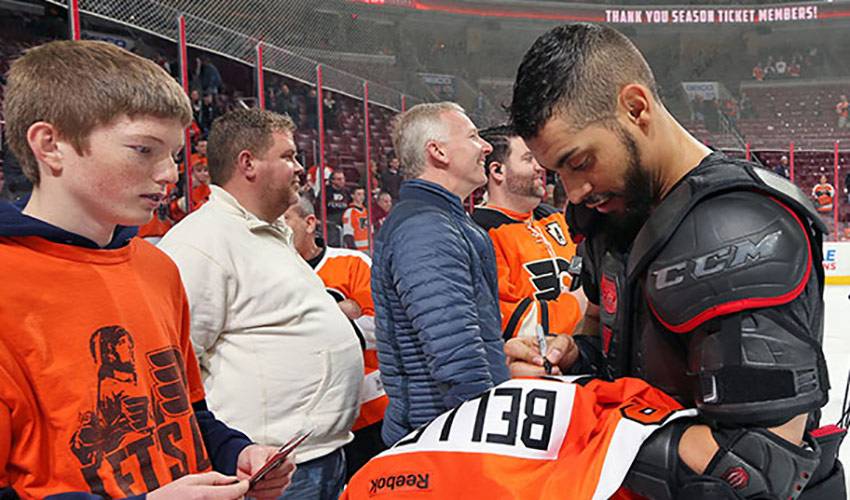 With an empty cage staring him in the face, a 2-1 lead in hand, a spot in the Stanley Cup Playoffs within reach and the Philadelphia faithful on their feet, two things crossed Pierre-Edouard Bellemare's mind as he raced towards the Pittsburgh net.
When the puck found its way to his stick, Bellemare gathered it in, accelerated towards the Penguins' zone, a look of determination in his eyes as he began to pick up speed.
With his teammates screaming and urging him on, the winger wasn't about to miss his golden opportunity to put an exclamation point on a playoff-clinching win.
"The first thing I was thinking about was, 'do not get caught by anybody,'" recalled Bellemare. "Then as I passed the blue line, my only thought was about not missing the empty net."
He managed to succeed on both fronts.
Rather than tap the puck into the net, Bellemare, much to the delight of the home crowd, emphatically fired it home, the final goal in a 3-1 Philadelphia win. And with it, the Metropolitan Division club punched its ticket to the post-season, a first-round date with Presidents' Trophy winners, Washington.
The Flyers went 63-1 in their last 10 games, winning their final two, and in doing so, returned to the playoffs after missing out in 2014-15.
Not surprisingly, it was a raucous dressing room scene in the moments after the final had sounded.
"It was pretty epic in the locker room, guys yelling all around," said Bellemare. "Obviously, everybody congratulating each other and just happy all the work paid off."
It was somewhat fitting that someone like Bellemare would net the goal that sealed the playoff deal.
The French-born forward, in his second season with the Flyers, has a penchant for coming up big – offensively or defensively – in key situations.
It was at the 2014 IIHF World Championships playing for France where Bellemare averaged a point per-game with three goals and five assists in eight games, including an assist and the game-winning shootout goal in a 3-2 upset victory over Team Canada in the preliminary round.
Personal points, however, aren't top of mind for the 31-year-old who had nine goals and five assists in 14 playoff games with Swedish club Skelleftea (he played parts of five seasons there) in 2013-14.
"To be honest, I'm not going to focus on just scoring points," offered Bellemare. "If the points come, it will be a bonus. But the only thing that I want is to do whatever is needed to help the team to win. Because more than anything, the playoffs is all about giving it all for the win - even if it means not scoring at all - but just blocking shots."
Or, on occasion, netting a goal that manages to bring nearly 20,000 people out of their seats.