HHOF 2016 Series: Sergei Makarov
Four NHL legends will have their legacies forever enshrined with one of hockey's greatest honours as the Hockey Hall of Fame welcomes the class of 2016. In the third of a four-part series, we look back at the career of Sergei Makarov.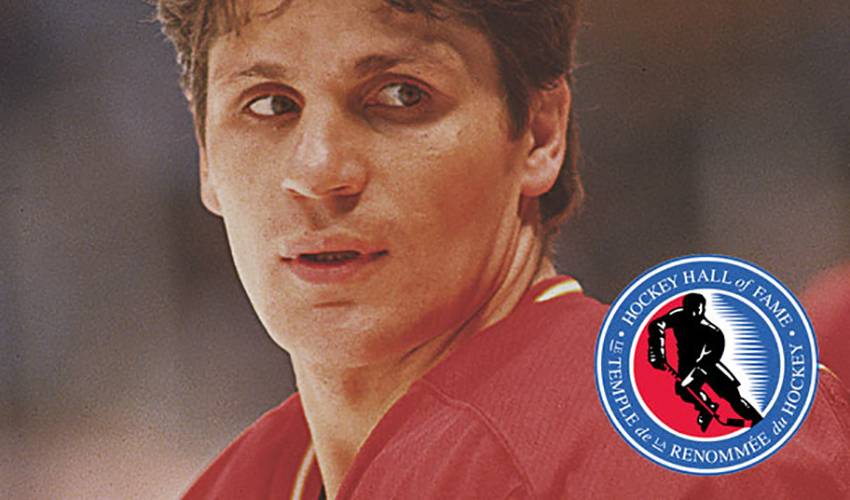 Sergei Makarov
Sergei Makarov's list of accomplishments is as long as his trophy case is heavy.
Starting with a combined 12 goals scored as part of back-to-back gold medal World Junior Championships teams, nearly every time Makarov laced up for the Soviet Union, he brought home a medal.
Born in Chelyabinsk, Soviet Union, he would go on to win two Olympic gold medals, one silver, and his team medalled in 11 World Championships – eight of which resulted in gold medals. In the three Olympic games, Makarov scored 11 goals and put up 17 assists in 22 games.
Oh, he also won gold, bronze, and silver in the 1981, 1984, and 1987 Canada Cups respectively, putting up 31 points in his combined appearances.
Makarov, who played in 11 seasons with CSKA Moscow, often skated as one third of the dynamic trio dubbed the 'KLM' line, which also featured Vladimir Krutov and Igor Larionov. Makarov posted 322 goals and 710 points in 519 games with the Red Army.
What exactly did that look like?
He was also a member of the Soviet men's national team during the two-game Rendez-vous '87 series, in which they and the NHL All-Stars each won a game (though the Soviets outscored the NHL'ers 8-7).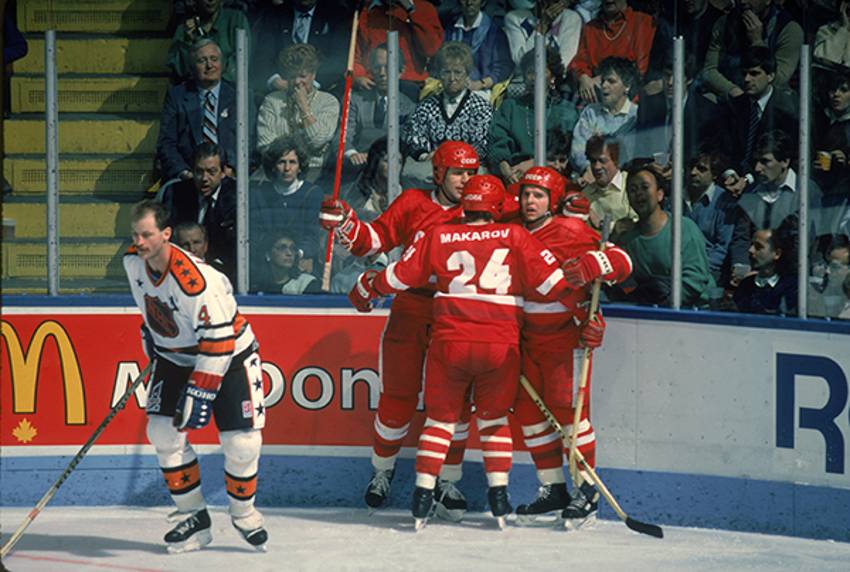 Vladimir Krutov, Viacheslav Fetisov, and Sergei Makarov #24 of the Soviet National Team embrace in celebration as opponent Rod Langway of Team NHL skates on the ice during the Rendez-Vous 87 event, Quebec City, Quebec, Canada, February 1987. (Photo by Bruce Bennet Studios/Getty Images)
---
All before his NHL debut with the Calgary Flames.
At 5'11", 185lbs, Makarov was drafted 231st overall by the team in 1983, but wouldn't be permitted to play until the dissolution of the Soviet Union in 1989.
Now a well-seasoned right-winger, Makarov put up 24 goals and 62 assists for 86 points, and a plus/minus rating of plus-33 to win the Calder Memorial Trophy for what was his 'rookie' NHL season. He was 31 at the time.
And so the Makarov rule (an informal nickname) was brought about, stating that only players younger than 26 as of September 15 can qualify for rookie of the year.
Sergei played for the Flames for four seasons. In 1993-94, he joined his longtime teammate Larionov in San Jose. He led the Sharks in regular season scoring in goals (30) and points (68), and also led the team in playoff goals with eight, trailing only countryman Larionov (18) in postseason points with 10.
The Russian contingent, though meagre, was devout.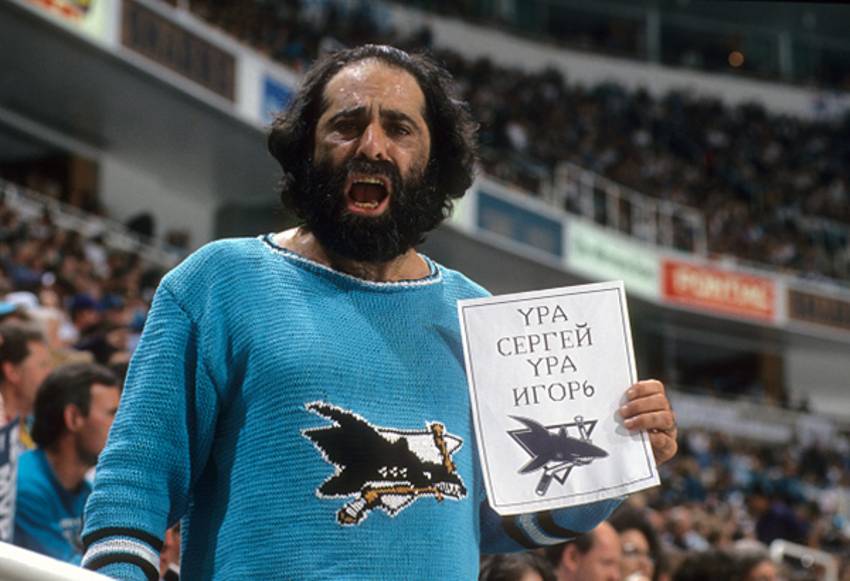 San Jose Sharks fan "Frog Man" in stands with sign that reads Yea Sergei, Yea Igor written in Makarov and Larinov's native tongue during an NHL playoff game vs Toronto Maple Leafs at San Jose Arena. Game 3. San Jose, CA 5/6/1994 (Photo by John Biever /Sports Illustrated/Getty Images)

---
He played one more season with San Jose before wrapping up his NHL career with the Dallas Stars in 1996-97. Over his NHL career, he totaled 134 goals, 250 assists for 384 points in 424 games played.

Makarov still works in the realm of hockey since he retired as player.
Makarov became a member of the International Ice Hockey Federation Hall of Fame in 2001, and will join the Hockey Hall of Fame on November 14, 2016.