How Marc-Édouard Vlasic went from cat person to dog rescuer
For the longest time, Marc-Édouard Vlasic admits he wasn't much of a dog person. Social media tells a much different story.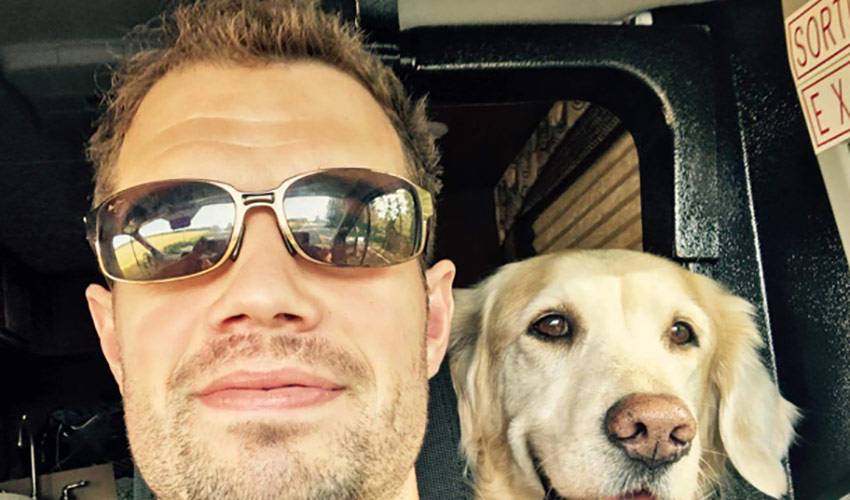 For the longest time, Marc-Édouard Vlasic admits he wasn't much of a dog person.
Social media tells a much different story.
When you visit @Vlasic44 on Twitter, you'll see pictures of dogs – lots of pictures. From birthday party and Easter photos, to World Cup of Hockey-themed snapshots, there's no shortage of canine images.
And that suits their owner just fine.
Family photoshoot. Thankful for my girls....and the World Cup of hockey. 😉 pic.twitter.com/r0577bM5n0

— Marc-Édouard Vlasic (@Vlasic44) September 3, 2017
"I was a cat person growing up," said Vlasic, who is set to start his 12th NHL season. "With dogs, you need to put in the time to take care of them. My wife (Martine) had a dog before we were married. I wasn't much into it at the start and the dog wasn't really into me. Unfortunately, he passed away when he was 17. My wife was crying for weeks. Eventually, she got a five-month-old golden retriever/lab mix that we still have today. That dog turned me into a dog person."
The Vlasics currently have three dogs: Kelly, a Golden Retriever/Labrador mix, is almost 12, Nicky is a four-year-old Golden Retriever and Macy is an 11-year-old Corgi mix.
No need to ask if the three – all of them rescues – are spoiled.
"Maybe too much, but it's just like having a kid," said Vlasic. "We do everything together. We went on an RV trip just for Kelly. We want her to be happy. So, every summer, we ask ourselves, 'What we can do with her that we haven't done before?' Last summer, we went to New York and this year we did the RV trip. We try to keep her young. We both know she's not going to be around in five years. We want to her to have the best life she can. That's what we want for all of them. Two of them, we know their backstory. We just want to give them the life they deserve."
Vlasic, who struck gold with Team Canada at the 2014 Winter Olympics and World Cup of Hockey 2016, is equally passionate about lending his support to organizations that work with dogs.
"I'm saddened by the proposed province-wide breed ban. We must protect innocent dogs taking action at https://t.co/VgAg1vOhmd" - @Vlasic44 pic.twitter.com/Aw4ehBoh7X

— SPCA de Montréal (@SPCAMontreal) August 15, 2017
"I try to do some things for shelters and I follow the Humane Society on Twitter, and see the good things they do for dogs," said the Montreal native. "Two of mine were living on the street and we were lucky enough to have them come into our lives."
While it's not practical at this point in time, the Vlasics would love to add more dogs – perhaps the same number a hockey team ices every night – to their home.
"Three dogs are a lot to have, but they all get along," said the veteran of 812 regular season NHL games. "If we could, we'd have more. It gets a little more complicated when I'm not around. My wife takes care of them 95 per cent of the time. I take care of them, too, but with hockey, she's always there to make sure they are okay."
The dogs are never far from Vlasic's thoughts.
"Even when you are gone for a few hours, I start to think, 'Are they okay? Did we leave them too long?'" he admitted. "They are part of the family. We are a family. It makes us happy that they're happy. When we went on the RV trip, I would see my wife smiling because Kelly was happy. We want to make sure they have a good life. That's what matters. We're very lucky to have them."
Even if there is the odd lost in translation moment.
"Around the house, I'll hear Martine calling to Kelly, in French, 'love of my life.' She'll call her 'mon amour.' I'll hear that and say, 'Hey, what's up?' She'll tell me she's talking to the dog, not me. It's funny. I really don't mind. It's just funny that I always react."
It's how any good dog person would.