Lindblom completes treatment with unshakable spirit, support
The Flyers won't need any extra incentive to win once the puck drops on this year's Stanley Cup Playoffs.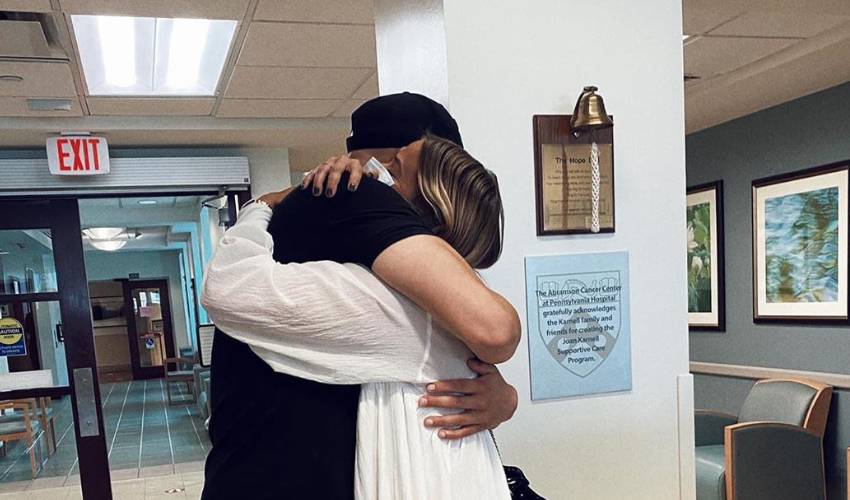 "That's amazing," read Claude Giroux's retweet.
The message, centering on Philadelphia Flyers teammate Oskar Lindblom, was accompanied by a heart emoji.
July 2 in a video posted by the Flyers, the 23-year-old can be seen ringing the bell at Penn Medicine's Abramson Cancer Center, signaling the completion of his radiation treatments. So far, the video has over 1.1 million views.
Lindblom completed his radiation treatment for Ewing's sarcoma, a cancerous tumor that grows in the bones or in the tissue around bones.
It has been a draining, emotional journey for the young hockey player who had been in the midst of a breakout NHL season with his NHL team before being blindsided by a serious medical diagnosis in December.
The Swedish-born forward credited the medical staff for their support and to commemorate the special moment, took a special photo.
Lindblom also gave staff members an autographed No. 23 Flyers sweater, and thanked everyone for their work and support throughout his treatment journey.
"From family to friends to fans, I can't explain how much that meant to me, especially at the start," he said in an Associated Press interview. "It was a rough time and I got all those kind words. It just made me feel so much better and calm."
Thousands of people, including his teammates, flocked to social media to offer heartfelt messages after watching the video.
Lindblom's captain was one of them.
"When you see a teammate going through something like he did, and seeing how positive he was every day, it's really something special," Giroux told NHLPA.com.
It's a sentiment echoed by Brian Elliott.
"You never want to see anyone go through something like that," said the 13-year NHL veteran goaltender, currently in his third campaign with the Flyers. "You see different ways how people handle it and ever since day one – I'm sure he's put on a strong face for his teammates – he's always been so positive. You see how much he loves to play hockey and is living his dream. Then something like that comes along and rocks your world, but he still found a way to smile through it. I think that's definitely helped him navigate through all of it.
"Coming from my perspective, looking in, it's just an inspiration to know how people can handle life-changing events like that and come out positively on the other side. It's really cool to see."
Lindblom was grateful to have his girlfriend, Alma Lindqvist, by his side throughout his journey, expressing so in his own Instagram post.
While Lindblom won't play if the 2020-21 NHL season resumes, he has been on the ice at the team's complex in Voorhees, New Jersey.
The Swedish Hockey League [SHL] standout has always felt at home at the rink.
Prior to his NHL career, Lindblom played three seasons with Brynas of the SHL. He was named Swedish forward of the year in 2016-17 after finishing second in the SHL with 22 goals and fourth with 47 points.
After inking a three-year entry-level contact with the Flyers May 30, 2017, Lindblom began the 2017-18 season with Lehigh Valley of the American Hockey League, and after playing in the AHL All-Star Classic made his NHL debut against the Montreal Canadiens February 20, 2018. He netted his first big league goal in his 14th game, against Washington just under a month later March 18, 2018.
The Flyers, who finished in second place in the Metropolitan Division, won't need any extra incentive to win once the puck drops on this year's Stanley Cup Playoffs.
The players have all the inspiration they need in Lindblom.
While his teammates will undoubtedly miss Lindblom's offensive contributions [he recorded 18 points, including 11 goals, in 30 games in 2020-21], they are simply grateful to have the fifth-round pick in the 2014 NHL Entry Draft as part of their tight-knit group.
"He has a smile on his face every time I see him," said Giroux, who finds himself just 11 games shy of 900 for his career. "Oskar is a great player, but what really impresses me is his attitude off the ice."
It's why Giroux and Elliott, and all the others who wear orange, black and white, speak glowingly of Lindblom.
"I think some people on the outside shed more tears just because of Oskar's determination to battle through it," said Elliott. "There was no looking back, just a will to get better. He's done an incredible job just to make everyone feel as though he will be okay, and that we don't have to worry about him."
Lindblom has had plenty of people lend a hand throughout his cancer battle, including fellow countryman, Robert Hagg.
"A lot of guys have stepped up, and I really want to give a shout-out to Robert, and his girlfriend, Klara," said Elliott. "From a translating perspective, or if they're not understanding some of the medical terms, they helped him out with that, or taking care of their dogs, providing some meals – all of it goes a long way. I just want them to get some recognition as well. They've really helped out a lot."
The last word goes to Giroux, high praise that could easily be attributed to anyone currently in Flyers colours.
"I'm very proud to call him my teammate."