After hectic stretch, Mittelstadt ready to put down roots with Buffalo Sabres
Casey Mittelstadt is looking forward to finally setting up shop in one place for an extended period of time.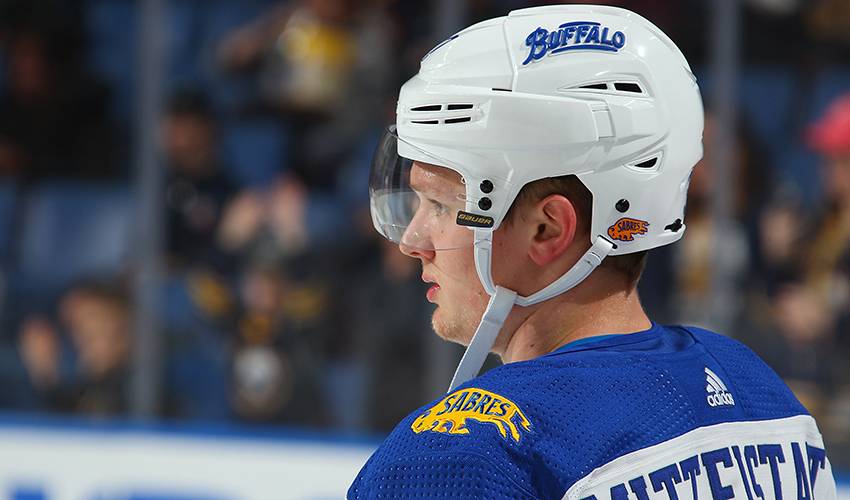 TORONTO — Casey Mittelstadt is looking forward to finally setting up shop in one place for an extended period of time.
If things go well for the Buffalo Sabres prospect, it could very well be as the franchise's second-line centre on opening night.
Since the beginning of the 2015-16 season, Mittelstadt has crisscrossed the hockey landscape, playing with no fewer than nine teams at various levels and age groups.
Over the last two campaigns, he's suited up in high school hockey, the USHL, the NCAA at the University of Minnesota and at the world junior championship for the United States before wrapping things up with a six-game Sabres stint to close out 2017-18.
"I've completely enjoyed it," the 19-year-old said over the weekend at the NHL Players' Association's rookie showcase event. "I got to meet a lot of good buddies and a lot of good things like that. It's been a little bit of a whirlwind ... but I've loved it.
"I won't complain too much."
If he keeps putting up points the way he has in the past, neither will the Sabres.
Mittelstadt had 11 goals and 19 assists in 34 college games last season to go along with tying for top spot in scoring at the world juniors with 11 points (four goals, seven assists) for the bronze-medal winning hosts in Buffalo.
Then for good measure, the eighth overall pick at the 2017 draft added a goal and four assists in six games with the Sabres.
With former No. 2 centre Ryan O'Reilly now in St. Louis with the Blues after a blockbuster trade on July 1 that saw Buffalo acquire three players and two draft picks, Mittelstadt looks like a good bet to line up behind Jack Eichel at home on Oct. 4 against the Boston Bruins.
"I guess I try not to think about it too much ... just go out and play hockey and wherever they put me, they put me," said the native of Eden Prairie, Minn. "I'm going to go out and try to play my best and play my game.
"You've got to work hard and you've got to earn it."
Mittelstadt said he's been putting in that work this summer, trying to increase the muscle on his six-foot-one, 201-pound frame.
He added that getting a taste of the NHL last season was important heading into his first training camp next month — not only for the on-ice experience, but all the other details that go into being a professional.
"That was definitely huge for me," he said. "Just figuring out everything off the ice, like getting to the plane and how guys get ready for games, when the meetings are ... that was the biggest part."
Mittelstadt got to know some of his veteran teammates better this summer and has been skating with a number of younger Sabres in Buffalo the last few weeks, including defenceman and No. 1 overall pick Rasmus Dahlin.
"I don't even know what to (say). He's the smoothest skater I've probably ever seen," Mittelstadt said. "The way he can move the puck and use his hands is pretty impressive.
"I've played against him. When you play with him, it's a lot better."
The bottom-feeding Sabres have basically been irrelevant for the past six seasons, but with the recent acquisition of dynamic winger Jeff Skinner in a trade with the Carolina Hurricanes, and the young core led by Eichel, Dahlin, Mittelstadt, Rasmus Ristolainen and Sam Reinhart, there's reason for optimism.
"Last year (the 31st-place finish) was tough on them, but you go through the highs and the lows together," Mittelstadt said. "That was pretty close to as low as you can go.
"It makes for a tight group."
---
Follow @JClipperton_CP on Twitter
Joshua Clipperton, The Canadian Press