Maple Leafs defence prospect Timothy Liljegren eager to take next step
Despite some early struggles, Timothy Liljegren never doubted his move to North America.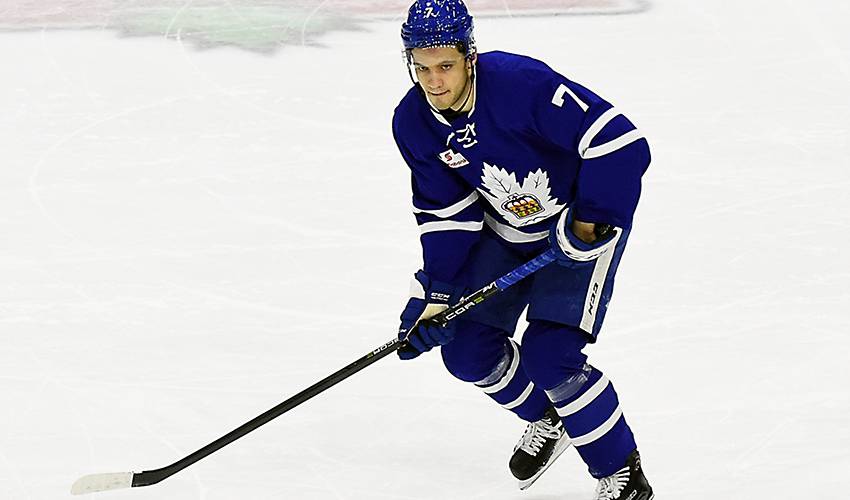 TORONTO — Despite some early struggles, Timothy Liljegren never doubted his move to North America.
Now the slick Swedish defenceman is hoping to take another big step at Toronto Maple Leafs' training camp next month.
The 17th overall pick in the 2017 NHL draft, Liljegren decided to suit up with the AHL's Toronto Marlies in 2017-18 rather than return home to hone his craft in familiar surroundings.
It took time to get comfortable on a new continent and in a new league, but the 19-year-old is adamant he wouldn't change how things played out.
"I made the right decision," Liljegren said Sunday at the NHL Players Association's rookie showcase event. "The Maple Leafs organization has good skills coaches and high-level facilities.
"I think it was a good move to come over here."
Like many European players before him, the blue liner had initial issues going from the roomier dimensions of Olympic-sized ice where learned the sport to the more congested North American surface.
"It's something you have to adapt to your game," Liljegren said. "That takes a while. After a couple months I felt more comfortable playing on the smaller surface.
"I don't think it was more difficult than I imagined. It just takes some time to get used to."
Liljegren said the speed of the game on the smaller ice was the biggest change.
"If you play over here you have to make fast plays and move the puck quick," he said. "That's something I developed over the year. I feel comfortable now."
Despite being the second-youngest player in the AHL last season, the native of Kristianstad, who doesn't turn 20 until April, finished with one goal and 17 points in 44 games before adding four assists in 20 playoff outings as the Marlies went on a run to win the Calder Cup in June.
"I think I learned a lot from last year's playoffs," Liljegren said. "The level of hockey went up in the playoffs. It was a good experience for me."
The Leafs' top-four defence heading into 2018-19 looks set with Morgan Rielly, Jake Gardiner, Nikita Zaitsev and Ron Hainsey.
The bruising Roman Polak left in free agency, while Travis Dermott split time between the Leafs and Marlies last season, scoring one goal to go along with 12 assists in 37 NHL games before dressing for all seven playoff contests in the club's first-round exit.
That leaves the likes of Liljegren, Connor Carrick, Justin Holl, newly-signed former KHLer Igor Ozhiganov, Martin Marincin, Andreas Borgman, Calle Rosen and 2018 first-round pick Rasmus Sandin to battle for the last few NHL roster spots.
The Leafs have a wealth of young, high-end skill up front led by Auston Matthews, Mitch Marner and William Nylander — they of course also signed star centre John Tavares on July 1 — but continue to look for help on the back end in the draft.
Toronto selected defencemen in the first two rounds in both 2017 and 2018, and has used eight of its last 14 picks on blue liners.
Liljegren, who was listed at six feet and 193 pounds last season, said he knows getting stronger is one of the keys for him, especially with Toronto expected to be leaning towards more physical options with Polak's departure.
"If you're a defenceman and you want to play in the NHL you have to be able to push guys up the boards and stop the play," he said. "That's something I have to show at training camp."
___
Follow @JClipperton _CP on Twitter
Joshua Clipperton, The Canadian Press