Penguins star Evgeni Malkin quietly putting together Hart Trophy-calibre season
Evgeni Malkin probably hasn't received all the recognition he's deserved throughout a career spent playing alongside fellow Pittsburgh Penguins superstar Sidney Crosby.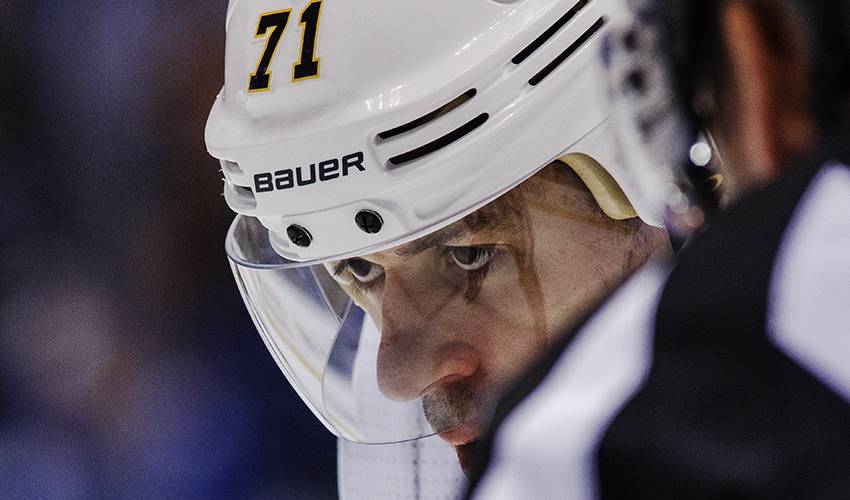 Mike Babcock agrees, albeit somewhat begrudgingly, that Evgeni Malkin probably hasn't received all the recognition he's deserved throughout a career spent playing alongside fellow Pittsburgh Penguins superstar Sidney Crosby.
The head coach of the Toronto Maple Leafs also has a few reference points — including one that still probably gnaws at him — when discussing the Russian centre's prowess.
"I think he won the Conn Smythe, if I'm not mistaken, in 2009," Babcock said recently, a nod to Malkin's playoff MVP performance for the Penguins that ended with a Stanley Cup final victory over Babcock's Detroit Red Wings. "He's been an all-star a number of times, so does he get as much (credit) as he might if he was by himself? No, but he wouldn't win as much if he was by himself.
"So do you want the credit or do you want the wins?"
Malkin might be line for both this season with the surging Penguins hitting their stride after a pedestrian start. The two-time defending champions were 11-10-3 on Nov. 24 and 19-18-3 when the calendar flipped to 2018, but have gone 21-8-1 since while averaging a league-high 3.93 goals per game.
And Malkin is a big reason for that surge.
The 31-year-old sat second in NHL scoring heading into Monday with 87 points, one back of Tampa Bay's Nikita Kucherov, while his 39 goals had him one adrift of Washington's Alex Ovechkin and Winnipeg's Patrik Laine in the race for the Rocket Richard Trophy.
Malkin tops the NHL in goals (25) and points (51) since Jan. 1 — Crosby is second with 41 points — and has an eye-popping 18 goals and 20 assists in his last 20 games. He was named the NHL's third star of the week Monday after putting up three goals and five assists in four games, with his three points over the weekend moving him past Pavel Datsyuk and into fifth on the NHL's all-time scoring list among Russian players with 919.
But while Malkin's numbers are similar to Crosby's on a points-per-game basis over their careers — 1.29 to 1.19 — he's always seemed, at least on the outside, to fit the role of Robin to the Cole Harbour, N.S., native's Batman.
Not so for anyone close to the team, according to Pittsburgh head coach Mike Sullivan.
"In our dressing room he gets a lot of credit," he said. "We have some difference makers in there, some elite players. Geno and Sid are two of them.
"Those of us that are inside our locker-room are so appreciative of what these guys bring."
Malkin was controversially left off the NHL's list of its 100 all-time greatest players, but that appreciation Sullivan mentioned also exists among opponents of a player in the conversation for this season's Hart Trophy as league MVP.
"When you look at that team he's one of the first names that you think of," Leafs defenceman Morgan Rielly said. "Players around the league know how good he is. He's a big guy, he's strong, he can fly, he's got unbelievable hands. I think from his peers he gets a lot of respect.
"To the general public he might get overshadowed by Sid, but he's got (three) Cups and a couple of awards to show for it."
Along with that Conn Smythe Trophy, Malkin won the Art Ross as the league's top scorer in 2008-09. He led the NHL in points again in 2011-12 before grabbing the Hart as well as the Ted Lindsay Award, the MVP as voted by the players.
Injuries saw the 2006-07 rookie of the year miss more than 25 per cent of Pittsburgh's regular-season games between 2013 and 2017, but the six-foot-three, 195-pound Malkin — who has averaged more than a point per outing in 149 career playoff games — is back healthy and firing on all cylinders.
"When you see guys with a lot of skill, maybe sometimes they think they can take it easy and rest on their skill, but even in practice he's going pretty hard," said Penguins defenceman Jamie Oleksiak, who was acquired from Dallas in December. "If you give him a bad pass or make a good defensive play on him, he's definitely frustrated and will come back that much harder.
"A guy with his size and his skill is a unique combination."
Rielly said even though Malkin has flown under the radar relative to other stars because of where he plays and who he plays with, it's worked out pretty well.
"On most teams he's the main guy," Rielly said. "It just so happens he gets to play with Sid, and that's not bad either."
---
Follow @JClipperton_CP on Twitter
Joshua Clipperton, The Canadian Press