Coyotes sign coach André Tourigny to 3-year contract extension
The Arizona Coyotes have signed coach André Tourigny to a three-year contract extension.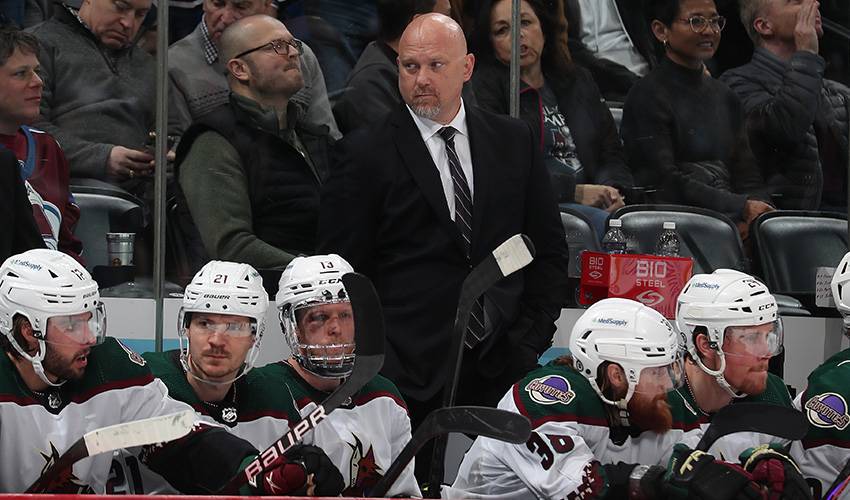 SCOTTSDALE, Ariz. (AP) — The Arizona Coyotes have signed coach André Tourigny to a three-year contract extension, ensuring he will be at the forefront of the franchise's rebuilding process.
Terms of the deal announced Wednesday were not released.
"We are very pleased to sign André to a three-year extension," Coyotes general manager Bill Armstrong said in a statement. "He is an excellent coach, leader and communicator who has helped us establish a tremendous culture in our dressing room. Our players like him, respect him and compete hard for him. We are thrilled to have him signed as our head coach for the next three years."
The 49-year-old Tourigny was hired in 2021 to help turn around a foundering franchise. Arizona had been to the playoffs once since reaching the 2012 Western Conference Finals — in the 2020 NHL bubble — and was annually one of the league's worst teams.
The Coyotes opted to rebuild from the ground up, trading away or releasing many of their veteran players to acquire younger players and a load of draft picks.
Well-liked by the players, Tourigny led Arizona to 25 wins and 57 points his first season, then 28 wins and 70 points last year. The Coyotes were particularly good at their small, temporary home last season, going 21-15-5 at 5,000-seat Mullett Arena.
The Coyotes were aggressive during the offseason, adding Max Dumba, Sean Durzi, Nick Bjugstad, Alex Kerfoot and Jason Zucker in an effort to continue their climb.
"I feel very lucky to work with our group of players as well," Tourigny said. "The hard work and commitment to the team they have demonstrated the past two years has established the foundation of our culture. It's an exciting time to be part of the Coyotes."
Tourigny also was on the coaching staff of a Team Canada program that won three straight world championships. He was the head coach of the Team Canada team that took gold at the 2023 IIHG World Championships.
___
AP NHL: https://apnews.com/hub/NHL
John Marshall, The Associated Press