Rick Jeanneret, the Hall of Fame broadcaster and voice of the Buffalo Sabres, dies at the age of 81
The Sabres released a statement from Jeanneret's family saying he died with his family by his side.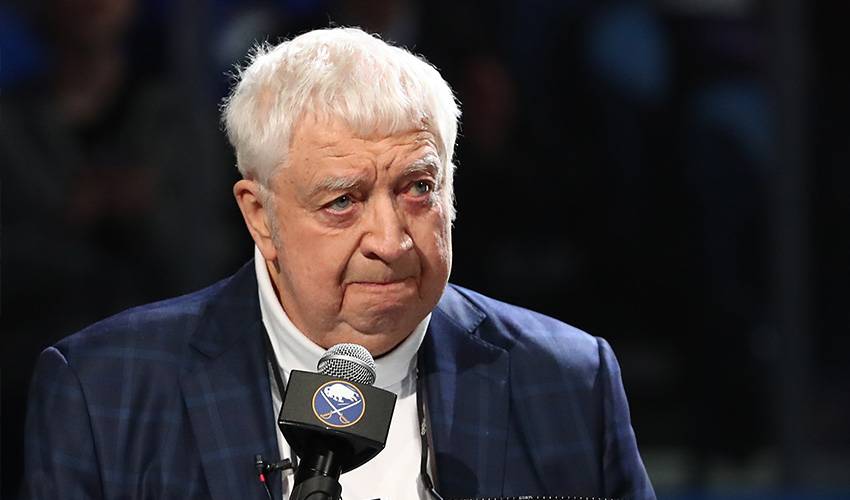 BUFFALO, N.Y. (AP) — Rick Jeanneret, who will always be regarded as the voice of the Buffalo Sabres after a 51-year broadcasting career and the Hockey Hall of Fame's 2012 Foster Hewitt Award recipient, died on Thursday. He was 81.
The Sabres released a statement from Jeanneret's family saying he died with his family by his side following a two-year battle with multi-organ failure. "He will be loved forever," the family's statement said.
And it's fair to say he will be loved forever by many who grew to hear his call of Sabres games. 
Jeanneret — or RJ as he became affectionately known — was a part of Sabres broadcasts on either radio or TV since the 1971-72 season, the franchise's second, until he retired following the 2021-22 season. He had the longest play-by-play announcing career in NHL history.
"Rick was indeed a very special and very loved man, to and by all, who knew him and listened to him, his magic, and his command," Sabres owner Terry Pegula said. "How glad I am to have known him. How lucky were we all to have been around him and to have listened to him.
It was in part through Jeanneret how Pegula became a fan of the Sabres and their famed French Connection line of the 1970s by listening to the team's games on radio while living in Pittsburgh. Pegula and his wife bought the franchise in February 2011.
"Growing up in Buffalo, Rick Jeanneret was not just the voice of the Sabres, he was the voice of our city. He helped foster my love of hockey," added Sabres GM Kevyn Adams.
"Rick was an incredible man that was loved by all," Adams added. "His wit and humour was unmatched, and we are all lucky to have known him."
In retirement, Jeanneret still attended Sabres games last season in making the trip from his home in nearby Niagara Falls, Ontario.
Jeanneret was known for having various signature calls including, "Top shelf, where mama hides the cookies," whenever a Sabres player scored by roofing a shot high into the net.
One of his most memorable calls was "May Day! May Day!" after Brad May scored the decisive goal in a 6-5 overtime win to clinch a four-game series sweep of Boston in the first round of the 1993 playoffs. It was also Buffalo's first playoff series win in 10 years.
His other notable calls included "La-la-la-la-Fontaine!" which followed whenever former Sabres captain Pat LaFontaine scored in the 1990s. And there was his, "Now do you believe?" call during the 2006 playoffs, during the Sabres' run to the Eastern Conference final.
He achieved the NHL's highest broadcasting honour in 2012, upon earning the Hockey Hall of Fame's Foster Hewitt Memorial Award.
The Sabres honoured Jeanneret during his final season by raising a banner bearing his name to the arena rafters. He is one of 11 people to have been honoured by the team, and third non-player, joining team founders, brothers Seymour and Northrup Knox.
Jeanneret did his best to keep his emotions in check during the ceremony, and amid a sold-out crowd chanting "RJ! RJ! RJ!"
"I stood down here 10 years ago upon my induction into the Sabres Hall of Fame, and I remember saying that night, this is the only job I ever wanted. This is the only place I wanted to be," Jeanneret said during a 15-minute ceremony. "I meant every word on that particular night. And boy, do I mean it now."
He grew up in nearby St. Catharines, Ontario, and spent much of his life in the Niagara region. He called his first Sabres game on the radio on Oct. 10, 1971, and then joined the team's TV broadcast in 1995.
Jeanneret had several health scares, which led to him reducing his travel schedule
In 2014, he was diagnosed with throat cancer, but missed just a few games during the 2014-15 season after receiving treatment. In 2016, he was fitted with a pacemaker due to a slow pulse.
He is survived by his wife, Sandra, his children, Mark, Chris and Shelly, and numerous grandchildren. Funeral arrangements were not available.
___
AP NHL: https://apnews.com/hub/nhl
John Wawrow, The Associated Press