Maple Leafs prospect Rodion Amirov dead at 21 after brain tumour diagnosis
The Maple Leafs confirmed Amirov died Monday in Munich, Germany, where he had been receiving treatment.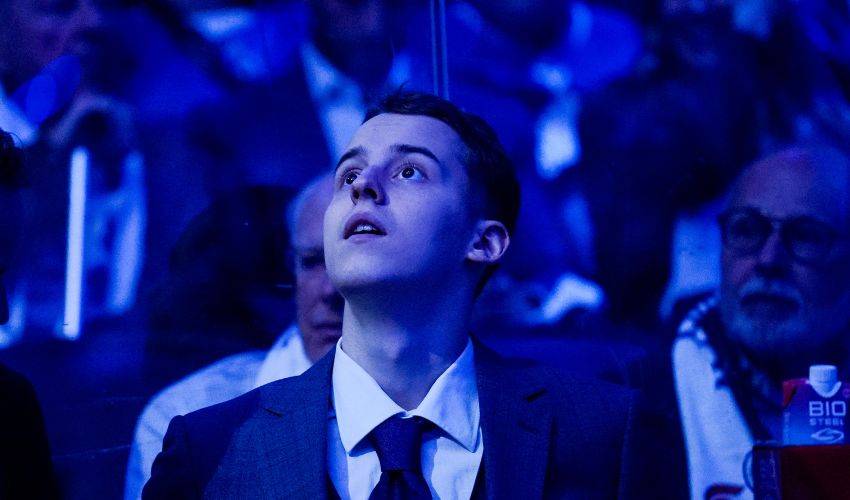 Toronto Maple Leafs prospect Rodion Amirov has died after being diagnosed with a brain tumour last year. He was 21.
The Maple Leafs confirmed Amirov died Monday in Munich, Germany, where he had been receiving treatment. They also posted a tribute to Amirov on Scotiabank Arena's outdoor video board.
"The entire Maple Leafs organization is devastated by this tragic loss," said Maple Leafs president Brendan Shanahan in a statement. "Over the duration of his courageous battle, Rodion's positivity inspired everyone around him, and he made lasting impressions with our team and fans in his brief visits to Toronto."
Amirov signed a three-year entry-level contract with Toronto in April 2021 after being selected 15th overall by the NHL club in the 2020 entry draft.
Former Maple Leafs general manager Kyle Dubas announced in February 2022 that Amirov had been diagnosed with a brain tumour and was undergoing treatment. He missed the entire 2022-23 season as he underwent treatment and recovery.
"The optimism and amazing outlook on life throughout Rodion's battle were unwavering and incredible," Dubas, now president of hockey operations and GM of the Pittsburgh Penguins, said in a statement. "Personally, I am so sad for the loss of such a wonderful young man with so much potential. 
"His unabashed positivity — even when faced with an awful diagnosis — will stay with me forever. Rodion was such an example of courage, and I am certain that his spirit has touched, and will live on in, everyone lucky enough to have known him."
Amirov went to Toronto for four rounds of chemotherapy last fall and attended the Maple Leafs 2022-23 home opener against Washington, where he received an ovation from the crowd at Scotiabank Arena when announced as an honorary member of the playing roster.
"It's incredibly hard to comprehend the loss of Rodion," Maple Leafs captain John Tavares said on social media. "His smile and joy for life and hockey was infectious. 
"My teammates and I are grateful for our time spent with him and forever inspired by his courageous fight. Condolences to his loved ones. We'll miss him dearly."
Amirov extended his contract with his hometown Salavat Yulaev in Russia's Kontinental Hockey League on May 10 after the Maple Leafs agreed to a one-year loan for the 2023-24 season.
"It's incredibly sad to see a young man with so much promise taken from us so soon," said Shanahan. "We offer our deepest condolences to Rodion's family and friends as we mourn this loss together."
Amirov had 10 goals and eight assists in 70 games for Salavat Yulaev over three KHL seasons. He also had two goals and four assists for Russia at the 2021 men's world junior hockey championship.
"From the moment he received the news (of his tumour), he refused to speak in the negative, determined to enjoy every day, facing it with the same positive attitude he showed during his hockey career," said agent Dan Milstein on social media. "We will always remember his courage, his desire, his will, his smile, all of the great things about him."
This report by The Canadian Press was first published Aug. 14, 2023.
The Canadian Press