Canadiens sign Cole Caufield to 8-year, $62.8 million extension
The Canadiens signed Caufield to an eight-year, $62.8 million contract extension.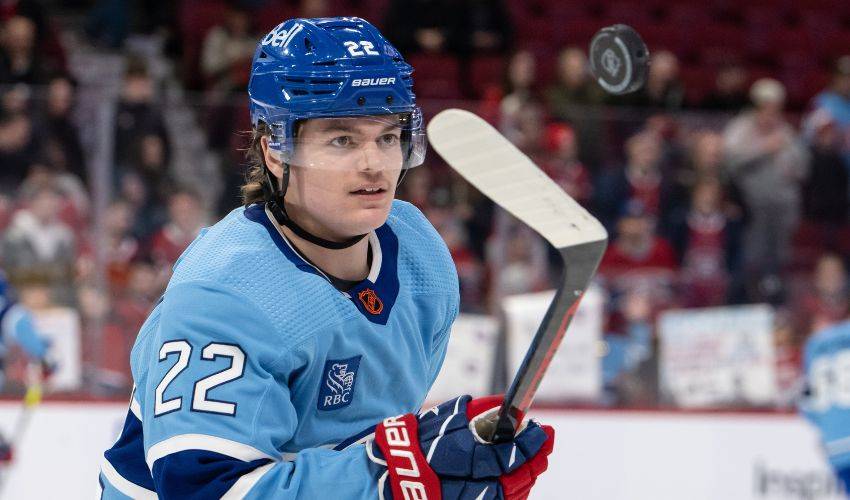 MONTREAL (AP) — Cole Caufield picked up the phone and called his mother after agreeing to a lucrative extension with the Montreal Canadiens.
She couldn't answer because she was busy at work, teaching. But once she called him back, the two shared a moment over the amount of money that's not just life-changing for Caufield, but for his family, too.
"She was excited, started crying on the phone. It's really so special for me and my family," he said during a video call with reporters. "They couldn't be more proud, and I couldn't be more thankful for what they've done.
"I'm just … I'm at a loss for words sometimes just thinking about it."
The Canadiens signed Caufield to an eight-year, $62.8 million contract extension on Monday, completing a key piece of offseason business.
Caufield, who said he couldn't even have dreamed of a number such as that as a kid, wanted to sign long term instead of opting for a bridge deal both to have his family "set for a while" and because of how much he loves playing in Montreal.
"The way this organization is going, the plan that's intact, all that stuff, it makes a lot of sense," he said. "I love being there, (it's my) second home, first home, whatever you want to call it for me. I think it puts my family in a good place as well, all those things that kind of went into this final number and years.
"I'm very excited and very lucky to be a part of the Montreal Canadiens for a long time."
The deal will pay the 22-year-old winger an average annual value of $7.85 million through the 2030-31 season. It's the second-richest contract for a forward in Canadiens history, trailing captain Nick Suzuki's eight-year pact by $200,000.
Caufield said he and the team understood that Suzuki would remain the highest-paid forward on the team.
"I mean, that's our guy, that's our leader," said Caufield. "I think everyone around knows that, and (I) still have a lot of money, so I'm not complaining about anything.
"I'm excited and proud to be a part of this, and to do it with him along the way will be pretty special."
With Suzuki signed through 2029-30, Montreal has two franchise cornerstones locked up for the foreseeable future.
Caufield didn't have any spectacular plans regarding how he'll celebrate his new contract.
"I had a workout and skate this morning, so kind of just, maybe take a nap later," he said.
Caufield scored 26 goals and added 10 assists in 46 games in 2022-23, tying Suzuki for the team lead in goals despite undergoing season-ending surgery on his right shoulder in February.
Now in Michigan for the offseason, Caufield said he's been skating two to three times a week and was cleared for full activity around 10 days ago.
"I really look forward to having this full summer to make sure I'm back to 100 percent," he said. "The way things are going right now, I'm not too worried at all."
Caufield slipped to the Canadiens at 15th overall in the 2019 NHL draft despite breaking goal records with USA Hockey's National Team Development Program.
Caufield, from Mosinee, Wisc., then joined the University of Wisconsin Badgers for two seasons and won the Hobey Baker Award as the top U.S. men's college hockey player after leading the NCAA in points and goals during his sophomore year.
Since making his NHL debut in 2020-21, the forward has 84 points (53 goals, 31 assists) in 123 regular-season games and 12 points (four goals, eight assists) in 20 playoff games. Only No. 1 overall pick Jack Hughes has more goals among players from the 2019 draft.
Caufield's production took off when the Canadiens replaced head coach Dominique Ducharme with Martin St. Louis in February of last year. In 83 games played since St. Louis took over behind the bench, Caufield has 48 goals and 71 points.
The success he's had under St. Louis played a role in Caufield wanting to sign long term, he said.
"I think we got something special in the room just by having him there," said Caufield. "Marty is going to teach me a lot and already has to this day, so obviously a big part of that was him."
___
AP NHL: https://apnews.com/hub/NHL and https://twitter.com/AP_Sports
The Associated Press