Hurricanes' Andrei Svechnikov out for season with torn ACL
The team announced Svechnikov would undergo ACL reconstruction surgery.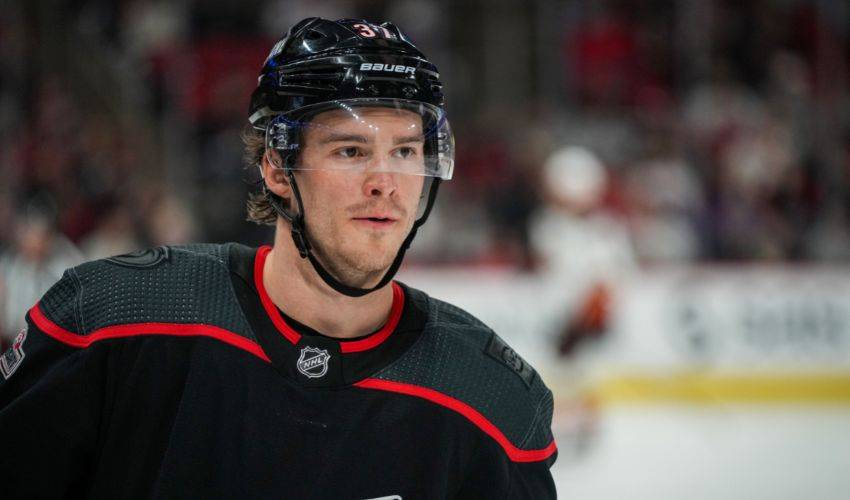 RALEIGH, N.C. (AP) — Carolina Hurricanes forward Andrei Svechnikov is out for the remainder of the regular season and the playoffs because of a torn ACL in his right knee.
The team announced Svechnikov would undergo ACL reconstruction surgery Thursday at Raleigh Orthopaedic. He was injured Saturday night in a loss to Vegas.
The Hurricanes already said Svechnikov would be out indefinitely with the knee injury but had been hoping for a better diagnosis.
"After further consultation with global experts in this field, it has been determined that the best course of action for Andrei's future is to have this surgery, and to have it done by our team orthopedist, Dr. Marty Isbell," general manager Don Waddell said Tuesday. "We're confident that Andrei will make a full recovery."
Losing Svechnikov is a crushing blow to Carolina in a loaded Eastern Conference. The 22-year-old is tied for second on the team in points with 60 and ranks third in goals with 23.
The Hurricanes have been outscored 7-0 in their past two games. Entering Tuesday, their once comfortable lead atop the Metropolitan Division has been reduced to a tie in standings points with the New Jersey Devils, who are only in second place because they've played one more game.
Svechnikov is not the first Hurricanes forward to be lost long term because of injury. Winger Max Pacioretty re-tore his right Achilles tendon five games into his return from the initial injury that occurred last summer while training. Carolina acquired Pacioretty by trade, and he had three goals in his limited time on ice with the team before going down again.
___
AP NHL: https://apnews.com/hub/nhl and https://twitter.com/AP_Sports
The Associated Press