Ty Dellandrea "definitely excited" for the 2023-24 season in Dallas
The 23-year-old forward solidified himself as a full-time NHL player last season, playing in 82 regular-season games and 15 playoff games.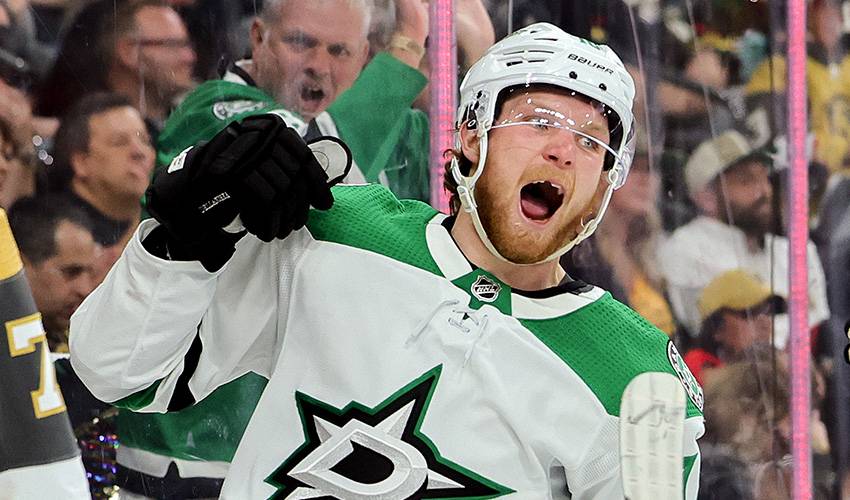 Feature photo: Getty Images
---
Ty Dellandrea is ready to roll.
After a 2022-23 NHL campaign in which the 23-year-old Dallas Stars forward established numerous career-best numbers and solidified himself in the lineup, Dellandrea is looking to improve upon his game even further this coming season.
"You always want to do more," said the forward, who was drafted 13th overall by the Stars in 2018. "That's the mindset I have every shift I take. I also want to build on what I was able to do last year and help the team go farther this season."
Dellandrea skated in all 82 games for the Stars in 2022-23, notching 28 points. He led Stars forwards in hits (125) and total shorthanded time on ice (166:32), while he added three goals and led the team's forwards in shorthanded time on ice per game played (2:20) over 15 games in the 2023 Stanley Cup Playoffs.
Was there a moment when he realized it was going to be a personal-best NHL season?
"That's a good question. I played for a good amount of time with Wyatt [Johnston] and Jamie [Benn] and we were clicking for a while, and we had a good thing going. That was a time I felt things were going well and I could play with these guys. If I could point out a moment, that would be it. Personally, getting the chance to play in some high-pressure situations really gave me confidence that I could handle those times."
Dellandrea is hoping to get more of those chances when the curtain opens on Dallas' regular season with a game against St. Louis on October 12.
He is aware of what he needs to do for that to become a reality.
"You have to put the work in, and you can't take your foot off the pedal. I was happy about a lot of things last year, but I want to keep improving and working on my game."
Days after the Stars' season ended, Dellandrea took stock of the campaign that was and felt buoyed by the strides he had taken.
One word immediately came to mind when he looked back at 2022-23.
"Perseverance. I learned a lot about that, the ups and downs of a season, how you learn to handle that as a player. I wanted to be level-headed and not get too up or down throughout the year. I was able to do that, and I want to carry that on to this season. I know it's a cliché, but the best thing I can do for myself is to take things day-by-day. I don't want to get too ahead of myself, and I don't want to start looking behind either."
Dellandrea, who inked a one-year contract in July for the 2023-24 season, is already getting the itch to get back into game action.
"Big time. Especially over the last few weeks when you're ramping everything up, getting on the ice more and seeing how everyone in the gym is excited to get things started. You can see that high energy. We have a good group. Going on a deep run, but not getting what you wanted, I think everyone is excited, wants to back at it and get working again. You wish you could fast-forward and start the season right now."
For now, Dellandrea will balance his preparations with enjoying the rest of his summer.
Maintaining that balance has been the hallmark of his offseason so far.
"The summer has been great. There has been lots of cottage time up north on the weekends, so it's been good. I love it there. I like to spend as much time as I can up there to relax and unwind after the season."
Once the puck drops, however, people can expect a much different version of Dellandrea.
"I try to leave it all there every chance I get. That's what I'm going to do. I'm definitely excited for this year."