Sven Baertschi reflects on his hockey journey after recently announcing retirement
The Swiss-born forward played 292 NHL games with three different teams.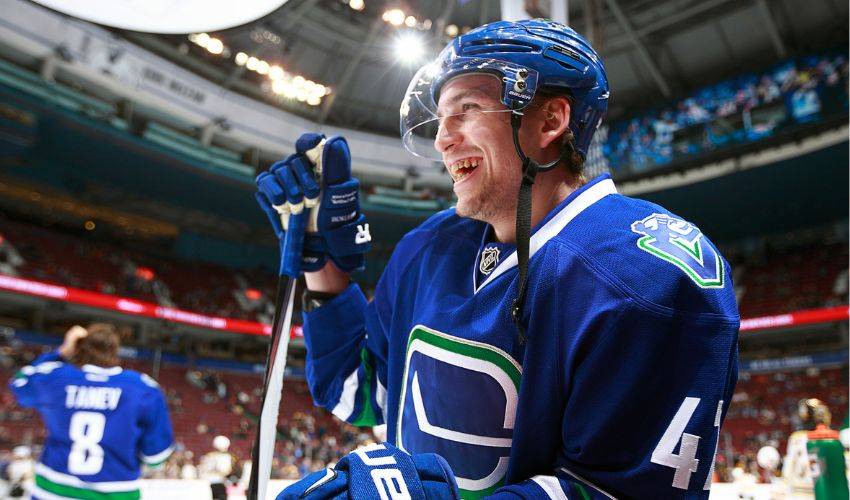 Feature photo: Getty Images
---
Sven Baertschi is still getting used to a different side of life after announcing his retirement from hockey on August 3.
"Many different things have come to mind," started the Swiss-born forward in a recent conversation. "The good, the bad and the ugly. It's been an interesting week and half, the chance to reflect on a lot of things. It's a weird feeling."
But certainly not a bad one. Over the course of his career, the 30-year old played 292 regular-season games in his career with three different teams, starting with the Calgary Flames who drafted him 13th overall in 2011.
His phone has been working overtime since the news broke, with players from both his minor league and NHL days reaching out to wish him well.
"You always will look back at the big moments, being able to play in the NHL, but I also look back to playing in the AHL, helping out young guys and doing my thing there. It's kind of cool. Once I announced my retirement, some of the guys that reached out to me are playing in the NHL now. They were really thankful for how I helped them in the AHL, so that makes me feel good."
Many former players have also contacted Baertschi.
"I talked to some of the guys I used to play with who are retired as well. They are here to help me and guide me, which will help me pick out what's next in life for me. I've been playing since I was four. All of a sudden, that fades away and you start to consider what is next."
Those plans are still a work in progress.
Before deciding on what his options are, Baertschi will focus on family, namely his wife, Laura, and their two young children.
"The priority is my family. As an athlete, you are in your own little world, so now it's time to spend my days with my family. It's fun to experience different things now. My daughter was born in December, so it's amazing to be around her right now, experiencing her first year on this planet," said Baertschi, who is still adjusting to the retired life. "It seems, to me, that a certain part of your brain shuts off, where you wake up in the morning and it's a different feeling. For so many years, everything was so regimented, and you had to be at a certain place at a certain time. But I'm enjoying that part right now, to see things in a different way."
Baertschi is equally grateful to have plenty of players, past and present, in his corner.
"You build amazing relationships. It is a brotherhood and that's what it was like for every team I was part of. Everyone encouraged each other."
Including in the final year of his career in his hometown of Bern, Switzerland.
"Looking back, I wasn't supposed to make it to the NHL. But I made it there somehow … and played almost 300 games. My goal, at the end of my career, was to go home to Bern and play in front of my friends and family. That was the best part of that experience. It all started with a dream, and I ended up seeing my dream become a reality."
There was one particular instance when he played for his country that would become the game changer in his hockey journey.
"The U18 World Championships, the World Junior Championships, those were amazing experiences. I loved it. The defining moment for me was playing in Fargo [North Dakota] at the U18 tournament. It opened the door for me to everywhere else. I was scouted, I was seen and that ended up getting me to Portland [Winterhawks]. The two years there were huge. It opened the gates for me to be drafted. I tried, took a risk, but it turned out to be great, something that I never expected. It took some luck and some help, but it ended up being amazing."
Although injuries, including concussions, interrupted his NHL career at various stages, Baertschi, who recorded 138 points with the Flames, Vancouver Canucks and Vegas Golden Knights between 2012 and 2022, looks back on his time in the game with great fondness.
It is a feeling he expects to continue to grow over the years.
"There were a lot of ups and downs, a lot of different places that I lived in, so that does take a toll on you. … The decision to retire didn't come out of the blue. It's kind of been building to this point for the past few years, where I started thinking about what I could do next, what's the next chapter going to look like for me. That's exciting too. But when I think about my career, a lot of happy things come to mind."
Baertschi and his family will reside in Portland, Oregon, the same city where he emerged as a junior hockey standout. He will continue to motivate others to excel, just like his days in the American Hockey League.
One of the people on his list is a familiar face who has taken a shine to the court.
"My son just started playing tennis and he loves it. That's been his thing. He's got a knack for it. Just the other day, I found a hat signed by Roger Federer. Growing up, he was my idol. He's such an amazing inspiration for us all in Switzerland. Maybe my son will follow in his footsteps. But as long as he enjoys himself and creates some nice memories, that's what is most important."
Something that Sven Baertschi knows all about.