Cody Glass remains motivated by playoff aspirations after becoming a regular on the Predators roster
Glass made the Predators out of training camp and scored 35 points in 72 games last season.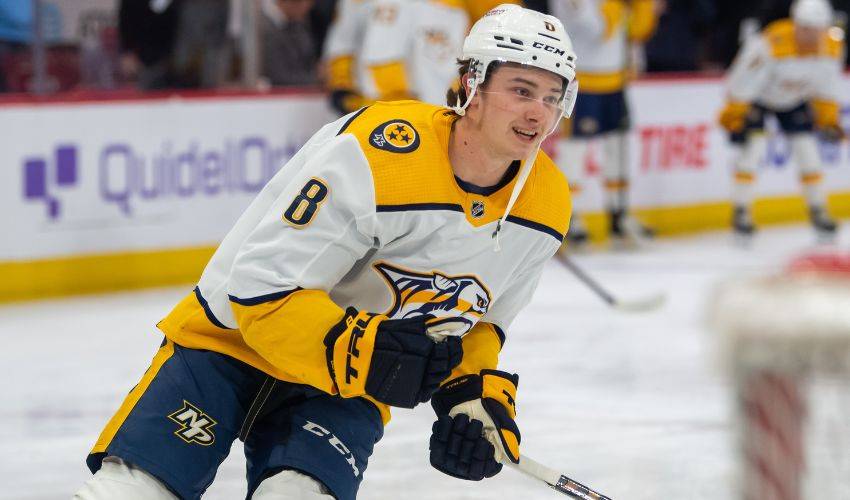 Feature photo: Getty Images
---
The excitement in Cody Glass' voice is unmistakable.
It has been quite an eventful year for the 24-year-old Glass, a timeline that includes making the Nashville Predators out of training camp, capturing a gold medal while playing for Canada at the World Championship, being named the Predators' nominee for a league award and his emergence as a full-time NHL player.
"At the beginning of the year, it was a situation where I was focused on trying to make the team," recalled the centre, who was nominated by the Nashville chapter of the Professional Hockey Writers Association for the 2023 Masterton Award. "By January, I'm going up against players like Connor McDavid, Nathan MacKinnon and a lot of other top guys. It was a nice change of pace. It was something that I needed to show, that I belong in the NHL. I felt like I did a very good job and found my place on the team."
The Masterton recognition – awarded to the player who best exemplifies the qualities of perseverance, sportsmanship, and dedication to hockey – caught Glass off guard.
"It meant a lot. That was a dream come true. Never did I think I'd be nominated for an award. My goal was to make the team, so by the end of the year, it was a great, surreal feeling. My family was so happy, and it was very emotional for all of us."
The sixth overall pick in the 2017 NHL Draft, Glass was the first-ever draft selection by the expansion Vegas Golden Knights. He was traded to Nashville on July 17, 2021.
After splitting time between the AHL and NHL the previous three seasons, the Winnipeg native, who was a healthy scratch early on for the Predators, took advantage of the opportunities that came his way.
By the season's end, he recorded 14 goals and 21 assists while playing an NHL career-high 72 games.
Perhaps most importantly for Glass, he proved he was a reliable NHL player, counted on to go up against the opposition's top players each night. His work paid off in July when he signed a two-year contract to stay with the Predators.
"It's something I've always worked on in junior," he said of being a two-way forward. "I was a high scorer back in those days, but when you make it to the NHL you need to do both. I've tried to be a defence-first player and then let my skill take over when I get those offensive chances. I felt like I did a pretty good job of that. Having great teammates certainly helps with that."
As would making the playoffs.
Despite a spirited late-season surge, the Predators came up short in their efforts to make the post-season cut.
"Everybody wants to make that Stanley Cup run. When you miss out on that, you have an extra-long summer and that's all you're thinking about. You see other teams in it and that's what you want to experience. We had a really good run at the end of the year and now we want to build on that."
Striking gold in May with Team Canada was another big confidence boost for Glass.
"When I got the call to play in the worlds, it was a no-brainer to go there and try to end things off on a high note. When we won it, that was a great feeling. I went into the summer with a lot of confidence, knowing exactly how to play against top players. I've already got the itch to go back."
Soon, he will be back in the Music City, a place that has come to feel like home for Glass.
"With Nashville, I've lucked out. When we were making that push at the end of the year the building was electric. It gives me chills just thinking about it. The city itself, the way the players are treated by fans and the media, I've been welcomed with open arms. It's something I'm extremely grateful for."