NHLPA Goals & Dreams donates 25 sets of youth hockey equipment on behalf of Jason & Nick Robertson to United Heroes League military kids
The Robertson brothers will also be hosting a two-day ice hockey clinic in Fort Liberty.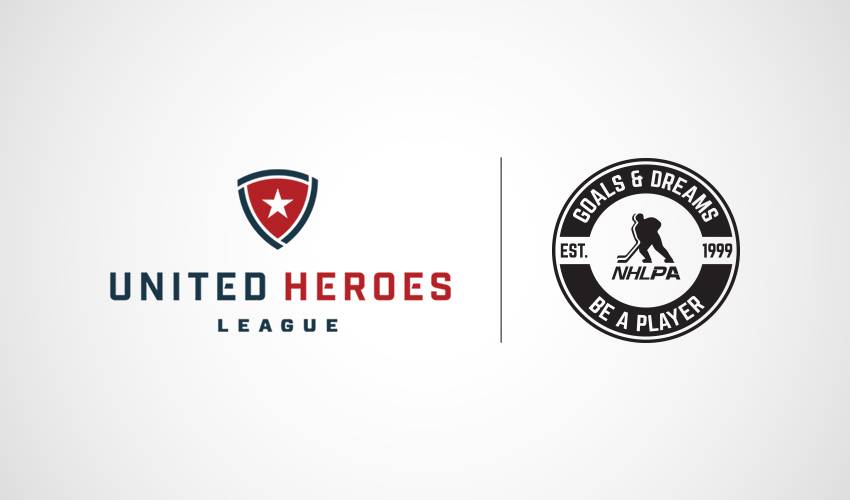 ---
Hastings, Minn. – United Heroes League (UHL) announced today that it has received a donation of 25 sets of hockey equipment from NHLPA Goals & Dreams to support military kids on behalf of NHLPA members Jason and Nick Robertson in conjunction with their two-day ice hockey clinic at Cleland Ice Arena located on Fort Liberty (formerly Fort Bragg).
Jason Robertson, a 2023 NHL All-Star and forward for the Dallas Stars, is incredibly active in the military community through his JR's Heroes initiative in the Dallas Fort Worth area and beyond. Nick Robertson, a forward for the Toronto Maple Leafs, is excited about this opportunity to give back to military kids and families.
"Days like today show the great commitment of the NHLPA to the military and in helping to grow the sport," said Jason Robertson, NHLPA member and Dallas Stars forward. "Nick and I are passionate about giving back to these incredible military families. Working with the kids on the ice for two days has been amazing, and to be able to help the next generation of hockey players step on the ice through the gift of equipment from the NHLPA Goals & Dreams program is just a tremendous honor."
"Fort Liberty, these kids, and their families, the whole experience has been great," said Nick Robertson, NHLPA member and Toronto Maple Leafs forward. "It is so humbling to be here with them, knowing the sacrifices they make so we can be free. The gift of the equipment today from the NHLPA Goals & Dreams program will make such an impact, and after watching some of these kids skate, we might just have some future pro players that we're giving gear to!"
MEDIA AVAILABILITY
Friday, August 11th, 2023, From 10:30 a.m. – 11:00 a.m.
Location: Cleland Ice Arena – 1606 Reilly Road, Fort Liberty, NC 28307
** Media must meet at 10:00 a.m. at the All-American Gate at Fort Liberty to be escorted into the installation. RSVP Required – RSVP with ShaneH@UnitedHeroesLeague.org or text 651-253-6737 **
"This is just an incredible gift from NHLPA Goals & Dreams and the Robertsons that will allow us to get more amazing kids on the ice that otherwise may not have had the opportunity to play," said United Heroes League President and Founder Shane Hudella. "The NHLPA and its members like Jason and Nick have been our #1 supporter for over a decade in getting hockey gear to these heroic families as a simple thank you for their service and sacrifice to our nation."
United Heroes League is a 501(c)(3) national non-profit based in Hastings, Minnesota. The charity assists families of all branches of the military by providing free sports equipment, free youth camps, financial grants to pay sports fees, special experiences, and pro sports tickets so the entire family can enjoy a night out at the game.