Sibling rivalry helped drive Sens' Shane Pinto to success
The Senators forward acknowledges how much his sister, Brianna, pushed him in his athletic endeavours growing up.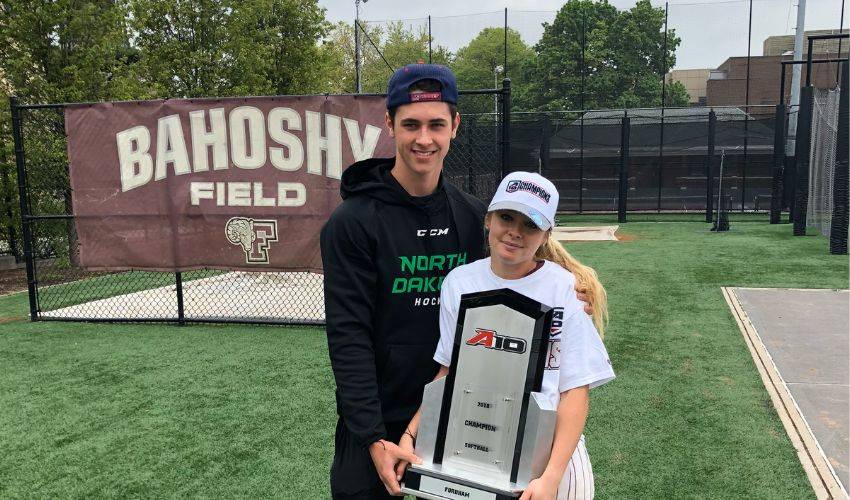 All photos courtesy of Brianna Pinto
---
There was a time when Ottawa Senators forward Shane Pinto and his older sister, Brianna, would do just about anything to outdo one another in athletics.
They both now laugh at the thought of those days in Franklin Square, New York, when their sibling rivalry could, on occasion, get rather intense.
"When we were growing up, we were always outside, and we were always trying to one-up one another," recalled Brianna, a star in both track and field and softball. "When we were younger, I was more athletic than him and then he kind of came out of nowhere. But we would get into brawls almost every day when we would go up against each other. It's kind of funny, but I think it ended up helping both of us in the long run because we both became very competitive in whatever sport we played."
For Shane, the goal, early on, was simply to keep up with his sister, agreeing that her athletic abilities surpassed his early on.
"She was a much better athlete when we were kids," remembered Shane, whose love of baseball eventually shifted to hockey. "I spent a lot of time just doing my best to not embarrass myself whenever we did any sports together. I think I wanted to do my best to impress her, to show at the very least that I was trying."
Eventually, they both found a sport they could excel in at the top level.
Brianna attended Fordham University and became a standout on the softball diamond, following in the footsteps of her father, Frank, who has a passion for baseball.
In five seasons with the Rams, she recorded 83 stolen bases over 189 career games. In 2022, as team captain, she became the program's all-time leader in stolen bases by stealing 25 in 25 attempts on the year, and led the team with 50 hits and 29 runs.
"They were some of the best moments of my life at Fordham. We won the championship three times. My teammates were great. I played softball since I was little, so it was nice to see it culminate in the way it did. … There were a lot of great memories from those times."
Having her brother in the stands to see some of those moments made them even more memorable.
"During the time Shane was in college, at North Dakota, during my freshman year, he was able to see us win the Atlantic 10 Championship, which was nice. Last year, he also came to see us play and he got to see us win the championship. He made the time to come and see me, which was very important to me."
When he was not watching his sister excel in softball, Shane was seeing success on the ice.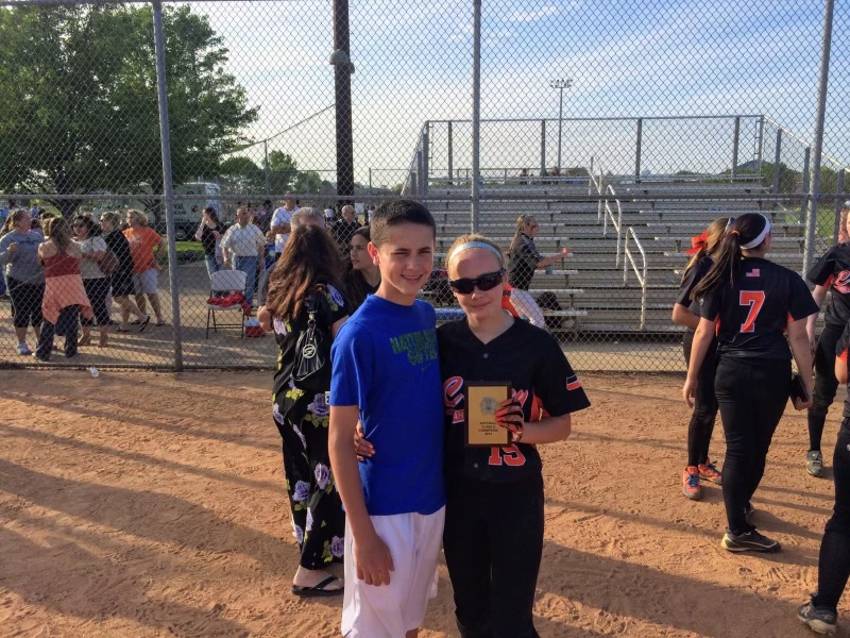 The 32nd overall pick of the Ottawa Senators at the 2019 NHL Draft scored 20 goals and put up 35 points in 2022-23 – his first full NHL season.
Out of all he achieved last season, it was playing 82 games that perhaps meant the most to the 22-year-old.
Shane played just five games in the 2021-22 campaign prior to being sent to the sidelines with a season-ending shoulder injury.
"The injury, you never want that, but it's part of sports and a lot of athletes have to go through that at some point in their career. It came early for me, and it made me realize how much I love playing hockey. It teaches you a lot, including how to deal with adversity. I had that whole year to recover and to give everything I had to be ready for the next season. I was just so happy to play 82 games and to be able to contribute, to show that I belong. I was very grateful for that year. I want to take that and hit the ground running this year."
Throughout his rehab, Shane had widespread support from teammates, friends and family.
One of his biggest boosters was a familiar face and voice.
"I was at school at that point. I had a lot of friends who went through those similar difficult injuries, the season-ending ones," said Brianna. "It's heartbreaking. I sprained my ankle on a couple of occasions, and I was only out for two weeks. That's small compared to what he had to go through, especially at that level. … But he was always in good spirits. He's very grounded and his mindset was that he was going to get through it and be better than before."
And more determined than ever.
The season cannot come soon enough for the 2021 Hobey Baker Award finalist (given to the top men's NCAA hockey player in the United States).
"Each year, you have more expectations, and I think our fans are expecting more out of us, and I like that," said Shane. "It's exciting. All the boys are pretty pumped to get it going."
As for the sibling rivalry, those battles are long gone, but certainly not forgotten by either party.
"It's so funny when you think about those days growing up," said Brianna. "I always talk to him about those early days when I was the more athletic one and then he just came out of nowhere and one-upped me. I'm super proud of him and I love watching him compete. It's unreal. I give him so much credit. Being an athlete isn't easy, but he grinds it out. I look up to him. It blows my mind."
Shane is grateful for those moments when he would try to keep pace with Brianna on the playing field.
Despite the odd bumps and bruises, both to his body and ego, embracing the competitive side of sports became a valuable lesson in time, at least to Brianna.
"Looking back, I think it brought out the best in both of us and helped us to be successful in our sports."
Does that mean they are now tied in terms of accomplishment?
"We can say that, for sure," said Brianna with a laugh. "It's just so nice now, to have both had success. Those days when we were so competitive, trying to get the better of one another, we laugh about that now. We are just so happy to see one another succeed."