Alex Newhook looking forward to sporting Canadiens colours
Newhook, who hails from St. John's, Newfoundland, is already feeling at home in Montreal.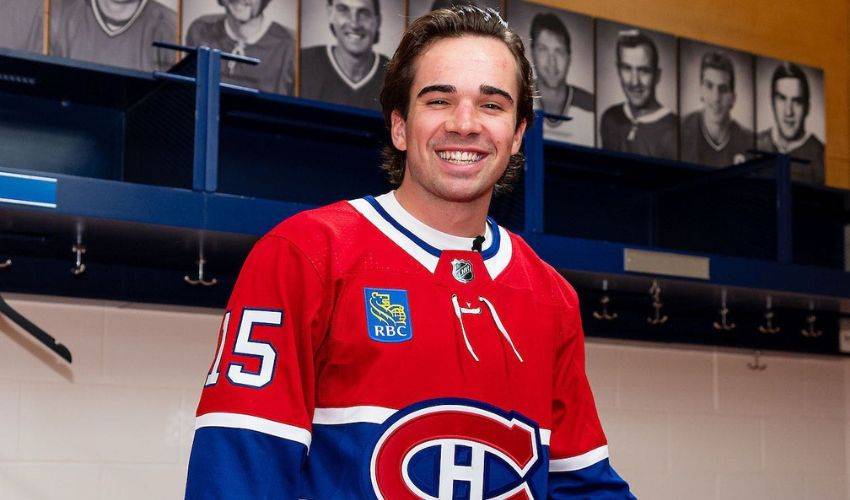 Feature Photo: IG / @canadiensmtl
---
Alex Newhook cannot wait for the big moments.
There are two particular games the 22-year-old is looking forward to once the puck drops on the Montreal Canadiens 2023-24 NHL season.
"It's hard to put in words how special it will be to wear that jersey for the first time in a regular-season game," said the young centre, who will get that chance on October 11 when the Canadiens open their campaign on the road against the Toronto Maple Leafs. "You try to imagine what it will feel like, but I think it will be even better than what you expect.
Newhook, who came to Montreal from the Colorado Avalanche via trade on June 27 and soon after signed a four-year contract with the Habs, will get his first opportunity to wear the colours of his new team on October 14 when the Chicago Blackhawks come to town.
"It's a pretty cool feeling when you think of it. I know those will be big moments for me."
A native of St. John's, Newfoundland, Newhook won the Stanley Cup with the Avalanche during his sophomore season in 2022. In his 159 NHL career games to date, Newhook has posted 66 points (27 goals, 39 assists).
He is already feeling at home in his new NHL city.
"It was a pretty overwhelming number of guys who reached out. When you get traded, it's always nice if you have a few guys reach out … I think almost everyone reached out. It means a lot. They are excited to have me on board and happy to be part of the team. It was pretty nice to hear, which I think speaks to the type of group they have and what they are trying to build. I'm looking forward to playing with all the guys."
And living in a place that earns rave reviews from his new teammates.
"That's been a common theme when I've been talking to the guys, how great a city it is to live in and play in. I'm looking forward to that part of it too. Hockey is the reason I'm there, but to get a chance to live in a city like that is another big part of it for me."
Growing up on Canada's East Coast, Newhook was quite familiar with the passion of Montreal Canadiens fans – a team that continues to garner widespread support in the Maritimes.
"It's exciting to play in an Original Six market. Montreal has such a storied team history, and the fans truly love the game. Growing up in Newfoundland, the closest NHL team is Montreal, and there are a lot of Habs fans back home. That just adds to the excitement of playing here. To be able to play in front of these fans is going to be unbelievable."
Playing closer to home also means Newhook will see more familiar faces in the crowd throughout the season.
It has already been a hot topic of conversation with family and friends.
"I think the direct flight is going to encourage a lot more people to head to Montreal. I know I'm going to be dishing out a lot more tickets now."
Before the season gets underway, Newhook will continue to log some serious flight time. His travels have already taken him back to Colorado and to his offseason base in Massachusetts where he spent two years playing for the Boston College Eagles.
He will also be making a trip to Canada's West Coast soon.
"It's been a great offseason. I was home in Newfoundland for a month. Boston has been home since then. I've been bouncing around a little bit too. I was in Denver and now I'm off to Montreal to get familiar with the players and staff. I'm also heading out to Victoria, where I played before [with the Victoria Grizzlies of the BCHL], for my aunt's wedding. I'll get to see some familiar faces, friends and family, and after that back to Montreal. It's been a great summer."
Newhook is hoping it carries over into the hockey season.
From conversations he has had with his teammates, he is optimistic it will be for the team that missed out on last year's postseason action.
"The group we have now, there is so much young talent and it's only a matter of time until we get where we want to be."