Lucas Raymond excited for Sweden road trip next season
The Detroit Red Wings will play in Stockholm on November 16 and 17 as a part of the 2023 NHL Global Series.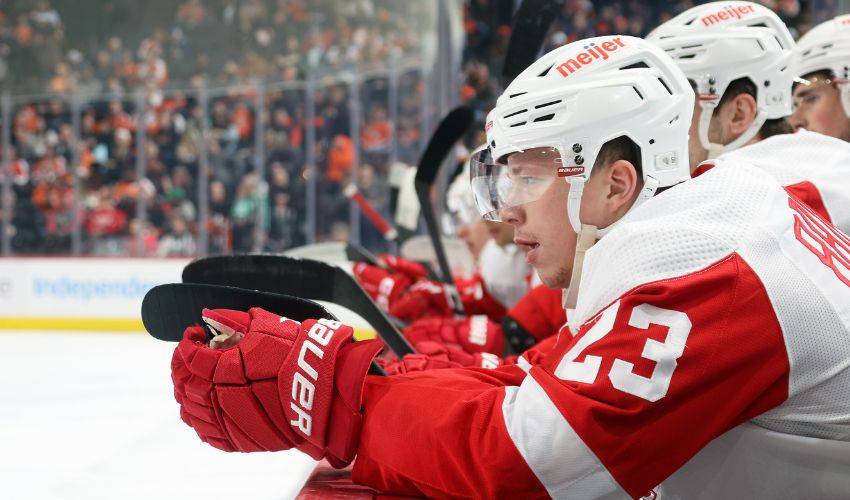 Feature photo: Getty Images
---
For a portion of the upcoming NHL season, Lucas Raymond will be adding the title of "host" to his hockey resume.
Whether it is ticket requests, signing autographs or paying for the odd lunch and dinner, the 21-year-old Detroit Red Wings forward is aware of just how in-demand he will be in the days and weeks leading up to the 2023 NHL Global Series to be held in his native Sweden.
From November 16 to 19, a set of regular-season games featuring four teams, including Raymond's Red Wings, will take place in Stockholm. The Original Six club will be joined by the Minnesota Wild, Ottawa Senators and Toronto Maple Leafs for the games.
Raymond, who is originally from Gothenburg, approximately a five-hour drive southwest of Stockholm, is expecting a large contingent of family and friends to make their way to Sweden's capital city to catch the games.
"I can't wait. I was so excited when we heard the news that we would be playing here," the left-winger told NHLPA.com from Gothenburg. "To be able to play for Detroit in Sweden will be an awesome experience. Circling back to friends and family, that's what I am most excited for, to play in front of them. It's going to be emotional for all of us."
There will also be a lot of requests.
"Oh, for sure," Raymond said with a laugh. "I think I'm going to have to get on it right away, to make sure we get everyone tickets."
The Global Series will mark Raymond's second European hockey experience this year.
The fourth overall pick at the 2020 NHL Draft donned the Swedish jersey at the 2023 IIHF World Championship in Finland and Latvia this past May. Although the tournament ended on a disappointing note after Sweden was ousted in the quarterfinals by host Latvia, Raymond, an alternate captain for his country, tied for the second-most points on the team with eight points (two goals, six assists) in eight games.
His focus now is on helping Detroit get back to the Stanley Cup Playoffs after seven seasons on the outside looking in. The Red Wings made the postseason cut 25 consecutive campaigns from 1991-2016, winning four Stanley Cups in that time.
Raymond's personal goals are a mirror reflection of the team's objectives.
"I want to take another step in my development. I had a good feeling coming into the offseason in knowing what I wanted to work on and how I wanted to be prepared to come into the new season. Now, summer is almost over, and every day, you are more and more excited about the thought of getting back on the ice with the guys and get that season started."
Conversations he has had with teammates throughout the summer have given Raymond ample reason to be optimistic about the team's fortunes in 2023-24.
"I think we've improved a lot in the offseason and you can see that everyone is excited about the season. When you get back on the ice, start talking to the guys, seeing that physical development in yourself, it makes you want to get things going again. You get some distance from the game and there comes that point where you want to get back at it. I'm sure all the guys feel that way too."
In between time spent with family and on the golf course, Raymond is ramping up his preparations for the new season.
He used the first few weeks back home as a welcome chance to unwind, both physically and mentally.
"That's a huge part which you have to take into consideration. You need to relax, take your mind off the game for a little bit, reset and then get back in that competitive mode. It just happens naturally. The biggest thing about being home is just being able to hang out with friends and family, to see my grandparents, cousins and everyone I don't get to see during the season. I've been able to enjoy it."
After a road game in New Jersey on October 12 to kick-off the 2023-24 regular season, Detroit returns for their first home game two days later versus Tampa Bay two days.
Just over a month later, the Red Wings will be in Sweden for the NHL Global Series.
Raymond is not the only one who has those dates circled on the calendar.
"My family is definitely excited. So am I. I know it's going to be something we will always remember."
But is he up to the task when it comes to hosting duties?
"Definitely. I'm looking forward to every moment of the whole experience."