NHL, NHLPA and V Foundation announce game-changing partnership to accelerate cancer research
Hockey Fights Cancer to expand in its 25th year, through the combined strength of the NHL, NHLPA and V Foundation.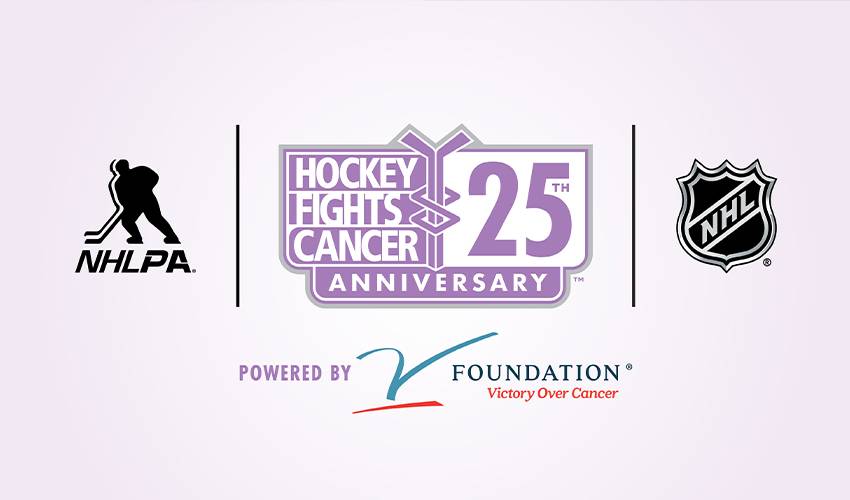 ---
NATIONAL HOCKEY LEAGUE, NATIONAL HOCKEY LEAGUE PLAYERS' ASSOCIATION AND THE V FOUNDATION FOR CANCER RESEARCH ANNOUNCE GAME-CHANGING PARTNERSHIP TO ACCELERATE CANCER RESEARCH
Los Angeles, New York, Toronto (July 12, 2023) – The National Hockey League Players' Association (NHLPA), National Hockey League (NHL) and the V Foundation for Cancer Research, a top-rated charity dedicated to funding innovative cancer research, are pleased to announce a strategic collaboration for the Hockey Fights Cancer™ initiative.
Hockey Fights Cancer is celebrating its 25th anniversary and has raised over $32 million since its inception for individuals and families affected by cancer. Through the combined strength of the NHL, NHLPA and V Foundation, the initiative will expand in the following ways:
Dramatically increasing the program's pace of fundraising and potential for positive impact.
Ensuring the increased fundraising accelerates research conducted by the best scientists in the world who are working to achieve Victory Over Cancer®.
Sharing inspiring stories of survivorship from within the hockey community that underscore the vital importance of cancer research.
"The National Hockey League is extremely proud of the profound impact Hockey Fights Cancer has had on the lives of so many in our community over the last quarter century," said NHL Commissioner Gary Bettman. "We are continually trying to innovate and improve our game on the ice and to strengthen our connections with our fans, and our fight against cancer is no exception. Our strategic collaboration with the V Foundation, our broadcast partner at ESPN and the NHLPA to grow Hockey Fights Cancer will create catalytic opportunities to advance research, support patients and ultimately save lives."
Each November, the NHL, its Clubs and Players host Hockey Fights Cancer activations across North America, featuring unique storytelling and supporting local cancer charities as well as the American Cancer Society and Canadian Cancer Society. NHL Clubs, Players, coaches, officials, employees, corporate partners, and fans come together to inspire hope and courage for those living with, going through, and moving past cancer.
"The Hockey Fights Cancer program is very meaningful to me, after fighting and surviving cancer as a young child myself, and knowing that cancer has affected so many families within the game," said Marty Walsh, NHLPA Executive Director. "The Players are excited to join with the V Foundation to further enhance the funds we raise with the NHL, given our shared goals of improving the quality of life of those who live with cancer as well as advancing research towards conquering cancer."
Over the past three decades, the V Foundation for Cancer Research has been laser focused on advancing cancer research for all cancer types. Since it was founded in 1993, 100% of all direct donations go directly to cancer research. To date, the V Foundation has funded more than $310 million in research grants at the 72 NCI-designated cancer centers, a select group of other (affiliated) state-of-the-art cancer research facilities in the US, and a few top-ranked Canadian centers.
"The V Foundation has remained steadfast in our mission to achieve Victory Over Cancer®, and together with the NHL, NHLPA, and Hockey Fights Cancer, we are furthering our ability to fund critical research that will support cancer patients and their families," said Shane Jacobson, CEO of the V Foundation for Cancer Research. "The ESPYS stage holds tremendous significance for us, and as a founding partner, we are immensely grateful to ESPN for allowing us to announce this incredible partnership on such a meaningful platform in front of the world."
More details on this unprecedented collaboration will be made available after the start of the 2023-24 NHL season.