NHLPA Goals & Dreams, NHL Alumni Association donate 27 sets of hockey equipment in honour of Bryan Marchment
Marchment took part in G&D events, helping deliver equipment to children in remote Canadian communities.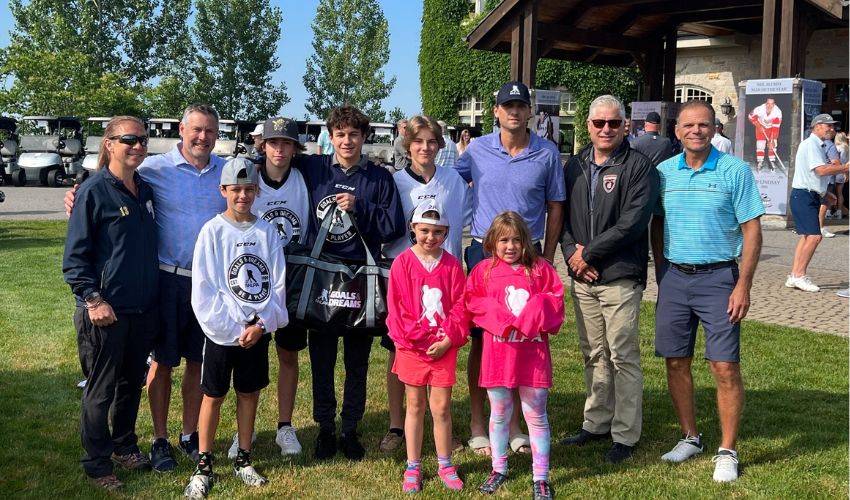 ---
It's been just over one year since the hockey world grieved the sudden passing of NHL alumnus and San Jose Sharks scout, Bryan Marchment. Beyond his 926-game NHL playing career that spanned nine different teams, Bryan was an ambassador for the NHLPA Goals & Dreams fund during his career, when he would take part in G&D events by helping deliver equipment to children in remote Canadian communities.
To honour Marchment's commitment to the cause, the NHLPA Goals & Dreams fund, alongside the NHL Alumni Association, have donated 27 complete sets of new hockey equipment to the North Durham Minor Hockey Association. The equipment donation, valued at $15,000, will assist more children in North Durham play hockey. The denomination of 27 sets matches Marchment's No. 27 jersey number – a number his son, Mason Marchment, also wore this past season with the Dallas Stars in honour of his late father.
"Bryan was always willing to lend a hand when it came to G&D initiatives. He truly cared about helping children get involved in the game in any way he could," said Devin Smith, NHLPA Goals & Dreams Chairman. "We felt this donation would be a fitting way to honour Bryan's legacy.
Marchment's father, John, was in attendance for the NHL Alumni Association's golf tournament at Coppinwood Golf Club to make the announcement of the equipment donation, alongside representatives from the NHLPA and NHLAA.​
Despite his hard-nosed style of play on the ice, Marchment was always known to his colleagues and fellow players as a caring and generous person.
Since 1999, over 80,000 children have been provided the opportunity to play the game of hockey in 34 countries courtesy of G&D. Over that time, fund has donated more than $26 million to help grow the game hockey.