From the NHL Draft to playing with the Jets top players, Cole Perfetti continues to put in the work
Perfetti was third among NHL rookies with 30 points through 51 games, prior to sustaining an injury.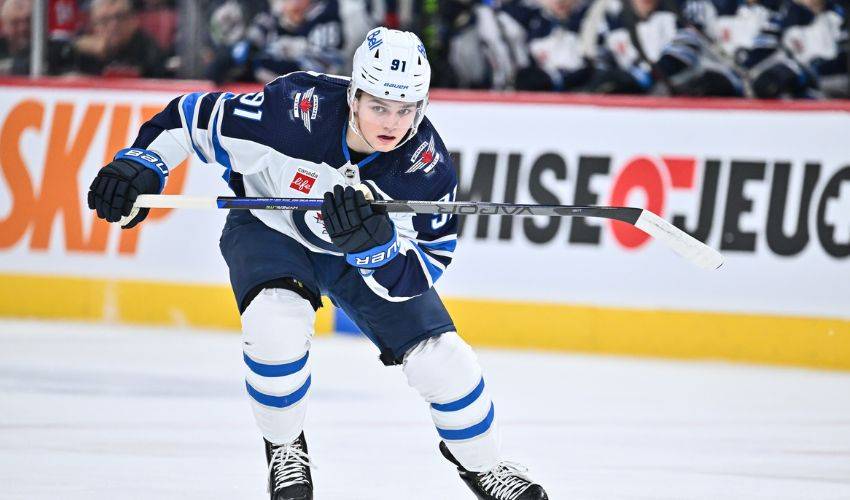 Feature photo: Getty Images
---
Cole Perfetti was not quite sure what was in store for himself the night of the 2020 NHL Draft.
The annual event was nowhere near what Perfetti had envisioned during his days growing up in Whitby, Ontario.
Originally scheduled for June 2020 at Bell Centre in Montreal, the event was postponed due to the COVID-19 pandemic, and subsequently rescheduled for October 6-7 in a remote format, with teams convening via teleconferencing.
Perfetti, along with his family and friends, ended up gathering at a local brewery for the big night, where the former Ontario Hockey League standout learned he was selected 10th overall by the Winnipeg Jets.
The team had Crystal Hawerchuk, wife of Dale Hawerchuk – the late Hall of Fame forward and Jets legend – announce the selection.
"It was a special day, but a pretty unique one for the players drafted that year. Being in Ontario, we were in lockdown because of the pandemic, so, you didn't have the draft that you dreamed of when you were a kid. We did it on Zoom, but it was fun because we were allowed to have 50 people in a building at one time. …[MA1] [WA2] It was nice to spend that night with a lot of the people who helped me get to that point. With the traditional draft, you get picked and you don't get to see your family that much. You meet the team and do all the media stuff, so it was a unique situation."
After playing his first season of professional hockey primarily in the American Hockey League with the Manitoba Moose, Perfetti split the 2021-22 season between the Moose and the Jets before he earned a spot on the Jets' roster out of training camp in 2022-23.
He found out when the team was in Banff, Alberta, for a team-bonding trip.
"We had too many guys and we had to get it down to 23. I remember doing some team bonding stuff and we went out to dinner one night, and the news that two of the guys were sent down to the Manitoba Moose. That was kind of it. Our 23-man roster was set and I kind of figured it out. I was pretty stoked from that moment."
Perfetti, who set numerous franchise records during his junior career with the Saginaw Spirit, focused on a strong beginning to the 2022-23 season after he had missed the end of the 2021-22 season due to an upper-body injury.
He made the most out of his top-six minutes and was paired with some of the team's top players.
"I was coming off an injury and I knew I was going to have to have a strong start in the preseason and camp. And I think I did. I was fortunate enough to play with some high-end players right away. I was playing with [Blake] Wheeler, [Pierre-Luc] Dubois and [Mark] Scheifele, a combination of those guys, so playing with them really helped me. It was easy to get my feet wet with them, to learn from them. They were making a lot of plays and getting the puck to me in a lot of good spots. … I got that confidence early and I didn't look back from there."
Unfortunately, Perfetti suffered another upper-body injury in February, which sent him to the sidelines for eight weeks.
At the time, he was third among NHL rookies in points with 30, trailing only Anaheim's Mason McTavish (32) and Seattle's Matty Beniers (42).
Despite the setback, Perfetti looks back on the season through an optimistic lens.
"Being on their line, watching them in practice, seeing their tendencies, it was big for me. You end up learning so much without even knowing it."
Now, one year further into his development and following some significant changes to the Jets' roster, the 21-year-old centre should be in line to get the chance for an even bigger role in 2023-24.
His playmaking abilities, combined with a strong defensive game, has made him a valuable contributor on the Central Division club.
Perfetti has made alterations to his off-season training regimen, both physically and mentally, in preparation for the upcoming season.
"I've been working to put my body in a good spot. I started working with [veteran strength and conditioning coach] Matt Nichol in the gym. There are a lot of elite players that go to him, and work with him throughout the summer. He's got everything there. I've been doing a lot of Pilates and things like that to give my body the best chance to be successful. I'm also working with a mental performance coach, just trying to do all the right things, a lot of what the other guys on the team are doing. I'm picking up little pieces of something here and there from each guy, to see what has made them successful, and implement it into my life. Hopefully, that leads to some success for me."
Perfetti has already started counting down the days to the start of training camp.
"I am, for sure. There have been a lot of changes so far this summer, but it's been good for me. I feel really good in the gym and on the ice. I'm looking forward to getting back to Winnipeg and the start of the new season."